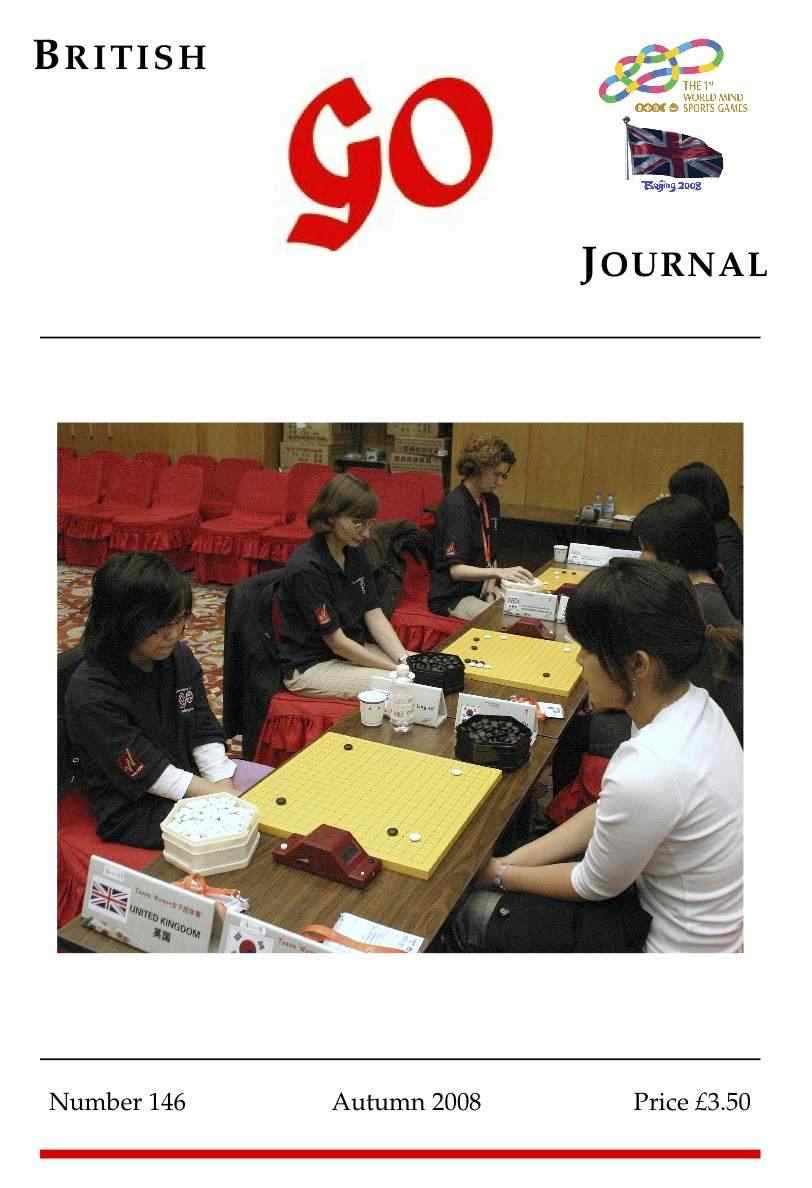 All issue of the British Go Journal are now available online. Please note that the PDF files are often several MB in size and may therefore have slow download times, but none is larger than 10MB, being split into sections if necessary to achieve this.
Internal and external links inside these files work from issue 157 onwards and external links work in issues from 119 on, but there are no working links in scanned copies, i.e. issues up to 118.
* Note that the latest four editions of the BGJ are members only.
In addition there are a selection of individual articles from old British Go Journals. The html articles reproduced are the 'go-ish' ones - games, tutorials and problems - whilst news, tournament results, humour and so on are usually omitted. All game records since Autumn 1999 (issue 116) are available in sgf format.
There is an online index [2] for issues 0 - 112.
Printed backnumbers of British Go Journals [3] are also available.
These archives are presented here as a service to the worldwide Go community. Feel free to read, study and print a copy of the pages for your own use. Making multiple copies of these pages or the information on them - in particular for any commercial activity - is prohibited.
The article pages were created by volunteers in a sporadic fashion and with the completion of the PDF archive this activity has now ceased. Each journal listed below also shows the month that the web pages or pdfs for that issue were last updated.
Within each article, headings and diagram names are shown as links.
The game files are linked from both the article and the contents page of the relevant issue. You can download these files for immediate or later viewing.
These web pages have no concept of the printed page. Some browsers need to have the window resized to conveniently fit across the paper width. Most browsers will cut diagrams in half as they start a new page - you will need to use scissors and glue!
Each page ends with this upward pointing triangle which takes you back to the top.
A glossary [4] of Go terms used in the articles is available. Try boshi [5] as an example.
Diagram technical info
Mixed whole and half point GIFs: GifGuide.txt [6] provides a list of the many tiny GIFs which are used on most of the pages. Bd19x19.txt [7] provides the raw html for an empty 19x19 board. A 'quick and dirty' QBasic program to generate the board html code (ENTERGO.BAS) is available from http://www.stocton.org/tools.htm#entergo [8] without charge or guarantee.
Configuring browsers
To view *.go files:
Netscape v2.02: Ensure that a viewer is associated with the filetype *.go and that double clicking on a *.go file in File Manager or Windows Explorer will correctly launch the viewer with the *.go file.
MS Internet Explorer v3.0a: Select View; Options; Programs; File Types; Add - then set

Description = Ishi Format GO files
MIME Type = application/x-go
Suffixes = .go
Encoding = Text
Application = c:\wingroup\utils\yago.exe %s Or whatever application you use
Service Name = No entry required
Configuring browsers to read *.sgf files is similar.