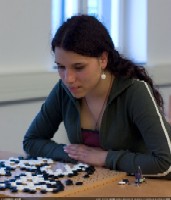 Note: The Shodan Challenge 2006-2007 is Over
What is the Shodan Challenge?
The Challenge within each kyu grade player is to get to Shodan (1 dan), and we are sure you share that Challenge. The BGA Shodan Challenge started at the close of the 2006 British Go Congress; the Challenge is to make a commitment to get a significant number of grades stronger by the start of the 2007 British Go Congress. If you can get to a Shodan rating, or meet your own target on the road to Shodan, we will delight in your success.
Who is eligible to take the Challenge?
Any BGA member can enter the Challenge whether you are a beginner who has just started playing, or whether you have been playing for years and not got to shodan, you can enter. If you have not achieved rating of Shodan (1 dan) you can enter.
How do I get to Shodan?
The old proverb "play a thousand games to get to Shodan" tells us playing lots of games is important, but also we know there is more to it than that. The BGA Shodan Challenge provides support by ascribing a mentor to each Challenger. The mentors are strong players who will share their experience and encourage the development of each Challengers play.
Mentor Activities
The role of mentor is to encourage the Challenger to study and play, and guide the Challenger by providing some or all of the following in whatever measure is practical for both mentor and Challenger:
Game analysis
Though the BGA runs an analysis service, the analysis provided by a mentor could, through use of a replay on KGS for example, demonstrate alternative moves, highlighting particular weakenesses and help to develop the Shodan Challengers reading out of longer sequences.
Teaching games
The mentor will undertake teaching games, either as part of a club night activity, if mentor and Shodan Challenger are able to get to the same venue, or on-line, or during part of a tournament as appropriate.
Problems
The mentor may wish to talk through problems and solutions with the Shodan Challenger.
Can I enter the Shodan Challenge even if I only expect to get a few grades stronger?
Yes, the purpose of the Shodan Challenge is to support everyone who has a desire to improve if your goal is to get 1 or 2 grades stronger, and you join in the Challenge, then if you see your game and strength improve then you have met your challenge!
Is there any teaching and training for all Shodan Challengers?
The BGA Shodan Challenge has arranged four teaching events during the Shodan Challenge year. Each teaching event will be a 30 minute talk to help you get stronger.
May 2006 Bracknell Tournament - Getting a good start pointers on the Opening - Simon Goss
Jun 2006 Welsh Open Tournament - Game analysis seeing the big or urgent moves - Matthew Macfadyen
Sep 2006 Milton Keynes Tournament - Learning from Professional Games - T.Mark Hall
Jan 2007 Furze Platt Tournament - Cutting and Connecting (Tesuji for attack and defence) - Matthew Cocke
How do I accept the Shodan Challenge?
If you wish to accept the Shodan Challenge, please click the above link, complete the on-line form, or print and complete the entry form and post it to us, and we will reply to you with the name and contact details of your assigned mentor. All we ask is that you are a member of the BGA; we encourage you to attend four tournaments during the year so that you can see your own progress toward your goal.
Who has already accepted?
The list of Shodan Challengers will be updated during the year, please click the above link to see Shodan Challengers and their progress.
Last updated Sat Nov 23 2013. If you have any comments, please email the webmaster on web-master AT britgo DOT org.