At the New Year London Open tournament there is a Pair Go tournament, usually held on the second evening, the 29th December.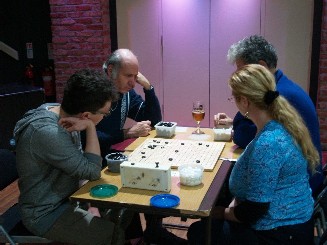 11 pairs took part; it was not specified how lady player and man player were defined. Winners were Sai Sun and Xinchi Gong. Second were Jenny Radcliiffe and Francis Roads on sos tie-break from Simao Goncalves and Philippe Fanaro.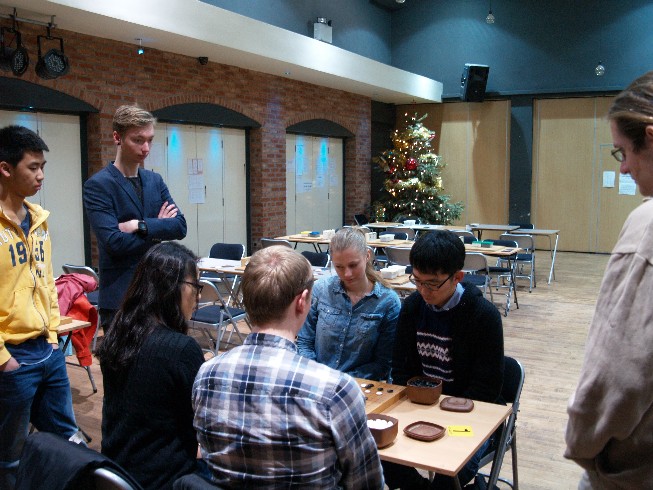 16 pairs took part, including three in a Doubles division. Winners were Lova Wåhlin and Chi-Min Oh. Second were Hajin Lee and Benjamin Teuber. Winning the Doubles division were Jitka Bartova and Ngoc-Trang Cao.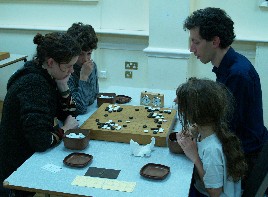 14 pairs took part. Winners were Boris Mitrovic & Fynn Bachmann. Second were Chris Volk and Andre Stadtler; third were Jonathan Green and Andrew Russell.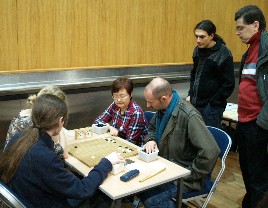 16 pairs took part. Winners were Guo Juan & Claude Brisson. They beat Andrew Kay and Klaudia Kleczkowska in the final.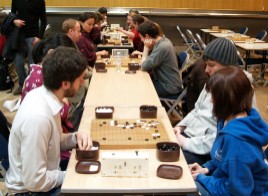 16 pairs took part, including a player from Iceland for the first time. Winners were Ko Juyeong 8p & Chong Han 5d.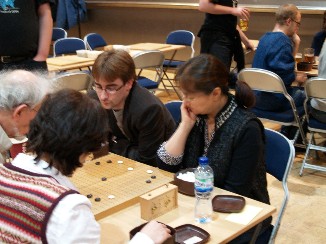 8 pairs took part. Winners were Guo Juan 5p and Ian Davis 1d
Results [17]
Gallery [18]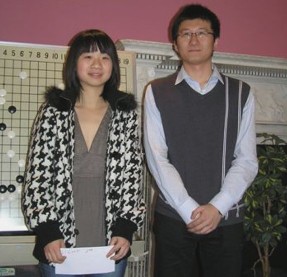 16 pairs took part. Nobody managed to beat the two Chinese 6d, Yanqi Zhang and Wei Wang.
Results [20]
Gallery [21]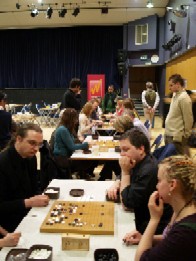 10 pairs took part. Nobody managed to beat Guo Juan, 5p, playing with Ireland's Ian Davis. Results [23]
The Players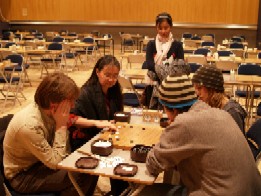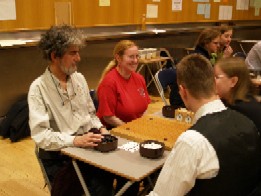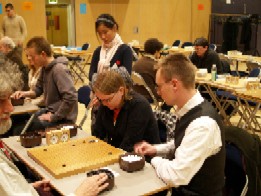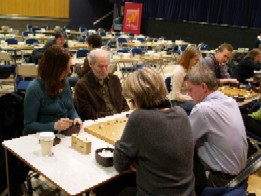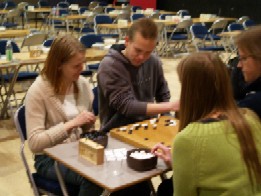 2007
8 pairs from many different countries took part. Winners were Dominique Cornuejols and Toru Imamura.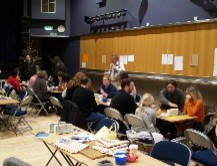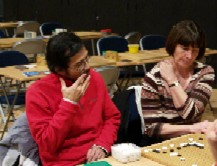 The Players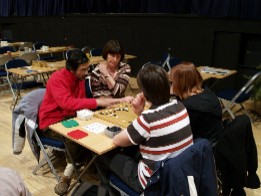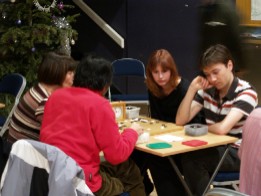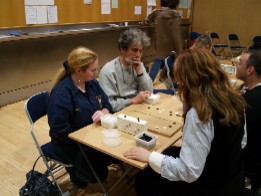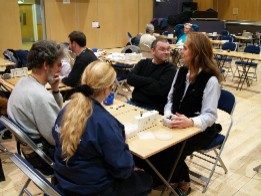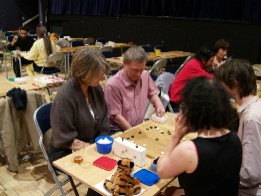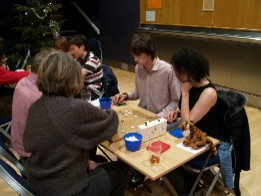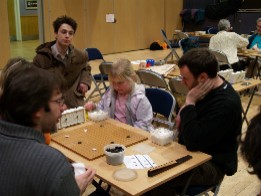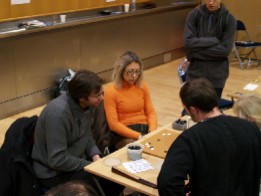 2006
One evening 16 couples took part in a Pair Go competition. It was won by Natasha Regan and Matthew Cocke. Second were Suvi Leppanen and Teemu Rovio, and third were Jenny Radcliffe and Matt Reid.
2005
Winners were a pair from Grenoble, France, Dominique Cornuejols (1 dan) and Jean-Loop Naddef (5 kyu). Three pairs were second: Ines and Jose Teles de Menezes (Portugal), Suvi Leppanen and Teemu Rovio (Finland), Antti Tarvainen (Finland) and Drago Pergar (Slovenia).
2004
An 8-player Pair Go event was won by Finland's Suvi Leppanen (3 kyu) and Teemu Rovio (1 dan) with 4/4. On 3/4 were Germany's Pei Zhao (6 dan) and Olivier Marteaux (1 kyu), London's Nuo Jia (2 dan) and Hao Wang (1 dan), and Edwina Lee (4 kyu) and "Erik".
2003
There were 5 winners of the 24 player Pair Go (doubles) played on 29/12/03: Michael Marz / Manuela Lindemeyer, Jasmin Grossmann / Tobias Klaus, Madeleine Roth / Benjamin Teuber, William Brooks / Hichem Aktouche, Thomas Pototschnig / Dominic Schumacher.
2002
Winners of the 16 player Pair Go were Mihoko Isoda and Masashi Sugiyama (Oxford) and the runners up were Sue Paterson (Brighton) and Piers Shepperson (Slough).
Last updated Wed Dec 30 2015. If you have any comments, please email the webmaster on web-master AT britgo DOT org.