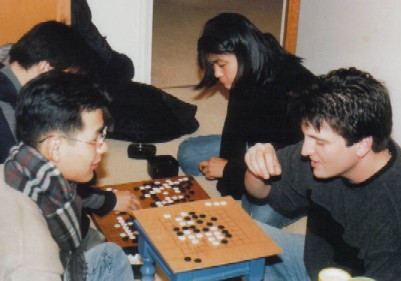 There is a great variety of locations where Go can be played and a great variety in the conditions under which a game can be enjoyed. Whether you play Go at home, at work, in public or private at a club, on line or over the board, against a person or a computer, a game of Go can be enjoyed at any time. With a magnetic set you can play whilst travelling or on a day out; indeed a game was once played on the space shuttle. For a more formal game there are many tournaments and matches you can join in at locations all around the country which will lead to you getting a rating.
Clubs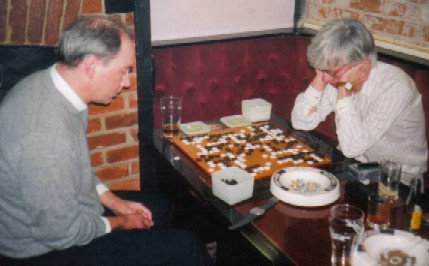 You can play Go informally at home or with friends, but being part of a club means you will probably have a chance to play more different opponents. There are many clubs around the British Isles [1], with most big cities having a club; some cities have more than one club. Have a look at the club map [2].
Some clubs meet in private houses. Others meet in public venues such as a community centre. Often a pub provides a free location to play, provided you partake of their food and drink. If there is a university in your town it is sometimes possible to play there, especially if there are several students in the club. Advice on setting up and running a club is contained in our Club Organisers' Handbook [3].
If there isn't a club in an area please check our requests page to see if anyone is trying to form one already or email our Membership Secretary for a contact.
Online Go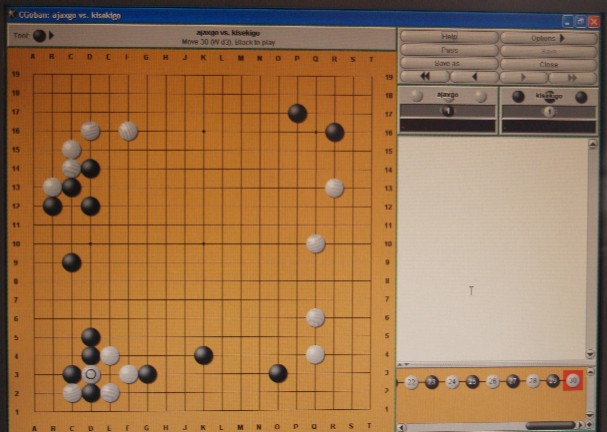 If you have no local club and have no chances of starting then you can play online. Indeed many people who do attend a club play online as well so as to get more games during the week and meet a variety of opponents. You can play online against players from all over the world any time day or night, so it is very flexible and may suit you if you keep odd hours. You can play in real time, which is the most common way, or play correspondance Go on some servers. There are several online servers [6], some of which are more popular in the UK than others.
Computer Programs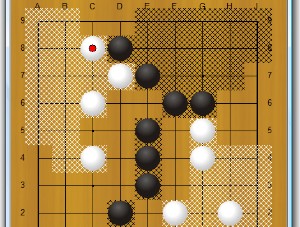 If you are new to Go a good way to practice, without the embarassment of a real opponent, is to play a computer program [7]. Although Go-playing computer programs are currently not up to the standards of experienced human players, especially on the 19x19 board, they can provide some useful practice opportunities on small boards, especially the 9x9. Free programs [8] suitable for beginners are Igowin and Peter's Go, and Leela Lite is dan level on 9x9. There are reviews [9] of some of the best-known programs.
Tournaments and Ratings
Initially you will have to estimate your grade by playing other opponents and analsying your results and the handicaps involved. This is hard if you do not play anyone with a recognised grade, but usually you can get an estimate.
If you play at the various tournaments [10] held in the UK, then you can get a rating. Tournaments supported by us send their results into the European rating system, which produces an updated list monthly. Knowing your rating [11], and the corresponding grade, is then useful when entering other tournaments and playing any new opponents for the first time, so that you can use the correct handicap and give both players an equal chance of winning.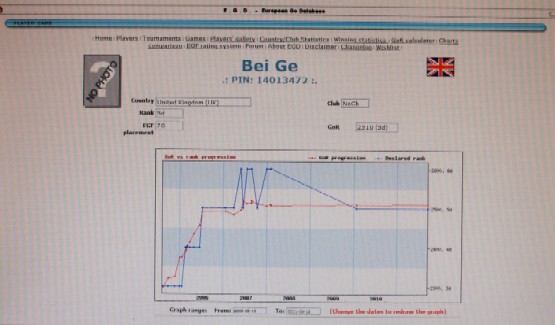 After several tournaments, you can also see a rating graph of how your rating changes, thanks to the European Go Database [12].
If you play one of the main online Go servers, then you will get a rating too, but often these tend to be out of line with the European ratings because of the uncontrolled nature of server Go.
Where to Play Go Links
Last updated Mon Aug 10 2015. If you have any comments, please email the webmaster on web-master AT britgo DOT org.