[1]
We have a preferential supply arrangement with Pentangle Puzzles and Games which gives all Association members a 15% discount on all Go books and equipment. Details on how to order. [1]
If you're a novice and not an Association member then you can still get a 10% discount on basic Go sets and beginners first books [2]. But why not JOIN US [3] and get the full 15% off all Go books and equipment from Pentangle?
Our Books and Sets Service
In addition to buying via Pentangle, our Bookseller [4] brings a selection of books and sets to many tournaments, so that attendees can assess the level of books and the quality of sets before deciding to buy. The price is the same as buying direct from Pentangle, but there is a saving in postage.
Tournament organisers are welcome to contact our Bookseller in advance. Availability depends to a large extent on whether he/she is due to attend the tournament, although sometimes transport arrangements can be made via other players.
Those organising promotional events aimed at beginners can be provided with beginners books and sets heavily discounted and on a sale or return basis. Please contact our Bookseller in good time to discuss your requirements.
Please feel free to email the Bookseller [5] for any special requests, but a mail-order service is not offered; the service is face-to-face.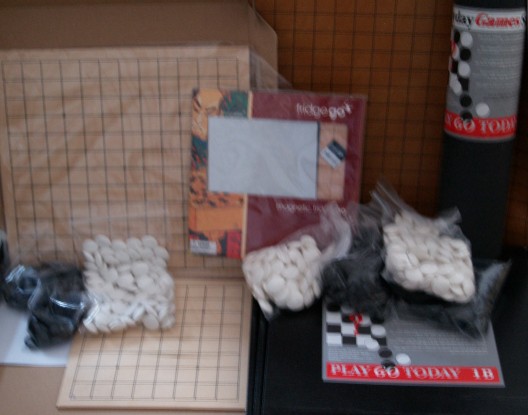 [6]
Go playing sets vary widely in quality. You can get beginner sets under £10, a full-size set with glass stones and wooden board for under £50 or you can spend £1,000 or more. Some sets have mat or wooden boards of various sizes (9, 13 or 19 lines) and plastic or glass stones. There are also magnetic sets for use when travelling. Example sets can be seen here. [6]
Don't forget if you're a novice that it is best to start playing on smaller boards before moving up to the large 19x19 one. Some boards have a different size version on the reverse, helping you through this progression without the expense of buying another board.
As an alternative to purchasing a set you could make your own [7]. Making stones can be a difficult, so we'd definitely recommend buying them; printing your own 9x9 or 13x13 board is much easier.
Note on Buying Boards and Stones
If buying stones and boards from differing sources, be careful to check sizes as some slightly larger Chinese stones do not quite fit onto the Japanese-standard boards which are the norm in the UK.
Books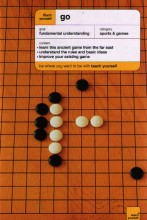 [8]
A vast number of Go books are available for study, with more than 200 in English. There are books on many subjects from the opening, through tesuji and middle game, to the end game, and also books that analyse complete games by professionals and other strong players. The level of material ranges from beginner level, through intermediate to advanced (for dan players).
We have a list of beginners' books and of these the most thorough book is Teach Yourself Go by Charles Matthews of the Cambridge Go Club, but others are available including the large format Learn Go, written and published by Neil Moffatt of Cardiff Go Club.

There has been five main publishers of Go books (some of whom also supply Go sets and books/equipment for other Oriental games):

Other smaller publishers and authors also publish Go books. Robert Jasiek [14] is one author with an increasing number of titles.

A Historic English Book list [15], showing books we stocked prior to December 2010, gives an indication of the level many books are suitable for - beginner, elementary, intermediate or advanced. We also have a list of recent publications [16] (from 2004 on).

If you want to know more then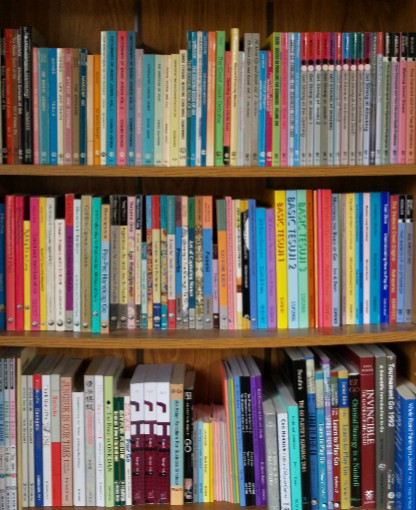 There are various Go terms that have come into common use, mostly from Japanese. In case there is no glossary, our extensive list of Japanese Go Terminology [21] definitions may be useful.
Many of you may have come across Go from the various novels that feature Go [22] or from the manga cartoon series Hikaru No Go [23].
English Language Periodicals
Back numbers are available in the UK of the Go World magazine, which was published 4 times a year in Japan, up until publication ceased in 2012.

[25]
We also provide back numbers of our British Go Journal [25].
Retailers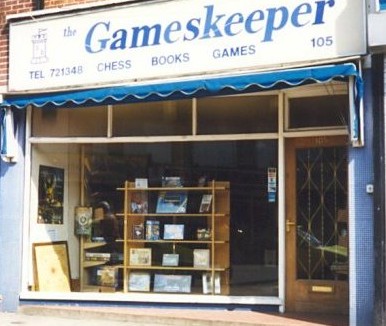 [26] Apart from Pentangle, there are a number of UK retailers [26] of books and equipment, including good games shops you can visit.
Suppliers
There are various non-UK suppliers [27] that ship to the UK. These include publishers, shops and mail order companies.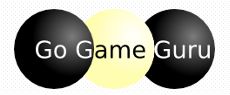 [13]
Go Game Guru [13] is one that supplies by mail-order a range of books, including those formerly published by Hinoki Press and Oromedia, and equipment . In addition their website includes news, problems and information about the world of Go.
Last updated Mon Jul 11 2016. If you have any comments, please email the webmaster on web-master AT britgo DOT org.