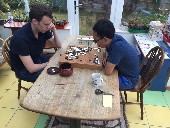 [1] The first game of the 2016 British Go Championship best-of-three title match was played on Saturday 20th August, at a private venue near Oxford. The two players were in their first finals having been the top two with six wins each in the Challengers' League back in May: Charles Hibbert and Junnan Jiang.
The game was relayed on KGS, thanks to Matt Marsh, starting about ten minutes later than its 10:30 advertised start. In a clone of the game, Matthew Macfadyen reviewed the game whilst in progress. The game continued after the usual lunch break (the time limits are three hours each), and came to a climax when Junnan was in overtime and failed to reverse his bad position, with the resignation coming after move 211 at about 17:15.
Last updated Tue Jan 05 2021. If you have any comments, please email the webmaster on web-master AT britgo DOT org.