Across the Board Exhibition
Across the Board was a travelling exhibition from the British Museum. It featured board games of all types from around the world including Go, Chess, Chinese Chess, Tables, Senet, Ludo, Mancala, Snakes and Ladders, and Monopoly and others.
Stars of the exhibition were some of the famous 12th century walrus ivory Lewis Chessmen and the 11th century Tables (Backgammon) set from Gloucester.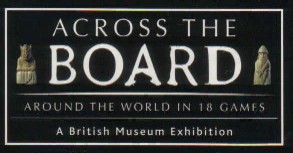 Across the Board visited:
22/01/05-19/06/05 Segedunum Roman Fort, Newcastle
23/07/05-17/09/05 Royal Albert Memorial Museum, Exeter
01/10/05-31/12/05 Gosport Gallery, Hampshire
27/05/06-03/09/06 The Collection, Lincoln
23/09/06-21/01/07 Luton Museum
The Go set displayed was described as a "Chinese Wei Chi (Go) board and pots with black and white shell and stone pieces. Early 20th Century". It had a grey board with black lines set in a wooden surround that was decorated with mother of pearl inlay of plants and butterflies, and featuring drawers for the peices. The thick stones and wooden bowls were of the usual Japanese pattern.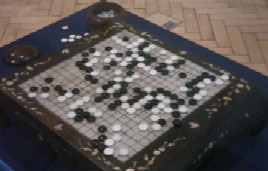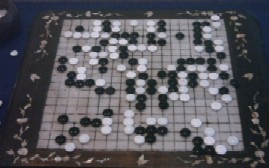 Last updated Mon Jul 15 2019. If you have any comments, please email the webmaster on web-master AT britgo DOT org.