China - The Three Emperors
From 12th November 2005 to 17th April 2006, an exhibition was held at the Royal Academy of Arts. It was called "China: The Three Emperors 1662-1795" and consisted of exhibits from the Palace Museum, Beijing. Several of the items displayed featured Go scenes.
A large scroll from the 1690s shows the emperor's inspection tour and features three men in red hats playing Go in a hut.
A silk wall painting from 1730 depicting the ninth month, features a Go set inside a room.
A silk painting from 1710s shows one of the 12 beauties at leisure. A lady leans on table with the corner of a Go board visible. The 4-4 point is decorated and there are white marble bowls.
A 17th Century bamboo brush pot shows the seven sages. Their Go set has bowls but no lines visible.
A green jade boulder (114.5 cm tall) from 1787 shows a landscape representing the Nine Elders of Huichang. Near the top three men sit under a shelter with a Go board and bowls.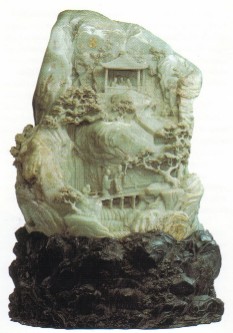 Last updated Wed Oct 11 2017. If you have any comments, please email the webmaster on web-master AT britgo DOT org.