British Championship: 2002
Matthew Macfadyen is the 2002 British Go Champion. He beat the challenger Matthew Cocke 3–0, as in their previous encounter in the 1999 Title Match.
Game 1
Took place at the Epsom Go Tournament on Saturday 10th August. A big thank you to Paul Margetts for making this happen, and to Natasha Regan for refereeing. Matthew Macfadyen won by 12½ points playing white. He has added some brief comments to the game record.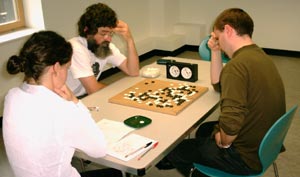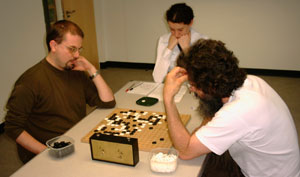 Game 2
Took place on Sunday 22nd September, in Tim Hunt's flat in Milton Keynes. Matthew Macfadyen won by resignation after 185 moves. The game was broadcast over the internet on KGS. At lunch time, Guo Juan gave a commentary on the morning's play, and then in the afternoon she commented live. There are several versions of the game record:
A big thank you to KGS for allowing us to relay the game through their servers, and thank you to Guo Juan for commenting. Thank you also to Nick Wedd, who arranged for Guo to comment.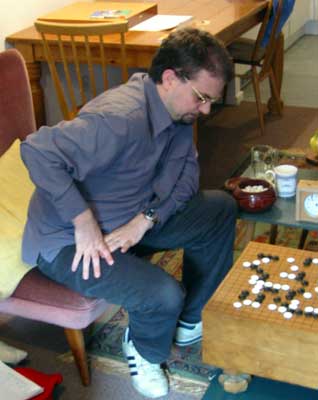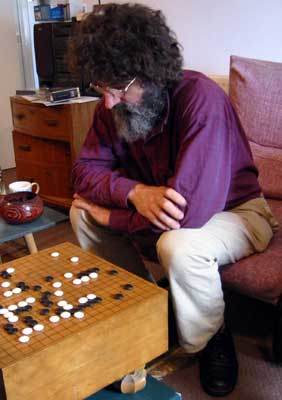 Game 3
Took place at the Wanstead Go Tournament on Saturday 12th October. Matthew Macfadyen (white) won by resignation in 210 moves. He has added some comments to the the game record. Thanks to Francis Roads for refereeing.
The Challenger's League took place from Friday 3rd to Monday 6th May in Cambridge as part of the Cambridge MSO. Many thanks to Aubrey de Grey, Charles Matthews, Patrick Ribbands and Paul Smith for organising this event and letting the Challenger's be a part of it. (Friday's play took place in the University Centre.)
The results table and some game records are available.
Play-off for 3rd place: Monday afternoon
At the end of the tournament, three people were tied on four wins out of seven. Therefore a play off between Young Kim and Des Cann was required to decide who won the third place in next year's Challenger's League. Des Cann won this game by default.
The Candidates' Tournament took place on Saturday and Sunday 6th and 7th April in the Oddfellows Hall, Leamington, alongside the Leamington Go Tournament. This combined event was run by Leamington Spa Go Club.
Matthew Macfadyen and other strong players gave commentaries on some of the games from the Candidates' between the rounds of the Leamington tournament.
Last updated Fri May 05 2017. If you have any comments, please email the webmaster on web-master AT britgo DOT org.