British Championship: 2007
The title match between Bei Ge and Alex Selby was played between July and October, and was broadcast, with commentary by Matthew Macfadyen, on KGS. Most of the venues were private homes, for ease of Internet access, apart from Game 4 which was at the Milton Keynes Tournament. Game 5 was not needed. Bei Ge retained the British Championship 2-1. As well as the title, Bei received the first prize of £350. Alex as runner up received £150.
Bei Ge resides in Bicester and plays at Milton Keynes club, having previously lived in Telford. He works in procurement for a telecom company. He is 36, married and originally from Beijing. He is currently the holder of 5 dan from the BGA and beat the 2005 champion, Matthew Macfadyen, to become British Champion.
Alex Selby lives in Cambridge. He is currently the holder of 4 dan from the BGA.
Games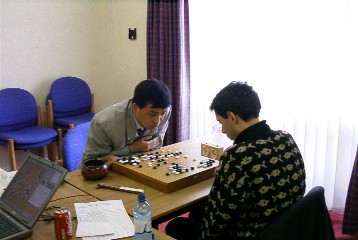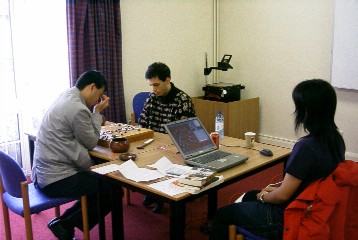 5. Saturday 3 November - Cambridge
4. Sunday 7 October - Milton Keynes
3. Saturday 15 September - Oxford
2. Saturday 4 August - Cambridge
1. Saturday 21 July - Oxford
The fourth game was held at Milton Keynes on Sunday 7th October. It was won by Bei Ge by resignation to make him British Champion for the second year running.
Game Record of Game 4 with live comments
Guo Juan has also made her audio comments available at AudioGoLessons.com
The third game was held in Oxford Saturday 15th September. It was won by Bei Ge by resignation to put him ahead two wins to one.
Game Record of Game 3 with some live comments
Guo Juan has also made her audio comments available at AudioGoLessons.com
The second game was held in Cambridge on Saturday 4th August. It was won by Bei Ge by 11.5 to equal the match at one all. This guarantees game 4 at Milton Keynes in October will be a crucial game.
Game 2 with live comments by Matthew Macfadyen
Game 2 with post game analysis
Guo Juan has also made her audio comments available at AudioGoLessons.com
The first game was on Saturday 21st July at the Nick Wedd's house in Oxford. After a late start due to some technical problems induced by the wet conditions (Bei's car flooded, weak wireless signals in Oxford), the game finally started about 40 minutes behind time. Alex Selby won the game on the final ko. The game was broadcast in KGS and commented by Matthew Macfadyen.
Guo Juan has also made her audio comments available at AudioGoLessons.com
The home of BGJ Editor Barry Chandler in Winnersh (Berks) was the venue for the long weekend of the Challengers' League. The top players from the Candidates' joined with British Champion Bei Ge to decide who will play this year's title match. Bei took an early lead and won all seven games to take first place. Surprisingly Matthew Macfadyen only won 4 games; his losing scores only totalling 4.5! Alex Selby lost his first game, but then won his next 4 and the last one to end on 5 wins and clear second place; his wins against Matthew Macfadyen and Sam Aitken were both half-pointers. So Alex will challenge Bei Ge for the British Champion's title. This is only the second time since 1977 that the final will not involve Matthew Macfadyen, who ended third. Also on 4 wins was David Ward, on 3 Des Cann, 2 T Mark Hall and William Brooks, and on 1 Sam Aitken. Tony Atkins was referee and ensured all went well and with Barry's help four games at the weekend were broadcast live on KGS.
The Candidates' Tournament stayed this year on the May Bank Holiday weekend, at 6 rounds, and at Selwyn College in Cambridge. There were 23 players and four local ghosts taking part, from 2 kyu to 6 dan. Winner with a straight 6 was Matthew Macfadyen (6 dan) from Leamington. With 5 wins were Des Cann (5 dan) and Alex Selby (3 dan). The top four of the group on 4 wins also qualified for the Challengers' league: David Ward (4 dan), T.Mark Hall (4 dan), Will Brooks (3 dan) and Sam Aitken (3 dan). Tim Hunt was first reserve under the place last year tie-break. They would join Champion Bei Ge in the League in June.
The list of players qualified for the 2007 British Go Championship was based on their performance in tournaments played during 2006. The qualifying achievement for the Candidates' Tournament 2007 was to have an EGF rating of 1900 or higher immediately after the end of at least one tournament in 2006 in which the candidate played in all rounds.
Last updated Fri May 05 2017. If you have any comments, please email the webmaster on web-master AT britgo DOT org.