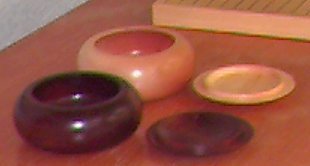 This picture shows one dark and one light bowl, made from different woods.
You may order a pair of dark bowls, a pair of light bowls, or one of each.
The idea of having one of each is that you can tell which contains which colour of stone without opening them.
Last updated Wed May 10 2017. If you have any comments, please email the webmaster on web-master AT britgo DOT org.