The 1977 Trigantius was held at the Cambridge University Centre. It was won by visiting Professor of Greek K. Matsumoto (4 dan). The British Go Congress was held at Gilbert Murray Hall, Leicester University. The lightning was won by T. M. Hall. Nishiwa was placed first in the Open on second tie-break from Diamond. S. Shiu won the under 16 prize.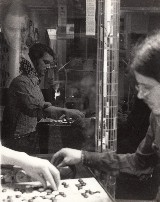 In 1977 the Jubilee Challenge Trophy (a Go ban) was launched; South Cotswold beat Bristol in the first match, losing to Southampton in the second. In March at the London Go Centre David Mitchell set a record with 46 hours non-stop Go playing. The British Championship was again a Prescott-Diamond match. Mr. Ito won the LGC Championship and Matthew Macfadyen won the Northern.
The European was held in an idyllic suburb of the Hague. In the open section Stuart Dowsey was second to Jerome Hubert. In the top group Wolfgang Isele of Germany was the Champion ahead of Hasibeder, Schlemper and Macfadyen (4 dan).
BGJ 39 was the last produced by the Bristol team. The editorship passed to David Wells of London who then produced issues 40 and 41 in quick succession. The 1977 Wessex was won on tie-break by Frank May (3 dan) of London. Robert Berry (10 kyu) of Huddersfield won the second Northern Schools Championship. Matthew Macfadyen (4 dan Reading) beat Jim Bates (3 dan) in the Knockout Championships. Tony Goddard travelled to Berlin and was rewarded with first prize and promotion to 5 dan.
134 players attended the London Open including 26 first kyus of whom Harry Fearnley and Nick Webber were the best. Matthew Macfadyen won the event ahead of David Mitchell and Jon Diamond. Graham Telfer got a good result at 10 kyu winning 7/8. Jon Diamond announced his resignation as Champion after winning it every year 1965 to 1977 except 1974. He tipped Macfadyen as his successor as Goddard was too erratic.
---
Last updated Wed May 03 2017. If you have any comments, please email the webmaster on web-master AT britgo DOT org.