Summary
2006 was a year of change in the BGA. Simon Goss stepped down as president and Ron Bell took over after the AGM. T Mark all also stepped down after 20 years as treasurer. Membership numbers were down, partly due to production difficulties with the British Go Journal for the second year running; a new editor, Barry Chandler, took over at the end of the year. Tournament attendance was also a little down, but the number of events was up with a new East Midlands event. The Mind Sports Olympiad returned from Manchester to London and so did not feature the Northern. National Go Week was held in July, with picnics, open meetings and events, and the BGA hosted the European Women's Goe Championship as part of the Isle of Man Go Week. However the biggest change of all was that, in a modified system, Matthew Macfadyen was not the British Champion, being beaten by Bei Ge.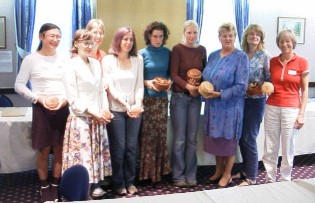 British Go Congress
The British Go Congress was held at Lancaster Grammar School. Winner of the Open Championship was Ben He from Glasgow. He also won the British Lightning held at the nearby Gregson Community Centre. The Nippon Club Cup moved far away from London as it was won by Durham. Alistair Wall was the winner of the Stacey Trophy for most wins during the year.
Regional Tournaments
In 2006 the tournament titles were well shared about. Ben He won the Scottish Open and Trigantius, to go with his two British titles, and Bei Ge won Leamington and Oxford to go with his. Only two other players won more than one event: Alex Selby won Milton Keynes and Swindon, and Piers Shepperson won Maidenhead, New Malden and the Isle of Man Open. Matthew Macfadyen won the Welsh Open for the 14th time in a row and Li Shen won Epsom for the third.
The winners of the other events were: Yangran Zhang (Cheshire), Roman Pszonka (Bracknell), Matthew Cocke (Isle of Man Afternoon), Simon Shiu (East Midlands), David Ward (Durham), Alistair Wall (MSO Open), Edmund Shaw (Cornwall), Alex Rix (Wessex) and Tony Goddard (Three Peaks). Spain's Paco Garcia de la Banda won the MSO Rapid play.
Handicap and Barlow events were won by: Paul Tabor (Cambridge Bar-Low), Mark Sullivan (Cheshire), Ken Kneller (West Surrey), Neil McLean (Fife), Simon Billouet (Isle of Man), Robert Churchill (Cornwall) and Neil Mitchison (Scottish Barlow). William Brooks won the British Small Board at Cambridge.
Central London won both the spring and autumn London team matches, and Maidenhead retained the Thames Valley team title.
Pair Go
Matthew Macfadyen and Kirsty Healey regained the British Pair Go title. The event was again at Boars Hill in Oxfordshire. British Handicap group winners were husband and wife, Jackie Chai and John Johnstone. The top British at the EPGC in Berlin, Matthew Cocke and Natasha Regan, were third. They also took part in the International Amateur Pair Go Championships in Japan (coming 21st).
British Championship
28 players took part in the Candidates' Tournament in Selwyn College, Cambridge. It was won by Bei Ge, who, with six others, moved forward to join Matthew Macfadyen in the Challengers' League held in Letchworth. Macfadyen and Ge were the top two in that and so played the title match at various venues between July and December. White won all five games, which made Bei Ge the new champion 3-2.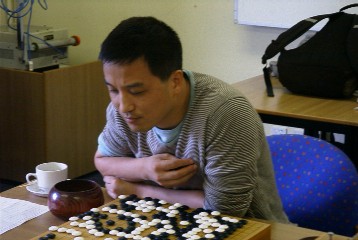 International
Des Cann played in the 2006 World Amateur at Huis Ten Bosch theme park near Nagasaki, winning 4 games (30th place). T Mark Hall played in the new International Baduk Championship in Korea and was placed 32nd with 4 wins, whilst Ian Davis, playing for Ireland, won 3 to come 55th. Also at this event were Geoff Kaniuk and Tony Atkins working as officials and John Fairbairn presenting a paper on rules changes at the 4th International Conference on baduk.
Youth Events
The Youth Championship stayed in Aston and attracted 38 players. William Brooks was again the Youth Champion, also winning under-18. The other age group winners were Maria Tabor, Hai Xia, Vanessa Wong (from Hong Kong), Dominic Boston and Thomas Mehan. The Castledine Trophy was again won by hosts King Edward VI (Aston) School. The Youth Grand Prix continued and was won by Ken Dackombe, ahead of William Brooks and Kay Dackombe. The third UK Go Challenge was held in 10 schools. The finals in Loughborough were won by William Brooks. Silver and Best Girl went to Maria Tabor and Bronze to Matthew Hathrell. Top schools were Aston and Milton. Thanks to sponsor LG Electronics UK, prizes were personal stereo systems and mobile phones.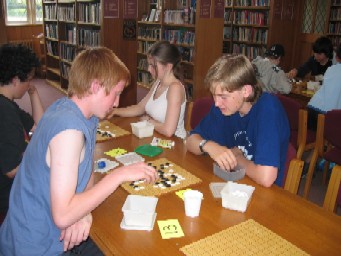 London Open
The London Open ended the year as usual with 150 players. Again it was a major tournament of the TOYOTA - IGS-PandaNet European Go Tour and at the central location of the International Student House on Great Portland Street. As last time, the top one or two boards were broadcast live on IGS-PandaNet. With no strong Koreans this time, three players ended on 7 wins. It was Ondrej Silt from Czechia who took first place and two Chinese players from the UK took the next places: Li Shen from London and Ben He from Glasgow. The Lightning final was won by Arnaud Godet, a 19 kyu from France.
---
Last updated Wed May 03 2017. If you have any comments, please email the webmaster on web-master AT britgo DOT org.