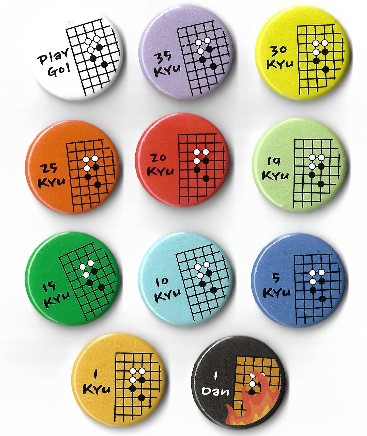 In 2018 the British Go Association introduced a series of badges, available for juniors, to reward their progression through the Go grades. In 2022 the number of grades covered was extended so that there is now a badge for every grade from 5 dan down to 20 kyu, with the additional 25 kyu, 30 kyu and 35 kyu badges as well as the beginner "Play Go!" badge.
All players at any junior club are entitled to receive "Play Go!"badges after three sessions at their club. Guidelines are available to organisers of youth clubs who issue badges so that youngsters with the same grade-band badge should be about the same ability. The club organiser can award the badges until the players reach 20 kyu. After this level players only receive the next badge as their grade improves on the British Go Rating list. The ultimate badges to collect, with the flame motif extra, are the ones for making it to the dan grades.
Once a grade is reached, players may keep that badge as a recognition of their achievement even if their subsequent playing performance does fluctuate.
Badges cost £1 each (with an additional £1 postage if being posted individually to a player). Players may swap a badge for the next grade up, once earned, for no charge.
Any questions on how to receive your badge should be directed to Alison Bexfield (badge scheme administrator) at alison AT bexfield.com.
Last updated Wed Mar 16 2022.
If you have any comments, please email the webmaster on web-master AT britgo DOT org.