Junior Match Against Hong Kong 2020
Tournament Name
Junior-HK Match
Tournament Date
Sat, 7 Nov 2020 - Sat, 10 Apr 2021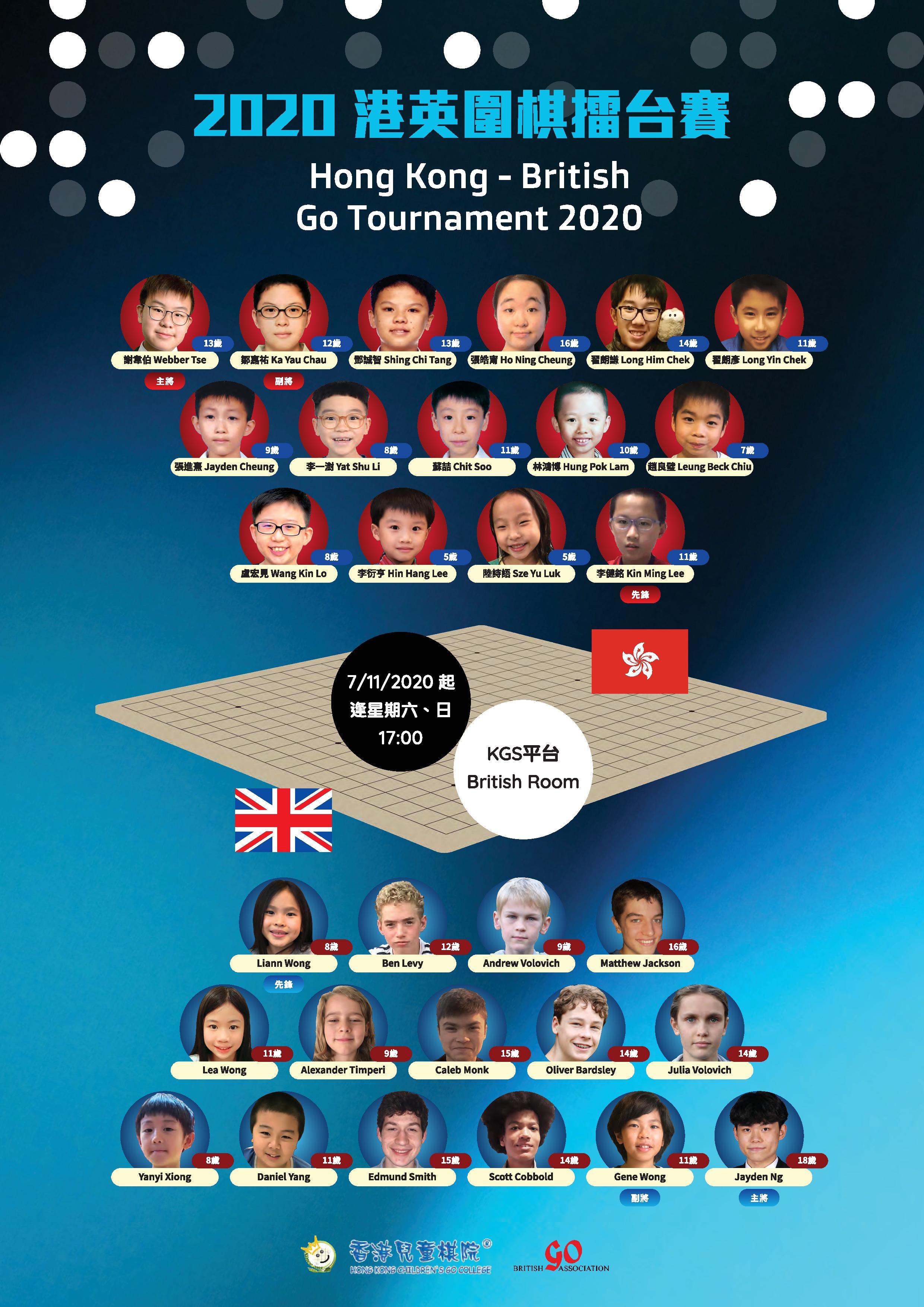 On 7th November we started a match on KGS between fifteen British youth players and a team of fifteen Chinese children from Hong Kong, under Liana Ao 4p. This carried on for several weeks with one or two games each weekend. The format was that of last team standing, like the former China-Japan Supergo Matches, with the winner of each game staying on. The games were played online in the KGS British Room, with Chinese Rules with 30 minutes main time + 3 x 30 seconds byoyomi and komi is 7.5 points. The British team was selected from our list of young players, taking those who are currently active, settled in the UK and who replied to the invitation.
The Hong Kong team streamed the match on YouTube (or you could watch the games on KGS). Hong Kong used KGS handle "hkteam".
Hong Kong (showing /age/grade):

Kin Ming Lee (11, 18k)
Sze Yu Luk (5, 18k)
Hin Hang Lee (5, 17k)
Wang Kin Will Lo (8, 19k)
Jayden Cheung (9, 15k)
Yat Shu Li (8, 13k)
Chit Soo (11, 12k)
Hung Pok Bob Lam (10, 10k)
Leung Beck Chiu (7, 7k)
Long Yin Leo Chek (11, 4k)
Long Him Leon Chek (14, 1k)
Ho Ning Cheung (16, 2d)
Shing Chi Tang (13, 2d)
Ka Yau Chau (12, 5d)
Webber Tse (13, 5d)

UK (showing KGS handle/age/grade):

Liann Wong (GoGoLady, 8, 20k)
Ben Levy (Benthor, 12, 18k)
Andrew Volovich (AgoV, 9, 17k)
Matthew Jackson (MTJ22, 16, 17k)
Julia Volovich (JuliaTatad, 14, 13k)
Oliver Bardsley (ShakennotS, 14, 13k)
Caleb Monk (CalebMonk, 15, 10k)
Alexander Timperi (HarryKane, 9, 6k)
Lea Wong (GirlPower7, 11, 4k)
Yanyi Xiong (icecream, 8, 9k)
Daniel Chun Yang (Chunyang18, 11, 1d)
Edmund Smith (dnumde, 15, 3k)
Scott Cobbold (splaty, 14, 3k)
Gene Wong (genewong, 11, 2k)
Jayden Ng (jaydenng, 18, 1d)
Hong Kong wins 15-14
Results/Game Records
Last updated Sun Apr 11 2021. If you have any comments, please email the webmaster on web-master AT britgo DOT org.