Junior Match Against Hong Kong 2022
Tournament Name
Junior-HK Match
Tournament Date
Sat, 4 Jun - Thu, 1 Sep 2022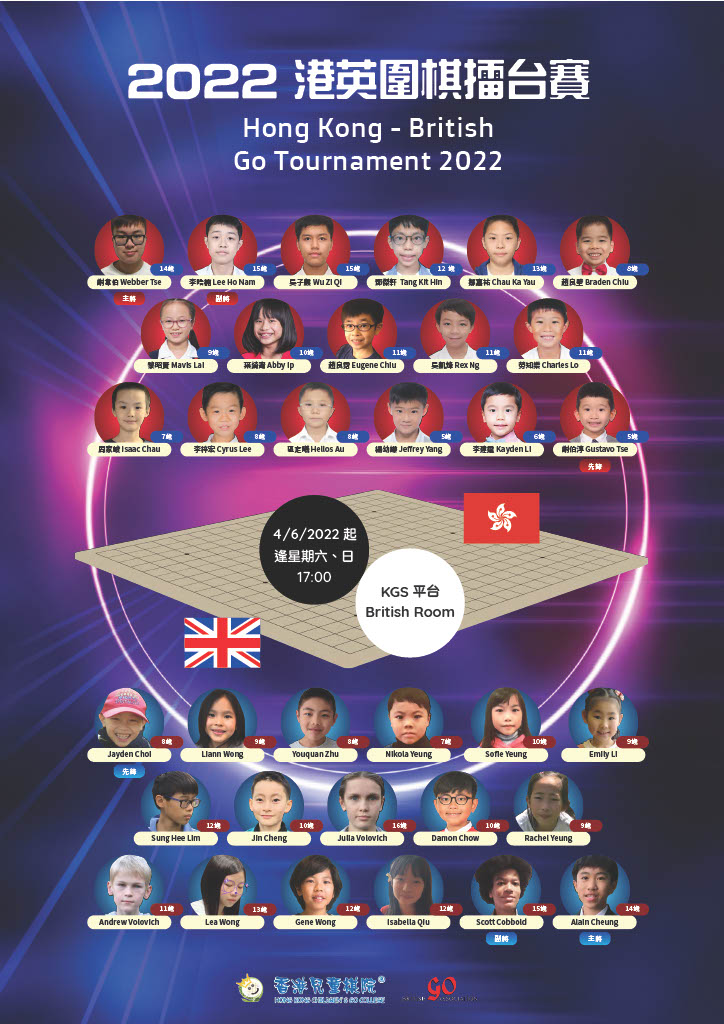 On 4th June we started a second match on KGS between seventeen British youth players and a team of seventeen Chinese children from Hong Kong Children's Go College. This will carry on for several weeks with usually two games each weekend at 10:00 each day. The format, as in the first match in 2020-2021, is that of last team standing, like the former China-Japan Supergo Matches, with the winner of each game staying on. The games are played online in the KGS British Room, with Chinese Rules with 30 minutes main time + 3 x 30 seconds byoyomi and komi is 7.5 points. The British team was selected from our list of young players, taking those who are currently active, settled in the UK and who replied to the invitation. The HK team plays under username "hkteam".
UK (showing KGS handle/age/grade):

Liann Wong (GoGoLady, 9, 20k)
Youquan Zhu (Gominion, 9, 16k)
Jayden Choi (littlebun, 8, 20k)
Nikola Yeung (Nikola1010, 7, 16k)
Sofie Yeung (sofie0903, 9, 16k)
Emily Li (Emicatly22, 9, 11k)
Rachel Chik Yeung (HamsterRach, 9, 15k)
Damon Chow (damonchow, 9, 14k)
Julia Volovich (JuliaTatad, 16, 10k)
Jin Cheng (Jinjingo, 10, 9k)
Sung Hee Lim (goldenrobin, 11, 7k)
Andrew Volovich (AgoV, 11, 7k)
Lea Wong (GirlPower7, 13, 4k)
Gene Wong (genewong, 12, 2k)
Isabella Qiu (Isabella09, 10, 2k)
Scott Cobbold (splaty, 16, 2d)
Alain Cheung (AlainFC, 14, 4d)

HK (showing age):

Gustavo Tse (5)
Kayden Li (6)
Jeffrey Yang (5)
Hellos Au (8)
Cyrus Lee (8)
Isaac Chau (7)
Mavis Lai (9)
Abby Ip (10)
Eugene Chiu (11)
Rex Ng (11)
Charles Lo (11)
Braden Chiu (8)
Chau Ka Yau (13)
Tang Kit Hin (12)
Wu Zi Qi (15)
Lee Ho Nam (15)
Webber Tse (14)
Results
UK team order may change because of other commitments.
Liann Wong lost to Gustavo Tse (by 67.5) - Saturday 4th June
Youquan Zhu lost to Gustavo Tse (by 92.5) - Sunday 5th June
Jayden Choi lost to Gustavo Tse (by 26.5) - Saturday 11th June
Sophie Yeung lost to Gustavo Tse (by 37.5) - Saturday 18th June
Nikola Yeung lost to Gustavo Tse (by resignation) - Sunday 19th June
Emily Li lost to Gustavo Tse (by 60.5) - Saturday 25th June
Julia Volovich beat Gustavo Tse (by 78.5) - Sunday 26th June
Rachel Chik vs. Kayden Li - Saturday 22nd July
Last updated Mon Jun 27 2022. If you have any comments, please email the webmaster on web-master AT britgo DOT org.