From BGJ 198 February 2022
Scott Cobbold, one of our most promising juniors, has been making remarkable progress recently. After winning all five of his games at the British Open in October, he won all five again to win the Bar Low in November. He became British Youth Champion later in the month (again winning all five games) and, thanks to five wins out of seven in our premier tournament, the London Open, he has already achieved a rating of 1 dan. We asked him for some brief biographical notes.
I am not really sure what to write as a biographical note but I would like to say that at the championship getting there it was really good to see everyone again and it was also nice to be going with my friends from school. I was really happy to be able to win the overall tournament, and as well as this I was happy that my friends from school also did really well.
About myself: I am 15 and I like to do maths a lot, I play a bit of piano and some violin but I prefer doing art and painting, which is the subject I took. I enjoy playing Go and I started playing in around 2017.
What do you like most about playing Go?
I really enjoy playing Go because I like the fact that it is very complex and has very interesting abstract concepts despite the quite simple rules.
You are a member of the Wanstead club - how long have you been going along to that?
I can't really remember how long I have been going to Wanstead club. I think I first went to the Central London Go club on Saturdays at first as it was more convenient. Thankfully the Wanstead club has been able to go on now but of course during the lockdown, sadly not.
Would you tell us a bit about the EGF Youth Academy?
I did actually write something on the EGF academy for the youth newsletter previously, it is quite helpful and lectures are given by Alexander Dinerchtein, who mainly looks at tesuji from real games, and Catalin Taranu, who reviews games. There is also a league and your games get reviewed.
You played in the JIGS Easter Tournament. Are you a member of the JIGS school?
I am not a member of the JIGS school. I attended an online tuition course in the Easter. It was very good and I would be playing Go basically all day for several days.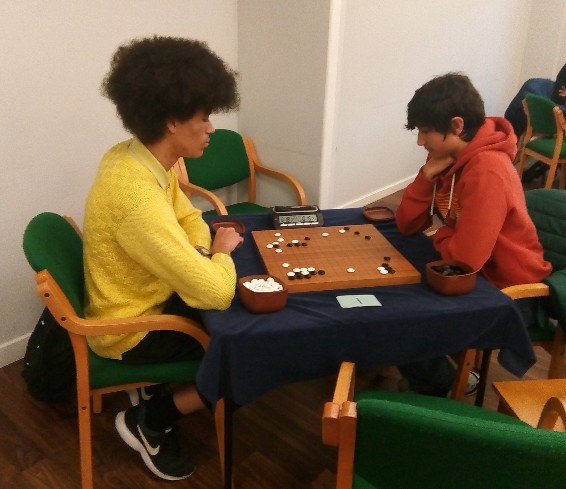 Last updated Sat Mar 05 2022. If you have any comments, please email the webmaster on web-master AT britgo DOT org.