Daniel Hu is British Champion
Mon, 02/10/2017 - 10:56

—

Tony Atkins
British Championship
Sat, 30 Sep 2017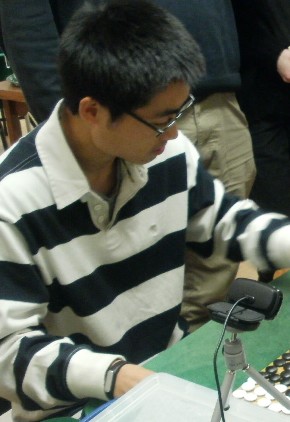 After winning the first game of the title match on 19th August, Daniel Hu beat Andrew Simons in the second game on 30th September to take the match 2-0. The game was broadcast in the English Game Room on KGS so the very interesting game could be followed as it was played out from 10:00 through to after 19:00. The fuseki was very interesting - with the same joseki played in adjacent corners. On the sealed move for lunch it seemed Andrew as white had claimed the entire top of the board, but black invaded and after a lot of careful thought a ko was fought, after which the group lived. In then relied on each player carefully playing out the rest of the game to be on the right side of a tight finish. In the end, Daniel won by just 3.5 points. The photo shows him playing at the earlier Candidates' Tournament.
Thanks go to Matt Marsh and Matt Reid for relaying the game, Simon Mader for hosting the game in Cambridge, and of course the players for making the match so interesting.
See Championship Section for game record.
Last updated Tue Oct 03 2017. If you have any comments, please email the webmaster on web-master AT britgo DOT org.