Mon, 16/07/2018 - 12:58

—

Tony Atkins
AWCC
Cambridge
Wed, 11 - Fri, 13 Jul 2018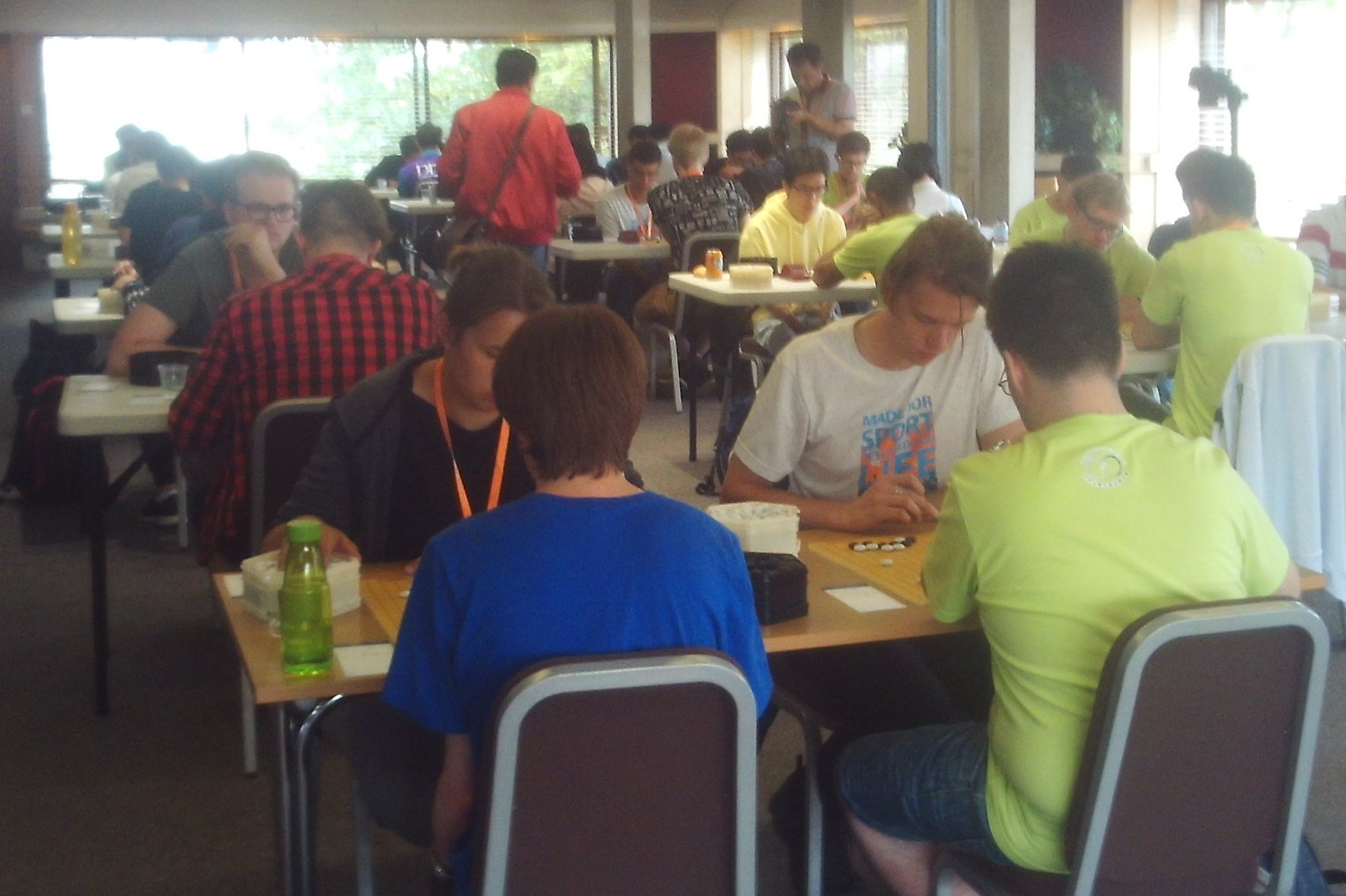 The fifth Annual World Collegiate Weiqi Championship (AWCC) was held in Cambridge this year and organised by the International University Weichi Federation (IUWF). Naturally it was supported by the BGA and sets were provided by the Ing Foundation in Shanghai. Many of the organising team were students at British Universities including Daniel Hu, Junan Jiang, Weichin Dai and Joanne Leung.
The tournament had 102 players (a view of one of the two playing rooms is shown here). It was held over two days and six rounds, apart from the A group that also had semi-finals and final (shown below) on the third day, the Friday. This was broadcast on a Chinese Go server, like the pro games, and analysed by professionals (shown below middle with Daniel Hu translating) for the other student players.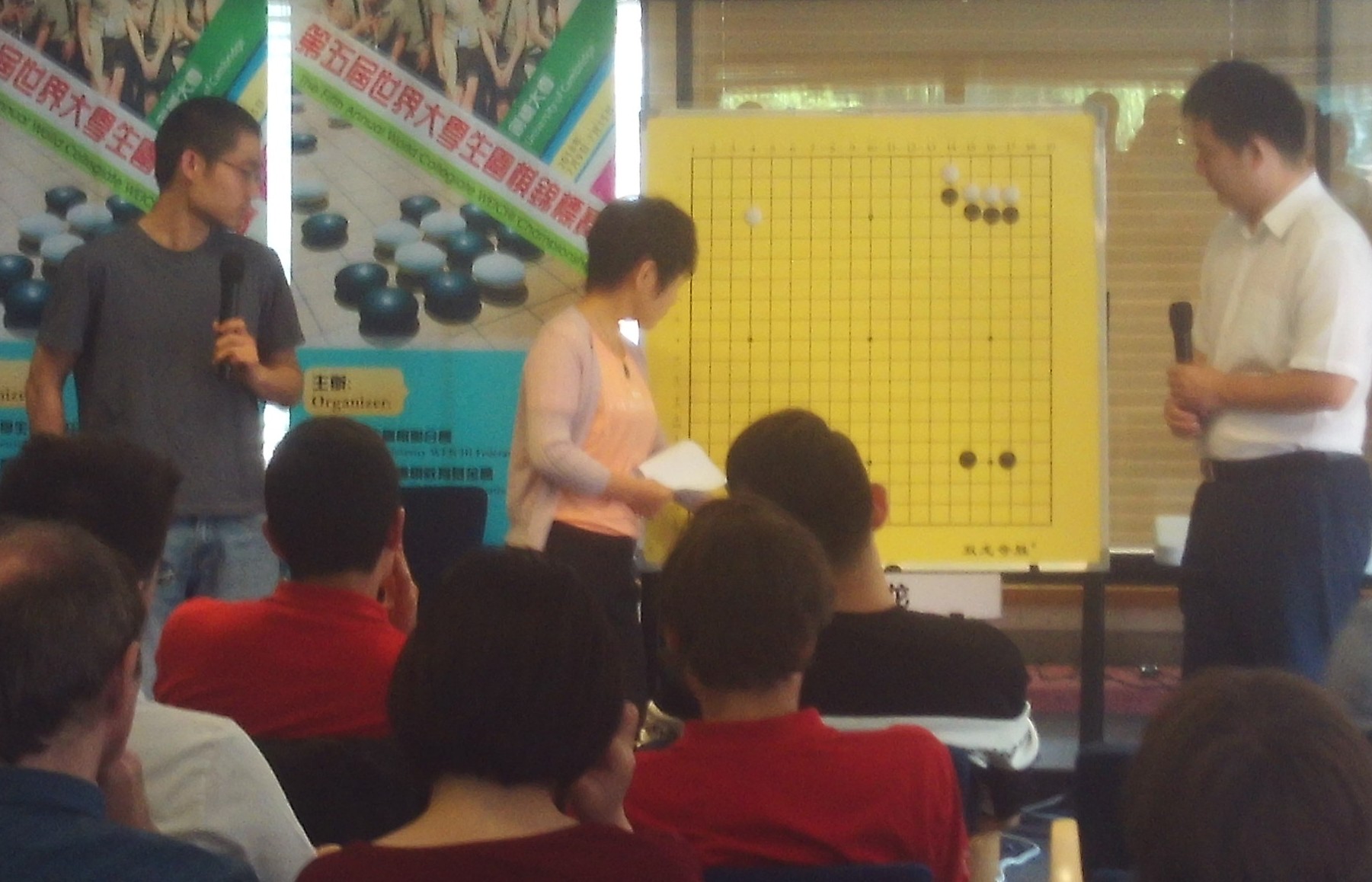 The Chinese pros playing in and supporting the semi-finals of the Chang Qi Cup, also played simultaneous against the students and any other Go players present on the Friday morning. As previously reported Mi Yuting beat Shi Yue 2-0 in one semi-final, and in the other Tuo Jiaxi beat Lian Xiao 2-1. Their final will be in the autumn back in China.
In the AWCC, the top 6 in each group got prizes - at the awards ceremony the BGA President, Toby Manning, presented the C-group winners with a trophy, certificate and an electronic prize. The president of the IUWF, Mr Ying, was pleased it had been now held for the first time in Europe, especially in Cambridge - a place he loved from a previous visit. However he regretted the visa problems that seem to occur in western countries.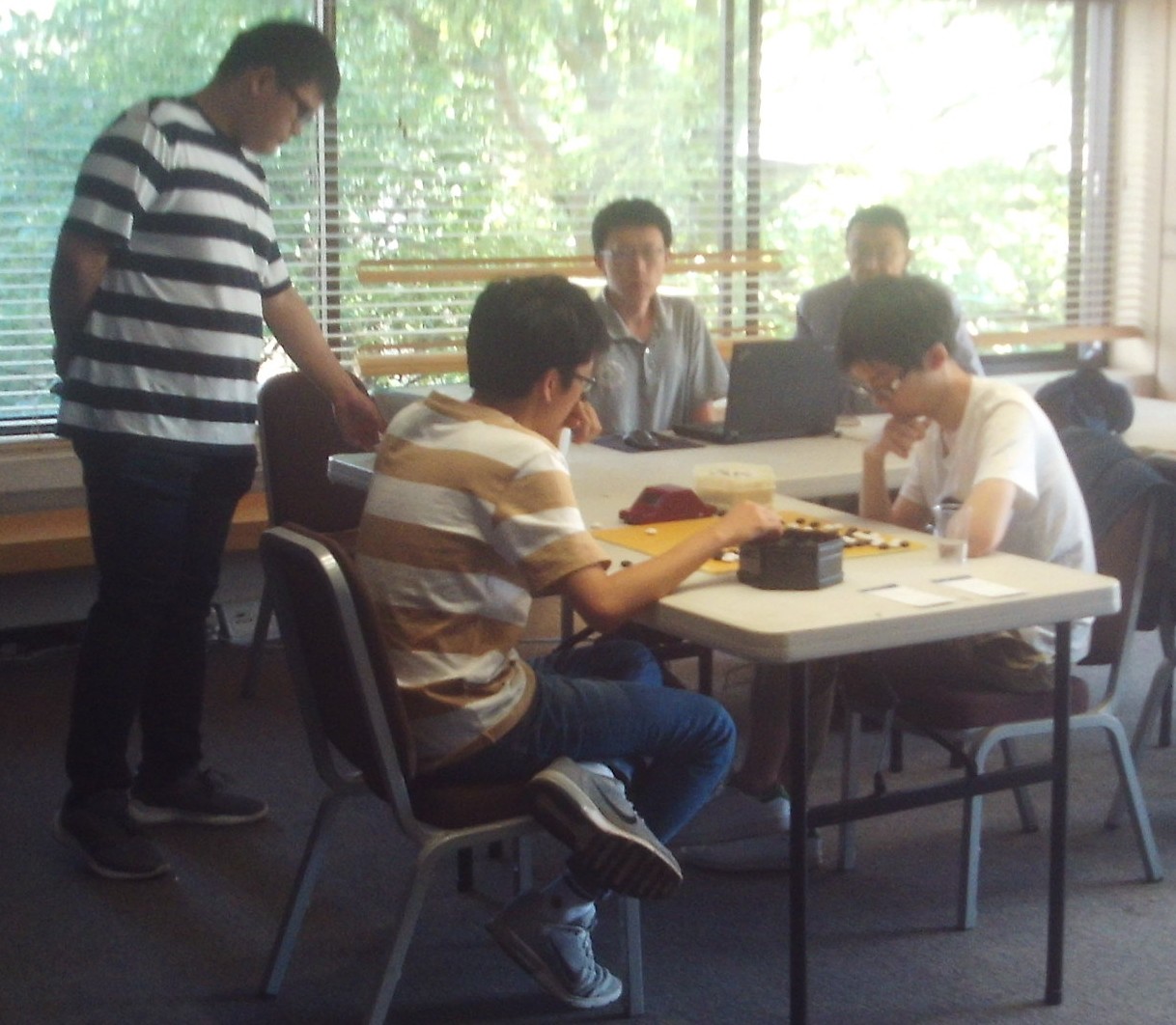 The top winners and best UK-based players were:
19-player E (female group): Winner Shan Jin (Shanghai), Runner up Si Chen (Shanghai); UK Gaoge Wang 4/6, Lorraine Choi Ting Hon 3/6
11-player D: Winner David Skala (Pardubice), runner up Bart Slijkhuis (Groningen); UK January Chlebowicz and James Urquart 3/6
14-player C: Winner Savva Antoniuk (St Petersburg), runner up Zayd Ouzerara (Geneva); UK Rajiv Daxini and Philip Nielsen 3/6
20-player B: Winner Cary Jin (Melbourne) on tie-break from So Kang Wu (Yonsei) and Kim Si Hwan (Dongguk); UK Jonas Egeberg 3/6
38-player A: Group K/O for top four: 4th Tang Hau Liu (Shanghai); 3rd Sanghyeop Lee (Pasadena), 2nd Xing Yu Sha (Shanghai); 1st Baek Woon Ki (Myongji); UK: Junan Jiang 2/6, Daniel Hu 3/6, Weichen Dai 3/6.
Last updated Tue Sep 25 2018. If you have any comments, please email the webmaster on web-master AT britgo DOT org.