Sun, 30/06/2019 - 08:23

—

Tony Atkins
Durham
Sat, 15 - Sun, 16 Jun 2019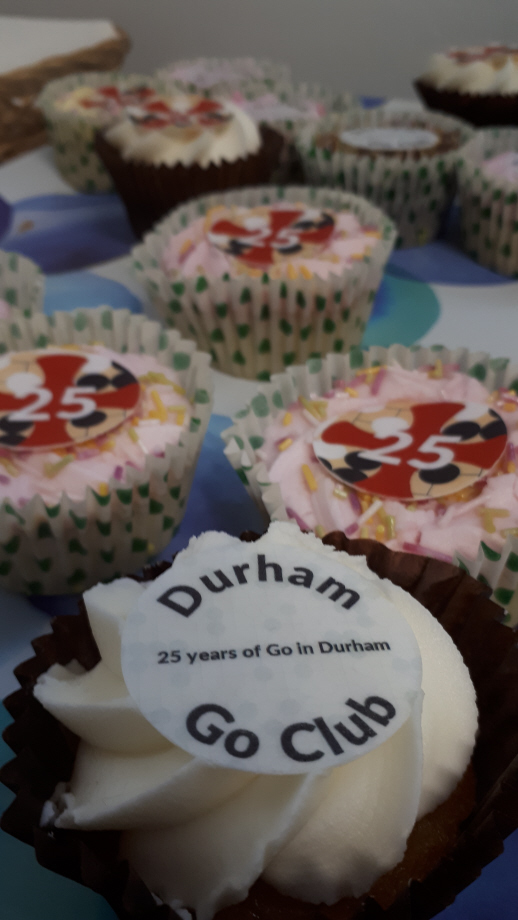 In celebration of 25 years of Go in Durham, Durham Go Tournament 2019 was suitably festive - from the Go Club cupcakes to the 25 Year t-shirts (0.25% of the 10,000 year ko!)
The weekend started with players meeting in the pub for a meal on the Friday night. There were 36 entries to the tournament - 15 either current Durham players or alumni of the Durham club, and 18 people who had no connection with the Durham club at all. In total 16 clubs were represented; it was particularly good to see the fledgling Beverley Go Club in attendance.
Durham is a friendly, 6-round, weekend-long tournament. This year it was, for the third year running, held at the Oriental Museum. Several players came with non-Go-playing families who enjoyed the sights of Durham during the day, while the players were competing for the traditional Goat Ornament first prize.
As with the last few years, the top boards were broadcast live and recorded on YouTube and also shown on a big screen in the Review room.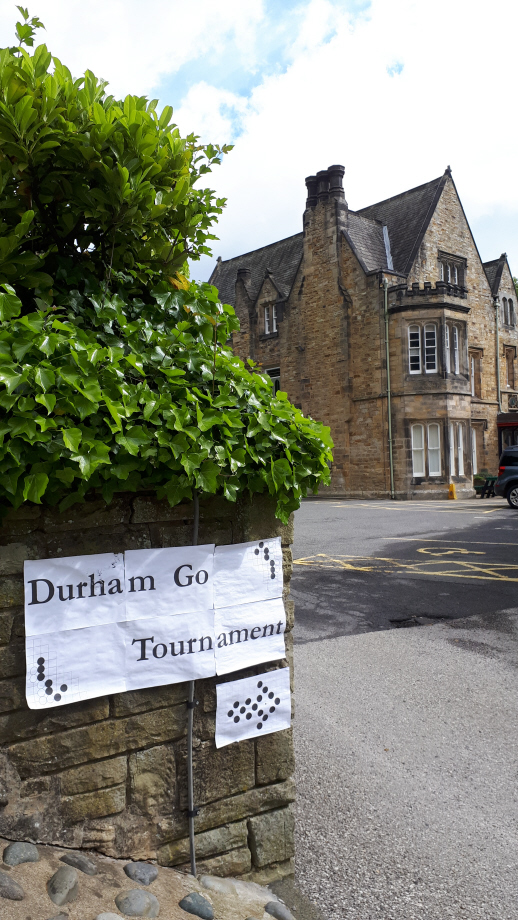 The Saturday evening has for many years held an All-You-Can-Eat BBQ. This year was no exception, certainly no one went away hungry, and it gave a chance for some of the people who hadn't been able to attend the tournament to get some games with people who had. Sadly the warm sunshine from earlier in the day had changed to heavy rain by the time the BBQ started, but with the help of a number of gazebos we still managed plenty of food, plenty of drink, plenty of chatting, and plenty of Go.
The sun was back for Sunday morning, and - once security had arrived to unlock the building, and latecomers had arrived - the draw was made for Round 4. That round, and the rest of the Sunday, passed fairly uneventfully (off the boards, at least).
The Durham tournament has two side events - 13x13 Small Board and 19x19 Lightning. Unfortunately most of the entrants were too busy either playing or socialising to take part! The winner of the Small Board was Ryan Zhang (on one win out of one), and the winner of the Lightning was Matthew Frye (also on one of one).
Prizes were given to players winning four or more games (Tetsuro Yoshitake, Chao Zhang, Alex Kent, Ed Blockley, Martin Harvey, and Nicholas Yelland), and to players who had won all their games but had only played for part of the tournament (Robin Nandi, Thomas Hill, Hailiang Du, and Yuiwei Chung).
Last updated Mon Sep 23 2019. If you have any comments, please email the webmaster on web-master AT britgo DOT org.