Joanne and Bruno Make it a Double
Mon, 10/06/2019 - 12:15

—

Tony Atkins
British Pair Go
Hatfield
Sat, 8 Jun 2019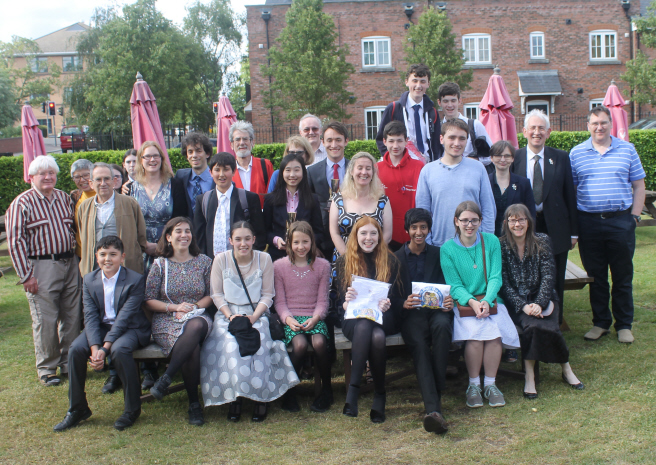 The 38th British Pair Go Championship was held at its now regular venue, the Red Lion in Hatfield. As well as serving lunches and drinks, this has a garden to sit in (when it is not raining), is very close to the railway station and has some nearby shops (including that Hertfordshire delight, a Simmons bakery).
Some of the stronger pairs could not play this time; for instance Natasha Regan was lecturing on Go at the Cheltenham Science Festival. However, thanks to the minibus from Cheadle Hulme School (CHS) there were still 15 pairs, many including youngsters. Also included was Jose Teles de Menezes from Portugal who played with his daughter Ines.
In the top group, the champions of 2016 and 2018, Joanne Leung and Bruno Poltronieri, managed to take the title again, winning the final against Ingrid Jendrzejewski and Alex Selby by 8.5. In the handicap section it was a pair from CHS, Lizzy Pollitt and Sam Barnett, who were the winners; they beat another young pair, Amy Upton and Rohan Neelala, in the final.
Thanks to the Japan Pair Go Association, organiser Francis Roads awarded all players with prizes, either from the varied collection on the prize table or a Pair Go tee-shirt. The two fighting spirit prizes went to Jackie Chai and John Johnstone (Bournemouth), and Ellia Blundell and Morgan Pittaway (CHS). The ghost player, Tony Atkins, was invited to judge the Best Dressed competition. He judged that Lizzy Pollitt and Sam Barnett in their black and white outfits were also the winners of this.
Jenny Rofe-Radcliffe set the Pair Quiz - this time pairing up school playtime games with their definitions - which proved too easy with the several maximum scores having to be split by Go grade to determine the winner; the winner was Zoe Walters.
Last updated Wed Jul 03 2019.
If you have any comments, please email the webmaster on web-master AT britgo DOT org.