Tetsuro Yoshitake Wins Wet Sheffield
Mon, 30/09/2019 - 15:09

—

Tony Atkins
Sheffield
Sun, 29 Sep 2019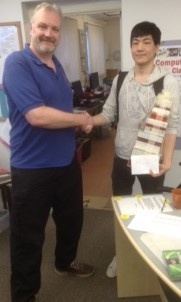 This year 36 players took part in the annual Sheffield tournament, now in its fifth edition at Greenhill Library. Tetsuro Yoshitake (3d Nottingham) was the eventual winner with three wins and he is shown, right, receiving his prize. The next three places had to be separated by SOS to give second place to Toby Manning (1d Leicester), third to Richard Wheeldon (2k London) and fourth to Carl Roll (2k Nottingham).
Winning all three games were Ashley Lester (7k Nottingham), Daffyd Robinson (13k Lincoln) and 4 from Cheadle Hulme School (CHS) - Sam Barnett (13k), Amy Upton (13k), Morgan Pittaway (24k) and Jacob Rubert (29k). These CHS 4 had all been to this year's summer Go camp. The group of 11 from CHS competing at Sheffield won 61% of their games on the day.
The organisers look forward to a sixth edition of the tournament next year, hopefully with a little less rain.
Last updated Mon Oct 07 2019. If you have any comments, please email the webmaster on web-master AT britgo DOT org.