Mon, 21/03/2022 - 20:10

—

Tony Atkins
Cheshire
Frodsham
Sat, 19 Mar 2022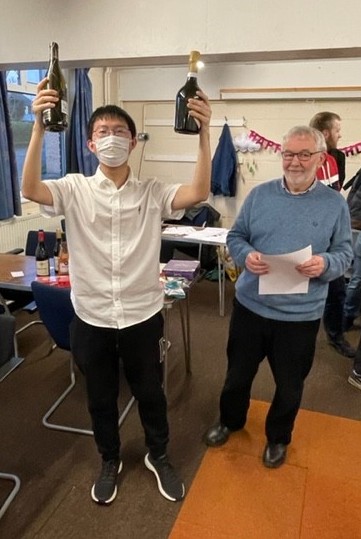 After skipping two years, the Cheshire Go Tournament was back and held at the community centre in Frodsham as usual. Saturday 19th March proved that spring was approaching, as it was a beautiful, warm and sunny day.
There was the usual good turnout of pupils from Cheadle Hulme School; Sheffield University, Lancaster, Liverpool and Chester were also well represented. Of the 34 participants no less than fifteen players were in their first tournament and the grades ranged from the four at 5 dan down to the six at 35 kyu.
Runyi Wu (5d, Sheffield University) took first place, in his first tournament in the UK (shown here with organiser Tony Pitchford). In second place (on tie-break from Tianyi Chen) was Changhao Huang (5d, Liverpool). Below the bar, prizewinners winning all three games were Joseph Violet (8k, Nottingham), Daniel Kelsall (17k, Cheadle Hulme School) and Rohit Surapaneni (35k, Cheadle Hulme School). James Zhao (28k, Cheadle Hulme School), won all 12 of his games in the 13x13 side event. Results
Last updated Tue Mar 22 2022.
If you have any comments, please email the webmaster on web-master AT britgo DOT org.