Durham Social Despite Weather
Sun, 25/06/2023 - 21:38

—

Tony Atkins
Durham
Sat, 17 - Sun, 18 Jun 2023
The 2023 Durham Go Tournament was held in Elvet Hill House, next to the Oriental Museum, as has become traditional over the last few years. This year Andrew was able to be there in person to help with the organisation, having not contracted Covid!
Unfortunately we managed to clash with an Open Day at Durham University, so the city was much busier than usual and some people had trouble finding hotels. Nonetheless 30 entrants played over the weekend, ranging from 20k to 5d - including students from a number of universities, and some Youth players. People came from as close as Durham, and as far away as Holland - from a fortunate alignment of timings, Reinald Minnaar was visiting Durham for an academic conference and so was able to enter the Tournament as part of the same trip. We even had some spectators, who came to watch some of the early games.
One thing that I've always thought is very important at tournaments is the social side of things - bringing Go players together as a community. At Durham we have an all-you-can-eat BBQ on the Saturday night, where people who entered the tournament can spend time together with people who couldn't play at the event due to other commitments and non-Go-playing friends, partners, and family members - and this year was no different.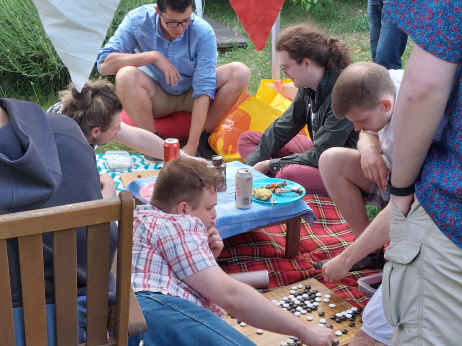 Durham - like the rest of the UK - had been enjoying weeks of almost unbroken sunshine. On the Saturday morning we erected several gazebos, to make sure that there would be some shade at the BBQ - but, inevitably given that we're in the UK, over the course of the day the weather got worse until it started drizzling and the gazebos were instead needed to keep the rain off. Luckily the rain abated, and there was a lot of enjoyable chat and games through the garden. Food kept coming until no one could manage any more, and some students took home the leftovers.
Sam Bithell (2d, Durham) - along with other strong players - gave game reviews throughout the tournament, and it was useful to get insights and advice on games as they finished across the weekend.
As in previous years we tried to stream all the games being played on Board 1 - including projecting it in the Side Room for people to watch between games. Unfortunately some technical issues meant that we lost Round 4 and half of Round 1, but the other games are available on YouTube https://www.youtube.com/@durhamgoclub2358/playlists. Sam has been analysing the games, and these game reviews should be available soon.
The tournament was won by Sicheng Shang, who received the traditional Goat Ornament. Prizes were also given to those who had won all of their games (Peikai Xue, Andrew Ambrose-Thurman), those who won 5/6 (Sicheng Shang), and those who won 4/6 (Zeding Liu, Pat Ridley, Daniel Guest, Daffyd Robinson). The Small Board side event was won jointly by Craig Maclean and Chris Muse, and the Lightning side event was won jointly by William Cleeve and Colin Williams. Special mention was given to Craig Maclean for winning 0/6. Results
After the tournament various people braved the rain and went for drinks and a meal while waiting for their trains.
Last updated Sun Jun 25 2023.
If you have any comments, please email the webmaster on web-master AT britgo DOT org.