Robot Introduced at Sheffield Tournament
Thu, 05/10/2023 - 12:16

—

Tony Atkins
Sheffield
Sun, 1 Oct 2023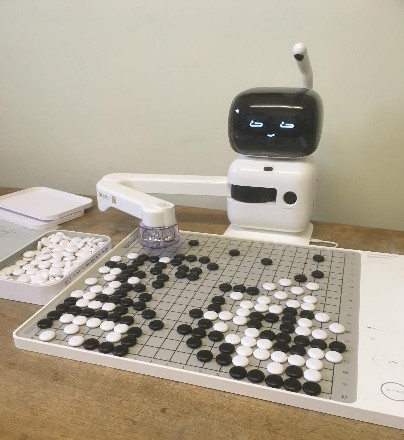 The Sheffield Tournament had 38 entrants, reports organiser David Wildgoose. The bar was set at 1k providing six players above the bar and was eventually won by Peikai Xue (4d UCL). Five players gained prizes for winning all three of their games. Other than Peikai they were all from Cheadle Hulme: Megan Upton (14k), James Zhao (16k), Claude Robinson (27k) and Pip Hawkes (34k). Results
George Zhou introduced us all to Sheffield Go Club's newest member and the strongest player in the world (he has beaten the world champion). Freshly arrived from China was a Go-playing AI robot who plays over a real board (see photo). Currently it is only available in China, but George has spoken to the manufacturer who assure him that an international version is planned soon.
One clever ability he has is to connect to an online game you are playing and play your opponent's moves for him, allowing you to play online games over a real board.
We all welcome our new AI overlords. :-)
Last updated Thu Oct 05 2023.
If you have any comments, please email the webmaster on web-master AT britgo DOT org.