Joint Winners at Cambridge
Fri, 24/03/2023 - 09:26

—

Tony Atkins
Trigantius
Sat, 11 Mar 2023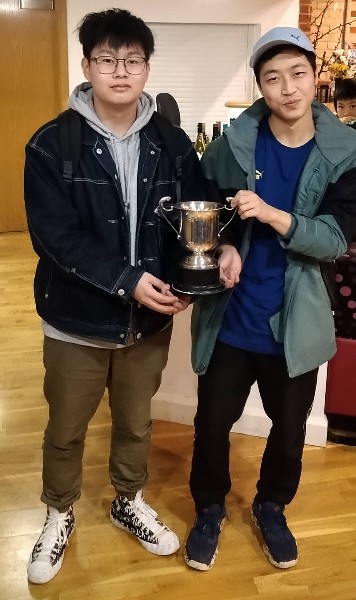 For the second time this year an event in Cambridge had to close its entry list some days before because of high demand to play. This year's Trigantius, played as last year at St Philip's Church Centre, had 79 players of whom 23 were juniors. Because of a problem with one of the top player's registrations there were 9 players above the 4d bar and it ended up with two of them unbeaten. So a tie was declared between Yicheng Xiao (6d UCL) and Fang Chun (6d Edinburgh), shown here with the trophy.
Other players winning all three games were Michael Kyle (1k Edinburgh), Yanyi Xiong (6k Cambridge Juniors), Jonah Burnstone-Cresswell (7k No Club), Spyridon Roumeliotis (10k Cambridge) and Clarence Qin (20k No Club). The Best Kyu prize went to Matthew Reid (1k Cambridge) and Best DDK to Zhichen Zhou (10k Cambridge Uni), as those on three wins couldn't get a second prize. Results
The 13x13 side event prizes went to first Odysseas Jones-Roumeliotis, second Yanyi Xiong and third Andrew Volovich, all Cambridge Juniors.
Last updated Fri Mar 24 2023.
If you have any comments, please email the webmaster on web-master AT britgo DOT org.