Thu, 02/11/2023 - 19:52

—

Tony Atkins
Wessex
Sun, 29 Oct 2023
The event took place as usual at St Marks Community Centre in Bath. Turnout was good, after a few late withdrawals and some on the day entrants they had 36 players and one unnecessary 'ghost'. It was especially pleasing to see a number of new faces. Possibly the main downside of the day was the parking; Bath Council seems to be making a good job of deterring all traffic from the city centre. The organisers will look into what can be done for next year.
The tournament was run over three rounds, fuelled by a vast pile of doughnuts, fondant fancies, biscuits, and ample tea and coffee. Local 'lad' Peter Collins set a new personal best. Known for his love of playing kos, he excelled himself and in one match was already fighting a ko having only played nine stones!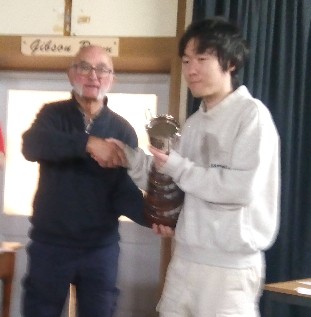 The eventual winner was Tianyi Chen (5d Liverpool), shown here receiving the Wessex Trophy from Paul Atwell, by fighting off the challenge from Jake Game (4d) who has recently arrived from the USA and settled in Swindon. Other winners on 3/3 were Clinton Yu (18k Manchester), Saber Khan (12k Bath), Patrick Ridley (9k Chester) and Scott Griffiths (4k Bristol). Results
Last updated Thu Nov 02 2023.
If you have any comments, please email the webmaster on web-master AT britgo DOT org.