57 players attended the Milan Tournament, the Italian entry in the TOYOTA - IGS-PandaNet European Go Tour. It was part of the Italian Go Congress weekend at the Palazzo Stelline. Ondrej Silt (6 dan) from Czechia was first with 5/5. Second with 4/5 was fellow Czech Vladimir Danek (6 dan). Topping the group on three wins was Russian Andrej Gomenyuk (5 dan) and fourth was Serbian Dejan Stankovic (5 dan).
Korea were winners of the International Amateur Pair Go Championships in Tokyo. Their pair, a student Song Ye-Seul and Go instructor Seo Yu-Tae, beat China in the final. China were second and all the next places were taken by Japanese pairs. Only three non-Japanese pairs won three out of five: Taipei in 13th, USA in 14th and New Zealand in 16th. The last two both featured schoolboys: Curtis Wang playing with Wan Chen, and Edwin Phease playing with his mother Yucong. France was the top pair on two wins. The UK pairing of Natasha Regan and Matthew Cocke also won two (against South Africa and Hungary) to place 21st out of 32.
27 players attended the smallest Gothenburg Tournament for many years, the Swedish entry in the TOYOTA - IGS-PandaNet European Go Tour. Pal Sannes (4 dan) from Norway was the winner with 4 wins out of 5.
86 players attended the Brussels Tournament, the Belgian entry in the TOYOTA - IGS-PandaNet European Go Tour. Yet again, unbeaten on 5 wins was the Korean from Germany, Cho Seok-Bin (7 dan). Second on 4/5 was Jan Ramon (4 dan Belgium). Topping the group on 3 wins in third was local player Say Boon Ng. Ondrej Silt was fourth, stopping off on his way back from Korea.
66 countries were represented at the first International Baduk Championships in Jeonju, Korea. Winner by second tie-break was Korea's Woo Dong-Ha (7 dan) who lost to Japan in round 7. Hu Yu-Qing of China (7 dan) only lost to Korea to come second. On 6 wins were Noh Yong-Duck (5 dan) of the Philippines and Hiraoka Satoshi (8 dan) from Japan. Next places on 5/8 were Canada, Taiwan, Russia (Ilja Shikshin), Hungary (Pal Balogh), USA (Eric Lui), Czechia (Ondrej Silt). UK's T Mark Hall (4 dan) was 32nd with 4/8 and Ireland's Ian Davis won 3 to come 55th. Former UK resident, Graeme Parmenter was representing New Zealand. Also on in Jeonju was the first Korean Amateur Baduk Association Cup; best of the 54 players was Young-Woon Park, who won with 8/8 by a clear 2 points despite only being 5 dan. The best non-Korean prize went to Miss Ting Li of China. In the Doubles tournament Geoff Kaniuk was 4th playing with Ting Li. John Fairbairn was also there presenting a paper on the history of rule changes at the 4th International Conference On Baduk, Tony Atkins was representing the EGF and Geoff Kaniuk was running the draw for organiser Seong-June Kim (formerly of Cambridge).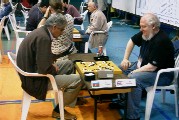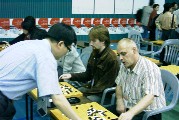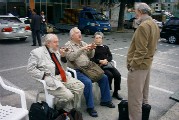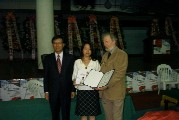 91 players attended the Tampere Tournament, the Finnish entry in the TOYOTA - IGS-PandaNet European Go Tour. Unbeaten on 5 wins was the Korean from Germany, Cho Seok-Bin (7 dan). Second on 4/5 was Andrej Gomenyuk (5 dan Russia). Topping the group on 3 wins in third was Finnish 5 dan Matti Siivola. UK players were Mark Todkill and Tuong Nguyen (both 2 kyu London), and William Brooks (2 dan Cambridge) and Ian Davis (3 kyu Belfast) who won 3 each.
115 players attended the Casino Tournament in Bratislava, which this year was part of the European Cup. Many strong players were there as it followed on from the European Team Championships. Last time's runner up Pal Balogh (6 dan Hungary) topped the group on 4 wins to take the title. Second was Catalin Taranu, the pro 5 dan, and third again was Cristian Pop (7 dan), both from Romania. The Korean from Germany, Cho Seok-Bin (7 dan), was placed fourth by the tie-break.
8 teams from 7 countries took part in the European Teams in Bratislava, Slovakia. Romania were clear winners with 11 points (5 wins and a draw against Hungary). Czechia were second with 10 points (5 wins) and Hungary were third with 7 points. Next were Germany, the two Serbian teams, Austria and the home team. Russia did not take part breaking their run on the title that lasted nearly 20 years.
Again the Romanian event in the TOYOTA - IGS-PandaNet European Go Tour was held in Bucharest as usual. 75 players took part. The best of these were Cho Seok-Bin, the Korean from Germany, and Cristian Pop, the local 7 dan. They both dropped a game to end on 5 and split by SOS Cho was first. Cornel Burzo, Pal Balogh and Csaba Mero (the player who beat Cho) were placed next.
The second European Student Go Championships was held in Brno, Czechia, following their Tour event. 28 students from 13 countries took part, split into two groups. Unbeaten winner was Pal Balogh (6 dan Hungary) and second was Merlijn Kuin (6 dan Netherlands) who only lost to the winner. Top female was again Manuela Lindemeyer (3 dan Germany). The top two men and top woman qualified for the world student games in Japan in February 2007. Luka Stojanovic (2 dan Serbia) won the bottom group.
Again the Czech event in the TOYOTA - IGS-PandaNet European Go Tour was held in Brno. 144 players attended (one less than last year). Cho Seok-Bin (7 dan), the Korean from Germany, was the winner with 6/6, giving him a large lead in the Grand Prix points. Cho also recently won the European Cup. Two Hungarian 6 dan players ended second and third with 5 out of 6: Csaba Mero and Pal Balogh. Romanian Cristian Pop (7 dan) was placed joint fourth with Tibor Pocsai (6 dan Hungary). Ukrainians Mikhail Galchenko and Dimitrij Bogackij, Romanian professional Catalin Taranu and Ondrej Silt of Czechia completed the group on 4 wins.
The 23rd World Youth Goe Championships were organised in Shenzhen in China on behalf of the Ing Foundation. After five rounds the top four players in each of two age groups play knock-out. None of Europeans won more than 2 games, but USA's Calvin Sun won 3 in the under-12s and Curtis Tang won 4 in the under-18s, having beaten China. In the Junior section, Na Hyun of Korea beat Calvin Sun and went on to get revenge on China who beat him last year by beating Lou Yun Xiao in the final. Kousuke Takeuchi of Japan was third. In the Senior section, China's Peng Li Yao beat Kang Yutaek of Korea to be Champion. Rei Terama of Japan was third ahead of Curtis Tang.
The European Women's Goe Championship took place in Port Erin during the Isle of Man Go Week. Unfortunately some of the countries such as Russia and France had to withdraw because of transport and other difficulties, so only 8 players (half from the UK) took part over three rounds. Winner was Kara Zaloudkova (1 dan) from Czechia. Second was Natasha Regan (1 kyu) and third Sue Paterson (2 kyu) both UK.
US Go Congress, 12/08/06-19/08/06
The 22nd US Go Congress was held in Black Mountain, North Carolina, with over 400 in attendance and 340 in the Open. Teenagers dominated all the titles. Zhao-Nian Chen (8 dan) aged 17 won the Ing Invitational ahead of Yongfei Ge and Jie Li. The US Open winner was Andy Liu (7 dan) aged 15. He scored a perfect six to end ahead of many strong players including professional Mingjiu Jiang. UK's T.Mark Hall won 4 out of 6 to place 5th in the 4 dan section. The 56-pair Pair Go was won by another young pair, Wan Chen and Curtis Tang. Tang (aged 13) also won the Senior Section of the Redmond Cup, while Calvin Sun won the Junior Section. Eric Lui won several other of the many kids' events. As Francis Roads was not there this time, it allowed American Keith Arnold to win the poetry and song competition. Most exciting event of the week was when the laptop recording game one of the Open caught fire during the lunch break.
Held at the weekend of the EGC in Frascati, 8 of the top European players played the third European Masters to determine who would play in pro events in the orient. The final was between brother and sister Ilia Shikshin and Svetlana Shikshina. Svetlana won this to take her first of two titles of the congress. Alexandr Dinerchtein was third.
The 50th European Go Congress was held in Frascati, a small hilltop city 20km outside of Rome. 292 players took part in the main tournament, and there have been many guests from China, Korean and Japan. Star guest was top 9 dan professional Takemiya Masaki. There have been several side events, including the European Masters.
The 132 player weekend tournament was won by Lee Ki-Bong (Korea 7 dan) with 5 wins; second was Shinada Kei (Japan 4 dan) with 4 wins. Aberdeen's Jakub Zborowski (2 dan) won 4 games. Results
Svetlana Shikshina took a second title by becoming the new European Champion with 8/10. European Open Champion with 9/10 was Korea's Park Chi-Seon; he edged Lee Ki-Bong into second by 1 point of second tie-break (SODOS). The group on 7 wins was Alexandr Dinerchtein, Yoshida Takao, Andrey Kulkov, Kai Naoyuki and Dragos Bajenaru. Francis Roads was highest placed Brit in 52nd place and John Cassidy (12 kyu) won 6/10. Results
The Hamburg Affensprung (Monkey jump) was attended by 191 players as it was a major in the TOYOTA - IGS-PandaNet European Go Tour. Like Amsterdam it was the two Korean 7 dans who dominated the event, but this time with Hwang In-Seong being the winner with 7 wins and Cho Seok-Bin coming second with 6 wins. The players on 5 wins were Felix von Arnim and Merlijn Kuin, both now 6 dan.
68 countries took part. This year it was held at Huis Ten Bosch theme park in Sasebo near Nagasaki. After seven rounds the 13-year old from China was unbeaten, but he lost in round 8 to Japan. So it ended with four players on 7/8, in order: Hiraoka Satoshi (Japan), Tang Wei-Xing (China), Jo Tae-Won (North Korea), Hong Man-Ki (South Korea). The group on 6/8 was: Chun Nai-San (Hong Kong), Joey Hung (USA), Cristian Pop (Romania), Ondrej Silt (Czechia), Christoph Gerlach (Germany) and Ge Yong-Fei (Canada). Ireland's Stephen Flinter ended in 60th on two wins (against Morocco and Ecuador) and UK's Des Cann in 30th on four wins (against Uruguay, Ecuador, Mexico and Bosnia, with losses to Canada, Spain, Taiwan and Austria).
As usual, Amsterdam was a major in the TOYOTA - IGS-PandaNet European Go Tour and was held at the European Go Centre. 100 players took part this year in the 35th edition, including again UK's Mark Todkill (3 kyu) who won 3/6. As with many other events this year it was the two Korean 7 dans who dominated the event with Cho Seok-Bin being the winner with 6 wins and Hwang In-Seong coming second with 5 wins. The players on 4 wins were all from the Netherlands: Peter Brouwer (4 dan), Merlijn Kuin (5 dan) and Robert Rehm (5 dan).
The first event of the new Toyota - IGS-PandaNet European Go Tour was in Bled. Two Hungarian 6 dans won 5/6: Csaba Mero was placed first and Pal Balogh second. Topping the group on 4 wins were Ondrej Silt from Czechia and Rita Pocsai (Hungary). Radek Nechanicky from Czechia and local star Leon Matoh also won 4. 46 players took part.
Cho Seok-Bin, the 7 dan from Korea who has been living in Germany, won the Tour with 120 points from 6 events collecting the 1500 euro. Young Ondrej Silt (6 dan) from Czechia was second for a second year with 98.48. Radek Nechanicky was third with 83.73. Fourth was the other Korean in Germany, Hwang In-Seong, followed by Cornel Burzo, Vladimir Danek, Jan Hora, Catalin Taranu, Csaba Mero, Fan Hui, Tibor Pocsai and the winner of Paris, Bao Yun, in twelfth. Best players resident in the UK were J-K. Shim in 20th and Ben He and Bei Ge in 26th.
Only 302 took part in the 34th Paris Open. 4 players were from UK. Winner this year beating the French-Chinese favourite Fan Hui (8 dan), was Bao Yun (7 dan) from Beijing. Fan had to be content with five wins and second place. Topping the group on 4/6 in third was Cho Seok-Bin, the Korean from Germany. Also on 4/6 were Romanians Cornel Burzo and Catalin Taranu and from Czechia Radek Nechanicky and Jan Hora. Also taking the point places were Cristian Pop, Hwang In-Seong, Jean Michel, Ondrej Silt, Pierre Colmez, Csaba Mero, and Merlijn Kuin.
A total of 42 pairs from 12 countries, including 4 pairs from the UK, took part in the European Pair Go Championships held at Humboldt University in Berlin Germany. Winners on 6/6 were Russians Natalia Kovaleva and Oleg Mezhov. Second on 5/6 were local players Daniela Trinks and Marco Firnhaber. Third on tie-break were the UK's Natasha Regan and Matthew Cocke. France topped the group on 4 wins, followed by Czechia and Hungary. UK's official pair, Kirsty Healey and Matthew Macfadyen were 11th with 4 wins.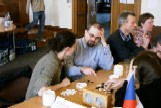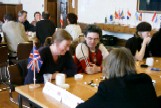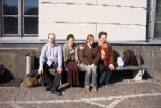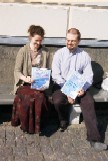 This took place in Saint Petersburg in Russia. 66 under-18s and 68 under-12s took part. Winner with a perfect 6 was Russia's Ilia Shikshin (6 dan). Second was Rita Pocsai (4 dan) from Hungary. UK's William Brooks (1 dan Cambridge), supported by team captain Nick Wedd, won 2/6. Best under-12 was Mateusz Surma (1 kyu) from Poland, on tie-break from Joshua Chao (3 kyu) from the Netherlands, on 5/6. Chun Yin Woo (3 kyu) from Hong Kong and representing the UK was sixth with 4/6.
24 of Europe's top players travelled to the Sinaia in Romania for the Ing Memorial. First for a second year was Fan Hui (from China but living in France), this time with a clean 6 wins. Second was Alexandr Dinerstein (Russia) with 5/6. The group on 4/6 was headed by Dragos Bajenaru. Representing the UK, Matthew Cocke won 1 game to place 22nd.
The 17th Irish Open, held in the Teachers' Club in Dublin, was part of the Toyota - IGS-PandaNet European Go Tour. 33 players took part. Hwang In-Seong (7 dan), the Korean ex-Insei living for a year in Berlin won with 5/5. Five players ended on 3/5 and were split by sos and sosos tie-breaks. Second was young Chinese play You Xiaochuan (Sean) from Galway. Third was Korean J-K Shim (5 dan New Malden). Fourth was Yu Zhong Nan (4 dan), a Chinese girl from Dublin. Fifth was Noel Mitchell (2 dan) and sixth was Tony Atkins (3 dan Bracknell). Joerg Abendroth (4 kyu) from Munich won all 5 games and Czech player from Dublin Martin Klemsa (5 kyu) won 4/5.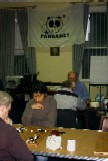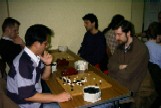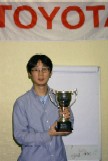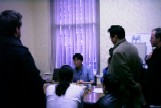 Held on the Friday evening was the 19-player Irish Rapid. Ian Davis (2 kyu Belfast) was the unbeaten winner with Dylan Carter (1 kyu Cardiff) and Claas Roever (2 kyu Dublin) second on 4/5.

There were prizes for all, in various categories, including for side events such as Liar Dice. Best prize for most, however, was the chance to have a hour-long study class with Hwang after the prize giving.
World Student Championships, 25/02/06-26/02/06
16 representatives from several continents took part in the fourth World Student Oza Championships in Tokyo. Winner was Emura Kiko from Japan, who beat Chang of Taiwan in the final (placed third). Second place went to Jie Li of the USA. Best of the three European players was Jan Hora from Czechia who won two out of four (the others were Klara Zaloudkova from Czechia and Csaba Mero from Hungary).
As usual Barcelona attracted some strong players, with 109 players in total. The two Koreans studying in Germany dominated the top group, though their result was the reverse of London. Hwang In-Seong (7 dan Berlin) was the winner with a straight 5. Second was Cho Seok-Bin (7 dan Hamburg) on 4 wins. Losing to both the top two and having to take third was Fan Hui (7 dan France), who topped the group on 3 wins (ahead of Burzo, Noguchi and Danek). Best of the small UK team was Mark Todkill (2 kyu London) who won 3.
73 top players attended the third European Oza, which happens every two years at the EGCC in Amsterdam. After four rounds the best players were selected for three knockout groups, with some top seeded players, in order to select the three representatives from Europe for the World Oza in Japan. Ireland's representative, Noel Mitchell (2 dan), did not win any (his weakest opponent was 4 dan), but Britain's Matthew Macfadyen got to the knockout stage. There he beat Geert Groenen, but lost to Guo Juan in the semi-final. The three group winners were Alexandr Dinerchtein (beating Merlijn Kuin), Guo Juan (beating Alexei Lazarev) and Ilia Shikshin (beating Frank Janssen). There were also several side events in the Family Oza and teaching events with the pros.
Kisei Match, Berlin, 14/01/07-17/01/06
The Berlin Go Association was delighted to be host of the first title game in the Kisei Championship, between champion Hane Naoki and challenger Yamashita Keigo. On the Saturday there was a youth tournament with about 30 kids and a tournament with over 50 players which ended on the Sunday. It was won easily by local Korean student Hwang In-Seong (7 dan), with former UK resident Michael Marz (3 dan) in third. The Saturday night reception was held on the 14th floor of the Intercontinental Hotel, the venue for all events. On Sunday and Monday there was live broadcast of the game, with commentaries by Kobayashi Satoru (9 dan) and Kobayashi Koichi (9 dan). There were also lectures and simultaneous game sessions with the Kobayashis, Catalin Taranu, Yuki Shigeno and Kanda Ei (9 dan). At the end of an unpredictable game, Hane lost the game through being in time trouble, giving Yamashita the first win of the match.
US Oza Tournaments, 14/01/06-15/01/06
The American qualification for the bi-annual Toyota-Denso Oza World Cup was held as before in an East and a West venue. The Eastern event held in New York was won by Feng Yun, the former Chinese professional 9 dan, as in 2004. She saw off a group of 7 dans to make her victory. In the Western event in Las Vegas, Mingjiu Jiang, also Chinese pro 9 dan, was the winner. He saw off Jie Li (9 dan) and Xuefen Lin (pro 1 dan). The European qualifying event is in Amsterdam in February.
---
Next
Top
Previous
Archive
Last updated Mon May 08 2017. If you have any comments, please email the webmaster on web-master AT britgo DOT org.