Schools Go League
Three schools have played so far in the new Schools Go League, played on the Schools Internet Goserver (SIG). Norwich School beat Aston 4-2 early in December 2005. The other school is Finham Park, Coventry.
Go on TV
Question on "Eggheads" (BBC2 6pm) on 01/12/05: "Which board game, which involves dominating the world, was invented in 1957 by Frenchman Albert Lamorisse? Risk, Go or Minishogi?" The contestants correctly stated that Go was oriental and they had never heard of minishogi, so it had to be Risk (of course).
A question on "University Challenge: The Professionals" on 08/08/05: "What game is known in china as Weiqi and is mentioned in the titles of a 1951 book by Kawabata and a 2003 book by Shan Sa?". The V&A team got it right, but their oponents, the Chess Players, must have been disappointed to miss this bonus round on board games.
A Go Board was found during a house search on a recent (07/2005) BBC antiques program (believed to be "Cash in the Attic" or "Keeping Up with the Jones's".
Ian Hislop mentioned Go on "Have I Got news for You" (BBC1) on 06/05/05 (repeated next day on BBC2).
A clip of Nick Webber manning the BGA stand at a games fair c1980 appeared in BBC2's spoof 1980s science programme "Look Around You" on 28/02/05.
Go also features in "Arrested Development" where the adopted Korean boy Annyoung, who appears in some episodes, plays Go (for instance series 1 epsiode 22 "Let them eat cake").
Go featured in an episode of Star Trek "Enterprise" on Channel 4 on 29/02/04 (repeated 03/03/04), shown first on Sky in spring 2003. In the episode called "Cogenitor" Charles "Trip" Tucker III (played by Connor Trinneer) taught an Vissian cogenetor (third gender) about earth culture, including Go. The Vissian captured a clearly dead black stone and claimed to have won. Trip then declared that in two years of playing this thing that was the first time he had been beaten.
Go also features in Series 3 of "24" (Episode 15 3:00am-4:00am). An agent called Wong enters a seedy LA club where three games of Go are in progress in different rooms. The male players are variously drinking and smoking and being watched by loose women and other men. Later the hero, agent Jack Bauer, catches and then questions a terrorist suspect seated at a Go table with a recently abandoned game on it. When Jack fails to get a response from the suspect, in frustration he scatters a lid of prisoners with his hand. This was on US TV week ending 29/02/04 and was on Sky shortly after. The scene continues in the room at the start of Episode 16 (4:00am-5:00am).
Go featured in BBC3's documentary "Outrageous Fortunes" on 19/04/04 (repeated 24/04/04). Reporter Libby Potter learnt Go in a Japanese Go Club whilst searching for the head of Nintendo who was claimed to be 6 dan but elusive.
A Go question featured in the "Weakest Link" quiz show (BBC2) on 14/10/04:
"The board game played with stones on a board that's a grid of lines is known by which Japanese name, Come or Go?"
"Come"
"No, Go".
British Go Championship 2005
Matthew Macfadyen, 6 dan from Leamington, is the British Champion for the 21st time. The 2005 Challenger was Des Cann from Milton Keynes, who was promoted to 5 dan during the title match. All games were broadcast live on KGS, some with professional commentary in parallel. The first game in the best of 5 challenge match was played near Oxford on 9th July. Matthew won by resignation. The second game was played at the Epsom Tournament on 13th August, and again Matthew won, this time by 19.5 points. The third game was played at the Milton Keynes Tournament on 25th September. Matthew won by 18.5 points to retain the British Champion title.
Atom Bomb Game Exhibition, 05/08/05-08/08/05
Thanks to the Nihon Ki-in, GoGoD and the Imperial War Museum, an exhibition on the Atom Bomb Game and Go Workshops took place at the IWM in London. A goban was displayed with the position when the bomb dropped on Hiroshima and there were photos of the players Iwamoto and Hashimoto. Guest of honour was pupil of Iwamoto, Ms Hiroko Shinkai 5p, and also Yuki Shigeno 2p visited. Peter and Sheila Wendes and some helpers ran four days of Go teaching to many hundreds of visitors.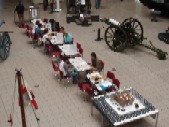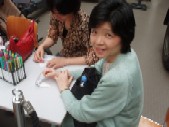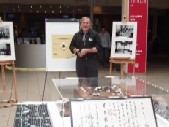 BGA 50th Anniversary Picnic, 31/07/05
To mark 50 years (or so) of organised Go in the UK, the BGA held a picnic in Green Park in London. Over 30 players, plus family members, turned up and it attracted attention from the public including some strong oriental players who saw and joine dthe event. The combined dan count was estimated to be greater than the 50 target, helped by a good number of 6 dans. In the afternoon the venue switched to the Great Court of the British Museum where Go was played and demonstrated using a big screen.
The UK Go Challenge 2005 has been entered by 17 schools and clubs who played qualifying heats. Potentially this means nearly 500 kids were involved. The finals were on 03/07/05 at Loughborough Grammar.
Promotions
A new rating-based promotion system came into effect after 29/11/03

The BGA Council ratified the following dan grades
on 13/08/05
5 dan - Des Cann
on 08/04/05
1 dan - David M King
1 dan - William Brooks
3 dan - Jeremy Hawdon
4 dan - Joonghoon Jo
on 05/02/05:
6 dan - Tony Goddard
6 dan - Li Shen
3 dan - Nuo Jia
2 dan - Clive Hendrie
2 dan - Niall Cardin

Youth Grand Prix 2005
The Youth Grand Prix started after the 2004 London Open, with Jonathan Englefield in the lead, but after Milton Keynes Maria Tabor had taken the lead and by West Surrey she had an uncatchable lead. A total of 92 young players took part in all. Final places after London 2005:

1. Maria Tabor (8 kyu)          1445
2. Jonathan Englefield (8 kyu)  1387
3. William Brooks (2 dan)        978
4. Paul Blockley (13 kyu)        889
5. Ken Dackombe (14 kyu)         746
6. Kay Dackombe (15 kyu)         663

BGA AGM 2005
This was held at the BGC at Leicester on 09/04/05. The existing council was re-elected, the accounts were approved and the subscriptions increase motion was passed unamended. Afterwards bubbly and cake was consumed in honour of the 50 years of BGA celebrations.
Stacey Points 2004-2005
With just the British Go Congress to go Francis remained in the lead, though Alistair was closing the gap. Francis attended the British and scored more points to win himself the Grand Prix trophy. The final points totals were:

1. Francis Roads       34.5
2. Alistair Wall       26
3. Simon Goss          20.5
4. Alan Thornton       17.5
5. Li Shen             17
6. Tony Goddard        16

---
Next
Top
Previous
Archive
Last updated Mon May 08 2017. If you have any comments, please email the webmaster on web-master AT britgo DOT org.