Newsletter 205: April 2015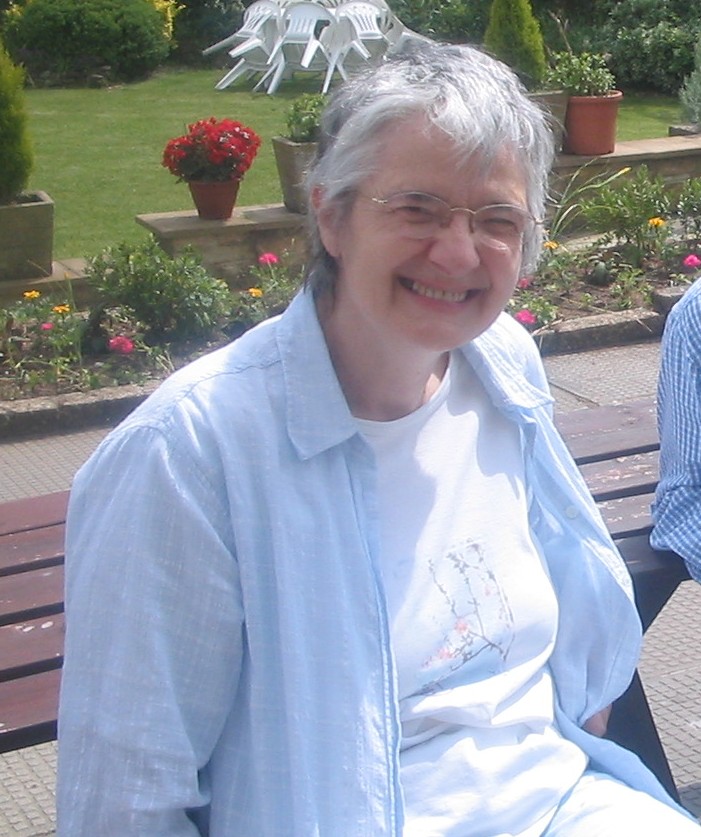 Last month we produced two versions of the Newsletter. Depending which box you ticked on the "My Newsletters" page (accessed via the "my account" link on our home page), you will have received either the "regular" version as before, or one with a "MORE NEWS" section that was generated automatically from selected items on the main news page and elsewhere on our website.
I have some misgivings about this new section. As a selection, is highly unlikely to match what you would choose to read, either from our News Pages or the News Headlines. Furthermore, we compile (and distribute) it a day or two after the "regular" version; also the pictures and the live links were missing last time; though I believe that by now the pictures but not the links should now be OK.
Because several people had asked for this option we will continue to run it for a while, and see what feedback we get.
As ever, contributions for this Newsletter are most welcome, both from our members and others. We ask that they be Go-related and "newsy". They should be fairly brief and may include a few pictures (jpeg files), and links to items elsewhere on the internet. Contributions should be sent to newsletter@britgo.org to arrive by the first day of the month.
The place for debate and general discussion is currently Gotalk. However, an introduction to a new topic is fine in the Newsletter.
Jil Segerman, Newsletter Editor
NEWS
For the full set of recent news items, see the our News Pages. Or scan the News Headlines.
BRITISH GO CONGRESS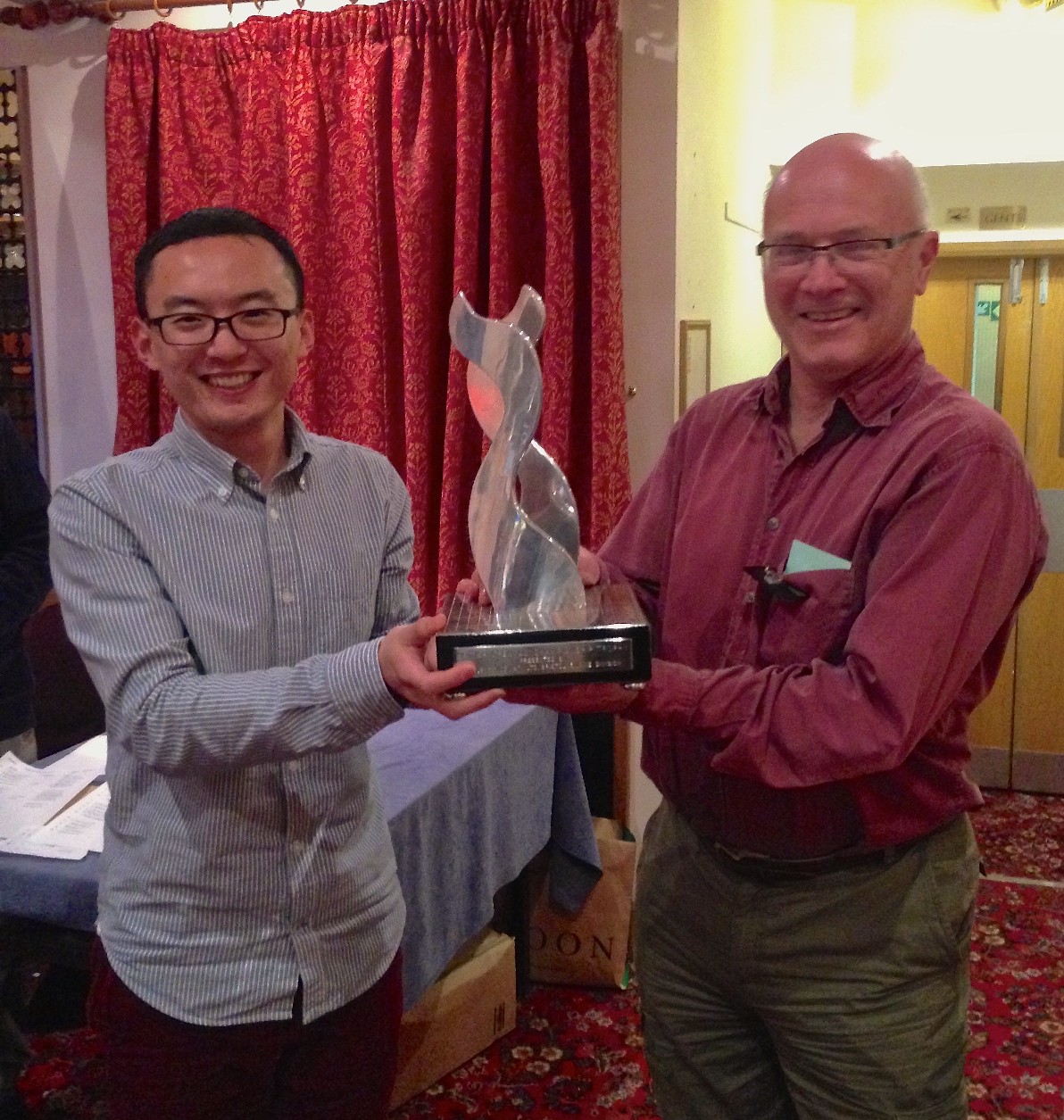 The British Go Congress was held this year in Shrewsbury on from 27th to 29th March.
Events began on the Friday afternoon with tuition by Oh Chi Min (7d), who continued with many game reviews over the weekend.
The BGA AGM was held on the Saturday evening.
Junnun Jiang (4d Oxford City) was the winner of the British Open. The British Lightning was won by Alex Rix (3d Central London).
STACEY GRAND PRIX
Alistair Wall (2d Wanstead) scored a massive 45 points to win the Stacey Grand Prix, the grand prix for most games won in the top group at a year's tournaments. He was awarded the Stacey Trophy at the British Go Congress. The British Open is the last event of the grand prix year, but Alistair's 4 points scored there left him half a point short of equalling the record. The record of 45.5 points was set in 1996 by Francis Roads, a player who has been in the top 7 every year bar one (2010).
AGM
All the documents referred to here are available in the Members Area on the website. Full minutes will be posted on the website in due course.
The main points from the AGM held in Shrewsbury were:
The 2013 accounts have still not been finally audited. The 2014 accounts are only draft, since some information is still outstanding from the London Open. It's expected that when the 2014 accounts are finally produced and audited we will ask for them to be approved at an EGM (probably in the Autumn).
The Officers were re-elected unopposed and Pat Ridley was elected as Auditor.
Brian Brunswick, John Collins and Roger Huyshe re-elected. We thank Colin Maclennan for his service, on his retirement after 4 years on Council, and welcome elected new members Donald Campbell and Matt Marsh and co-opted member Gerry Gavigan.
Subscription rates are unchanged with the exception of the Student rate which will increase to £10, to allow for a financial recruitment incentive to University clubs. The exact date of this change will be dependent on the mechanics of this being agreed.
The Constitution changes were approved, with the exception of description of the role of the President which will remain essentially unchanged.
A motion from the membership to direct Council to co-opt the London Open Organiser was approved, so the current one (Gerry Gavigan) has been co-opted.

A motion to approve the continued subsidy of the London Open was approved.

Our first Annual Awards were presented to the following:
Martin Harvey (Player of the Year) for his work in the past year in creating a junior Go outpost in the North of England
Letchworth (Club of the Year) to Alison Bexfield for children's activities
Alistair Wall (Loss of the Year) for passing when there was one dame point left and losing by half a point at the MSO against Francis Roads.

The President's Award for services to the British Go Association for the first year were given to two people: Pat Ridley (retiring Journal Editor) and Tony Atkins (website editor, News editor, tournament coordinator, UK Go Challenge and Youth Championships organiser etc. etc.)

PANDANET EUROPEAN TEAMS CHAMPIONSHIP We dropped a point in round 8 against Portugal, but our nearest rivals, Bulgaria, also dropped one against Croatia So we are still top of our league by two points. BGA web-page
Current status:
* Britain is first in division after 8 matches.
* 3 games left until end of season.
* If we finish top, then we are promoted automatically to division B (where most players are mid-dan level).
* If we finish 2nd, there will be a play-off for promotion to division B.
EUROPEAN PAIR GO: FINANCIAL SUPPORT FOR ONE PAIR
The European Pair Go will take place in Moscow over the weekend of 15-17 of May. The Russian Go Federation have found an opportunity to compensate travel expenses (no more than 300 Euro per pair) for 1 official pair from each European country (average EGF rank of partners - 4 kyu or stronger) and accommodation also will be for free. If anyone wishes to to be considered as the official UK entry (so as to obtain the travel expenses and free accommodation) please contact Toby Manning as soon as possible. Our "official pair" will be decided on April 17. If there are no applications by then then it will be "first come first served".
SUMMER GO TRAINING CAMP IN TOKYO, 21st August to 3rd September
Details from Tom Urasoe
This year, we will provide three types of course: Full term, Semi-full and One week course. (You just select one from three types.) Ishida Shuho (24th Honinbo) and Michael Redmond 9p will give special lectures.
And we will also provide other famous and excellent teachers in the Summer Go Camp 2015.
This year, a most exciting and remarkable event could be 'special training days' at Sugi no yado.
For details please visit our official website of the Summer Go Camp 2015:
*Register before April 1st and get a 10% discount!
*Special offer! If you are U-25 students and register for the Summer Go Camp before 31 May 2015, you will get 10% OFF of the program fee!
For registration, please visit our website:
If you have any query on the Summer Go Camp 2015, please feel free to contact Tom Urasoe on overseasdept@nihonkiin.or.jp
We really look forward to seeing you again in Tokyo!! Have a great experience, Get stronger and Make new friends from the world!
DURHAM TOURNAMENT 13-14th June
Organiser Andrew Ambrose-Thurman writes: It's looking likely that we'll have a wide range of strengths entering, from complete beginners to dan players. There's no late booking fee, but please sign up early - accommodation may fill up quickly, and if you sign up then it's more likely that more people at your strength will decide to come too! The Tournament will be held in the Pemberton Building on Palace Green, between the Cathedral and Castle. See the Durham tournament website or email go.club @ dur.ac.uk


ADMIN
ON-LINE LEAGUE
Please could all existing teams who haven't contacted John Collins please do so ASAP to confirm that they are playing this year. We've got two new teams joining and several people have confirmed that they will be playing but currently John needs to hear from:
Belfast
Billericay Dickies
Central London Go Club A and B
South London (Not intended to "name and shame" anyone!!)
For new players please state:
1. Name
2. Email (only used for match reminders and not disclosed).
3. KGS name which is also used as a login name on the website.
4. Strength.
5. Whether BGA member.
Thanks!
FESTIVALASIA: VOLUNTEER HELPERS WANTED
Roger Huyshe: Go is featuring at FestivalAsia, a unique three-day spectacular at Tobacco Dock in London, from Friday 15th May to Sunday 17th May. It boasts over 150 exhibitors and a main performance stage along with a cultural room, a spiritual room and children's entertainment. There is something to suit all tastes at FestivalAsia, which embraces the amazing diversity of Asian arts & cultures from many of the 29 countries making up this intriguing continent. We will be demonstrating and lecturing on the game; please contact Roger Huyshe if you would like to help.
ANNUAL AWARDS: NEXT YEAR
From Jon Diamond: We're planning at least one new category this year: Recruiter of the Year, i.e. the person who's introduced the most new members to the Association. Please submit your (own) nomination by 31st December.
We've also had a suggestion that we should have another category: Most improved Player of the Year. What do people think?
FUTURE EVENTS

Full details are in our Events Calendar.
Welwyn Garden City: Saturday 18th April, Hatfield
Galway: Saturday 25th April - Sunday 26th April.
Candidates' Tournament: Saturday 2nd May to Monday 4th May, Cambridge
Bar-Low: Sunday 3rd May, Cambridge
FestivalAsia Exhibition: Friday 15th - Sunday 17th May, London
Bracknell: Sunday 17th May, Wokingham
Challengers' League: Saturday 23rd May to Tuesday 26th May, Swindon
Scottish Open: Saturday 30th May - Sunday 31st May, Glasgow
British Pair Go Championships: Saturday 6th June, Hatfield
Durham: Saturday 13th – Sunday 14th June
Welsh Open: Saturday 20th June - Sunday 21st June, Barmouth
Milton Keynes: Saturday 27th June
July (provisional): UK Go Challenge Finals
Belfast: Saturday 8th and Sunday 9th August.
Arundel: Saturday 15th August (provisional)
Isle of Man Go Festival: Sunday 23rd – Friday 28th August
Mind Sports Olympiad: Sunday 23rd – Monday 31st August, London
Northern: Sunday 6th September
Cornwall: Saturday 12th and Sunday 13th September
LATER:
London Open: Monday 28th - Thursday 31st December 2015
Isle of Skye Tournament: Saturday 5th – Sunday 6th March 2016 (provisional)
Last updated Tue May 02 2017.
If you have any comments, please email the webmaster on web-master AT britgo DOT org.