Newsletter 207: June 2015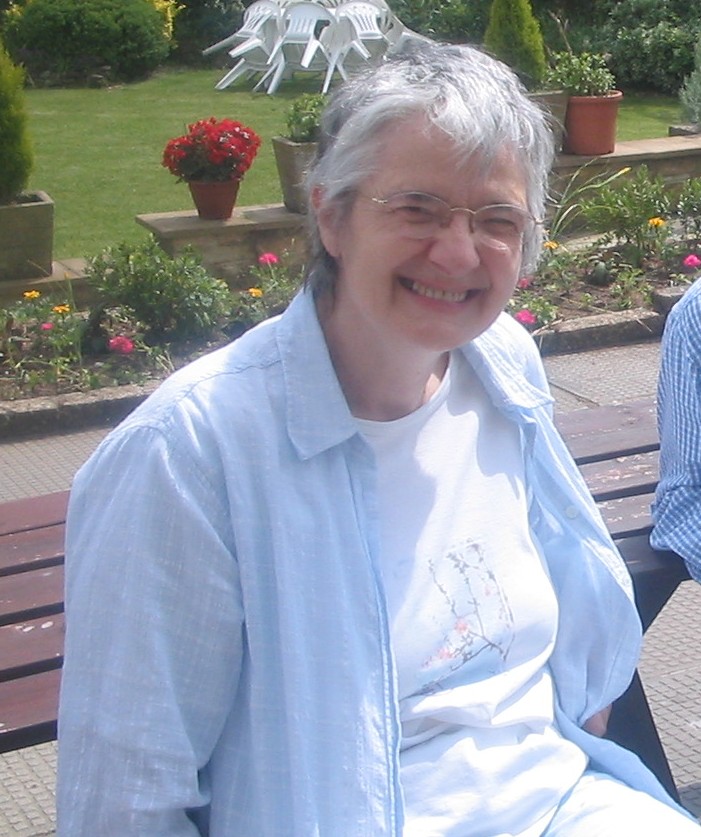 Contributions for the Newsletter are always welcome, both from our members and others. We ask that they be Go-related and "newsy". The place for debate and general discussion is currently Gotalk. However, an introduction to a new topic is fine in the Newsletter.
Instructions: Please use plain text not file-attachments. Keep it brief, and for further information give contact details or links to pages on the internet. It's good to include pictures. If they are on the internet, send me the URL. If not, attach the picture files to your email; it will be a bit more hassle for us, but do-able. Send your contribution to newsletter@britgo.org to arrive by the first day of the month.
Jil Segerman, Newsletter Editor
NEWS
The full set of recent news items, and further details of the items shown here, are on the BGA News Pages, and on News Headlines.



The British Pair Go Silver Jubilee
Hatfield, 6 June 2015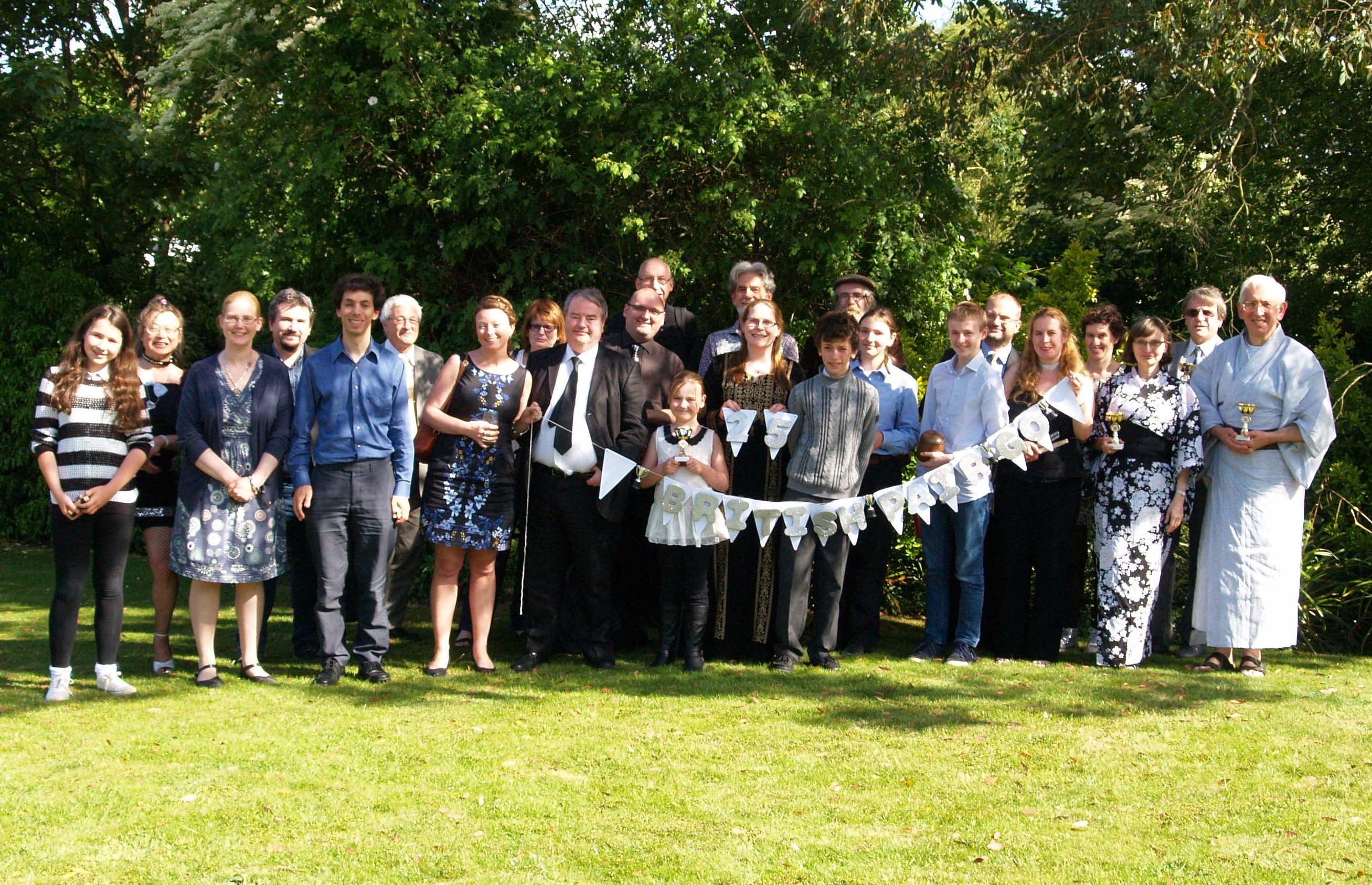 Pandanet Go European Team Championship
The UK team remained unbeaten at the end of the 2014-2015 season to end top of the European C-League.



Challengers' League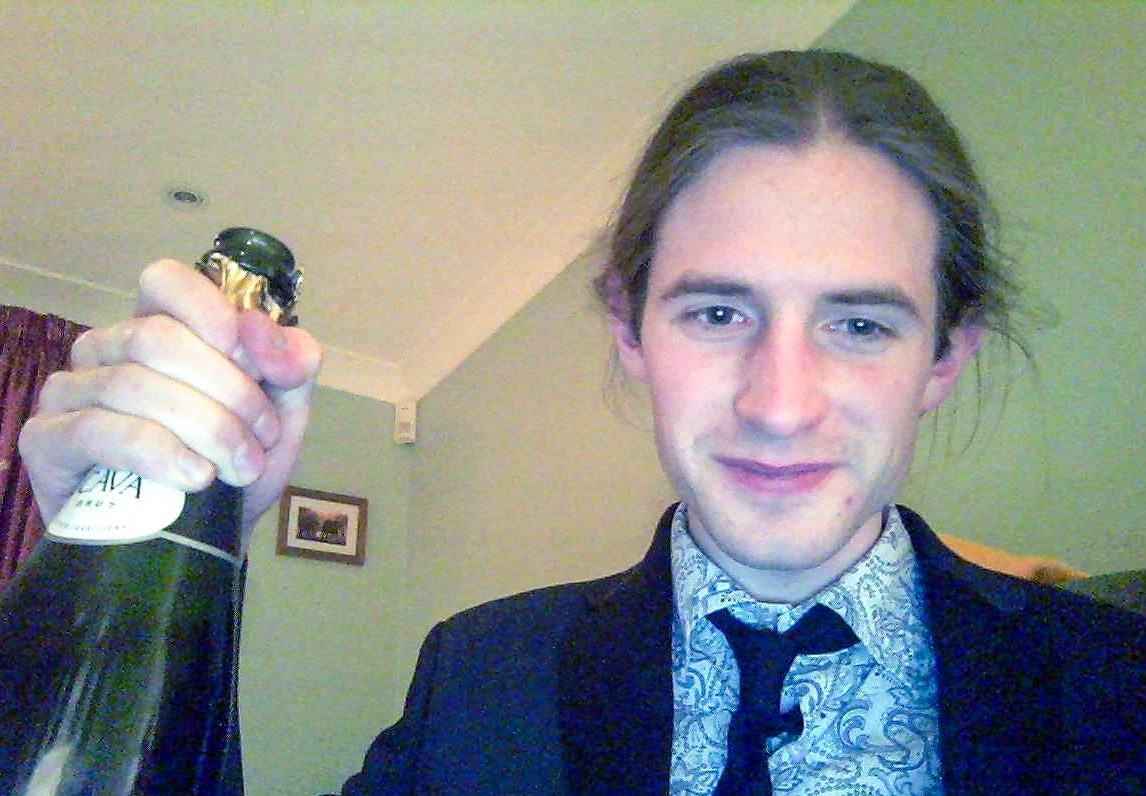 This year's Challengers' League, played between the top 8 available players coming out of the Candidates' Tournament, took place at the Goddard Arms in Swindon on the second May Bank Holiday weekend. Andrew Kay (the reigning British Champion) won all of his games to lead the field, followed by Andrew Simons who won all of his games except for his game against Andrew Kay.
Neil Stein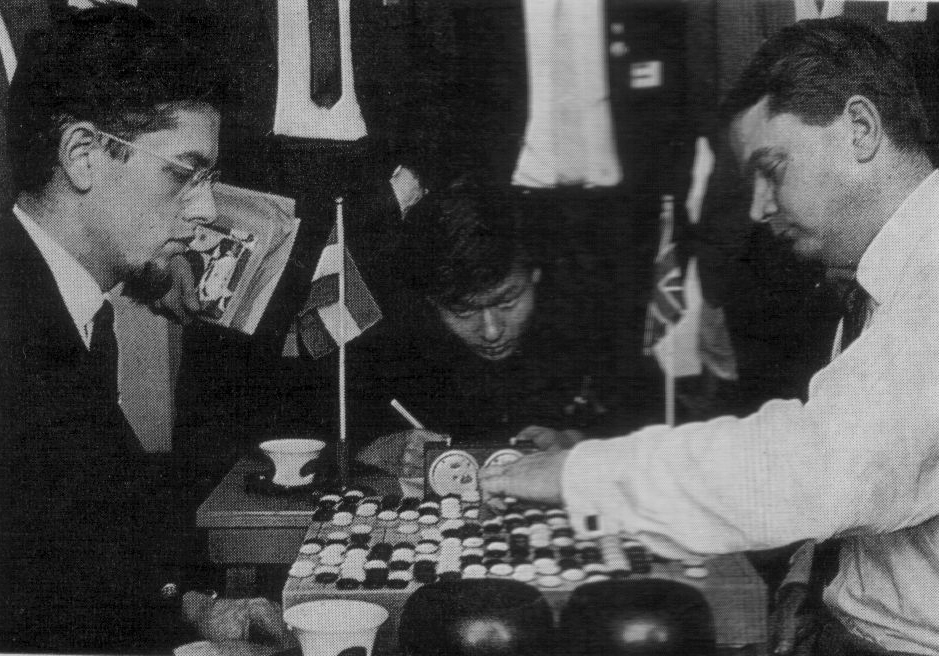 Bob Hitchens reports:
I heard at the weekend of the death of Neil Stein. Some players who were around in the 1960s will know Neil. He was a founder member of the BGA and helped create the BGA's first bank balance of any size when he recognised the possibility of compensation from University College London for cancelling our booking for the first European Congress to be held in Britain. That opened up a lot of possibilities for the BGA.
Neil represented the BGA twice in international amateur tournaments in Tokyo (shown on the right of the picture in 1964) and attended several European Go Congresses.
The funeral was in Croydon on 21st May.


ADMIN
World Mind Sports 2016
Jon Diamond reports, from the IGF meeting in Bangkok: "It is likely that China will host again the World Mind Sport Games, after very successful events in Beijing 2008 and Lille 2012, and this will most likely be held in Macau in 2016. "
BGA Council is likely to use the same selection procedure as before, so please note that if you intend to try to be selected you need to be on the published rating list at the selection date, which might be as early as late 2015. No other information is available currently.



The BGA "TakeAwayGoSet"
We would like to bring to the attention of anyone involved in outreach events, the development of the BGA TakeAwayGoSet. The key idea is to get this set into the hands of potential players who would like to explore the game further, even if they don't have a Go tutor and may not see you again. Hence the additional information on the sheet itself to steer them in the right direction.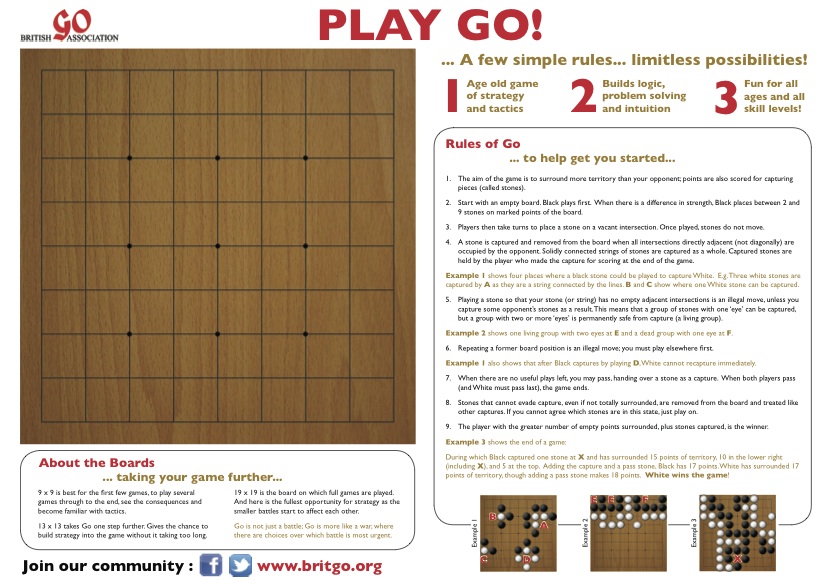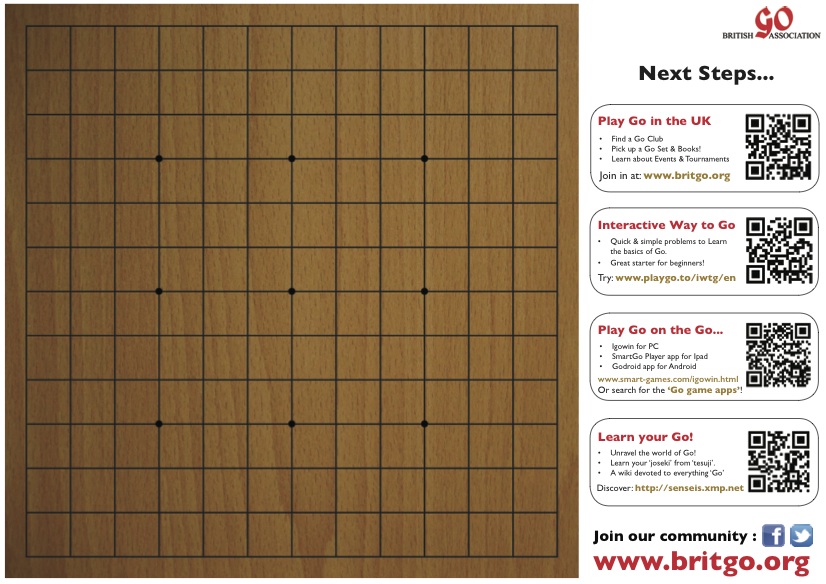 TakeAwayGoSet consists of a laminated A3 sheet printed both sides, together with inexpensive Chinese-style stones for a 13x13 game. On the sheet are:
Rules for playing Go
9x9 and 13x13 boards, to defuse the perception that it's a simple game comparable to draughts or Othello.
An explanation of the different board sizes, including 19x19, to indicate the upgrade path.
Links for further information about the game.
For supplies, please contact the BGA bookseller
TakeAwayGoSet was used by Cheadle Hulme School (Stockport) when they invited other local schools for an "Introduction to Go" day.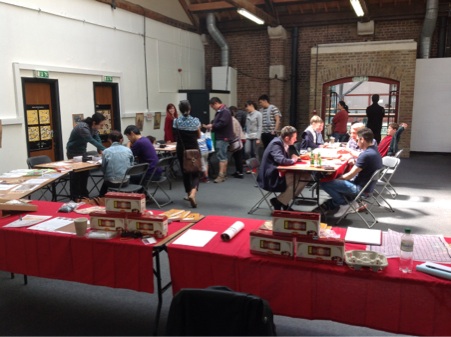 It was also shown at FestivalAsia where team Britgo sold some two dozen sets. A report on this event is to feature in the forthcoming British Go Journal.
FUTURE EVENTS

Full details are in our Events Calendar.
Durham: Saturday 13th – Sunday 14th June
Welsh Open: Saturday 20th June - Sunday 21st June, Barmouth
Milton Keynes: Saturday 27th June
UK Go Challenge Finals: Saturday 18th July, Letchworth Garden City (Change from provisional)
Belfast: Saturday 8th and Sunday 9th August.
Arundel: Saturday 15th August
Isle of Man Go Festival: Sunday 23rd – Friday 28th August
Mind Sports Olympiad: Sunday 23rd – Monday 31st August, London. MSO 9x9 and MSO Small Board, Sunday 30th August; MSO Open, Monday 31st August.
Northern: Sunday 6th September, Manchester
Cornwall: Saturday 12th and Sunday 13th September, Penzance
International Teams Autumn Match: October
Sheffield: Sunday 11th October (provisional).
Wessex: Sunday 25th October (provisional).
DokiDoki Festival: Saturday 7th November, Manchester
Three Peaks: Saturday 14th and Sunday 15th November, Grange-over-Sands
South London: Saturday 28th November.
Later
* London Open: Monday 28th - Thursday 31st December 2015
* Isle of Skye Tournament: Saturday 5th – Sunday 6th March 2016 (provisional)
Last updated Tue May 02 2017.
If you have any comments, please email the webmaster on web-master AT britgo DOT org.