Newsletter 210: September 2015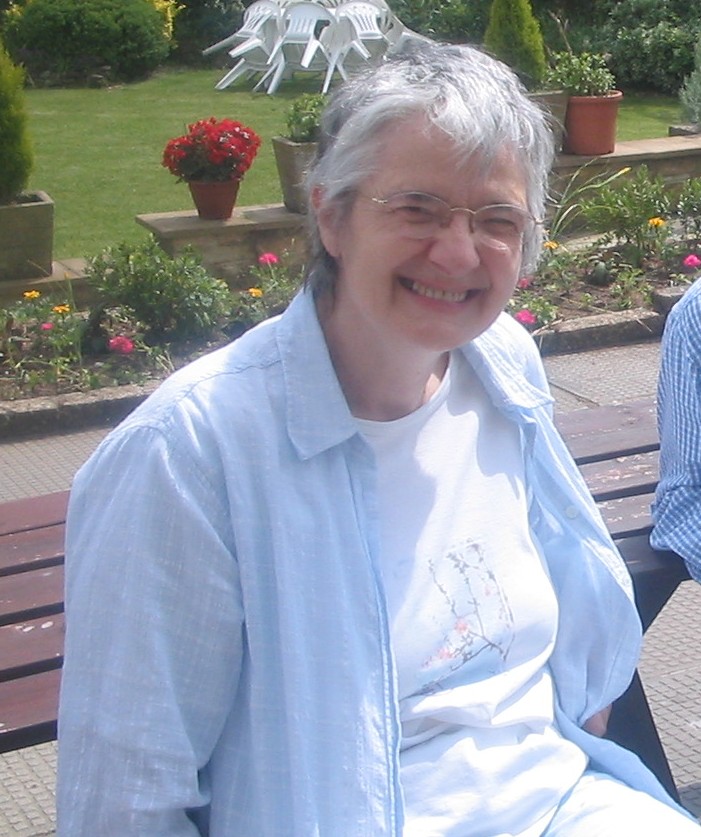 Contributions for the Newsletter are always welcome, both from our members and others. We ask that they be Go-related and "newsy". The place for debate and general discussion is currently Gotalk; however, an introduction to a new topic is fine in the Newsletter.
Instructions: Please use plain text not file-attachments. Keep it brief, and give web-links and contact details. It's good to include pictures. If they are on the internet, send me the URL. If not, attach the picture files to your email. Send your contribution to newsletter@britgo.org to arrive by the first day of the month.
Jil Segerman, Newsletter Editor


NEWS
The full set of recent news items, including further details of some of the items shown here, are on our News Pages, and on News Headlines.
Isle of Man Go Festival is Over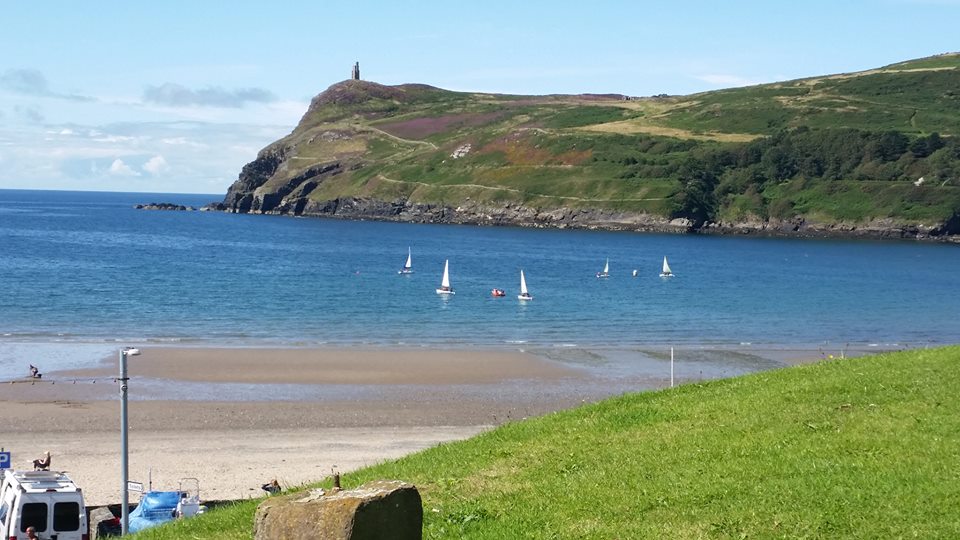 The Isle of Man Go Festival has ended for the last time. This edition was the 12th since the event started in 1991, but with the recent sad death of founder Leo Phillips it has been decided this would be the last. Again the players assembled at the Cherry Orchard in Port Erin, including several families and players from as far away as Sweden and Japan.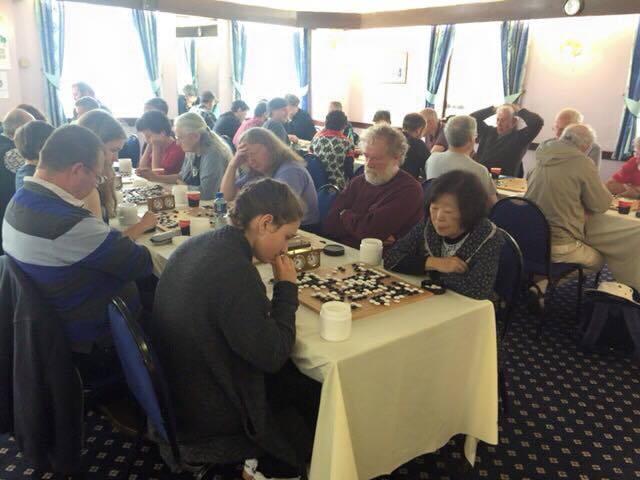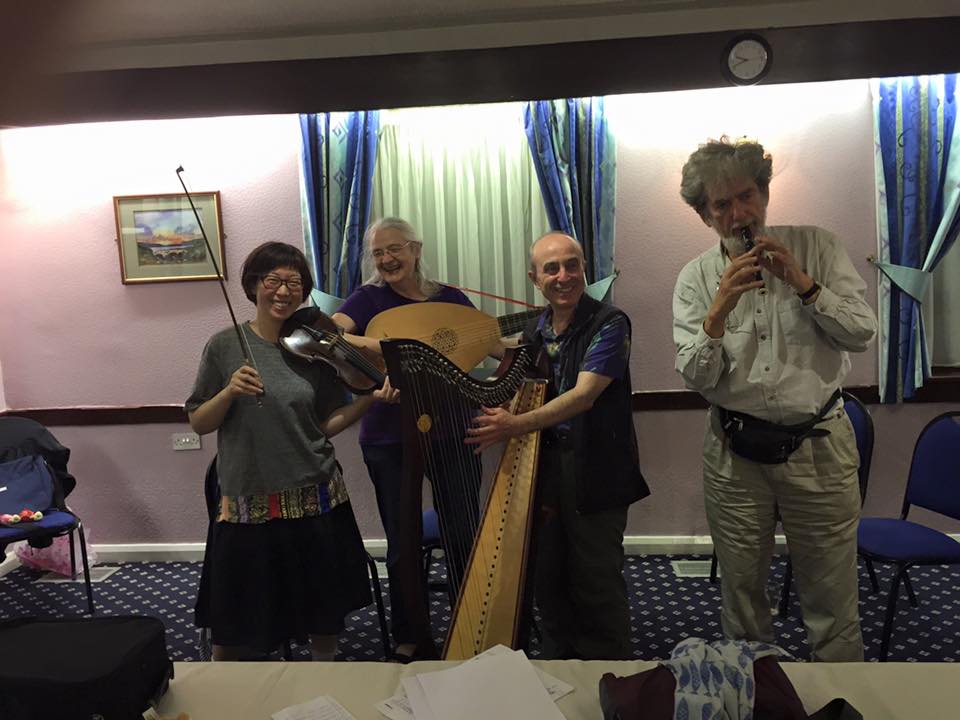 There were events daytime and evening on most days, including a music evening, and also the chance to explore the island in between.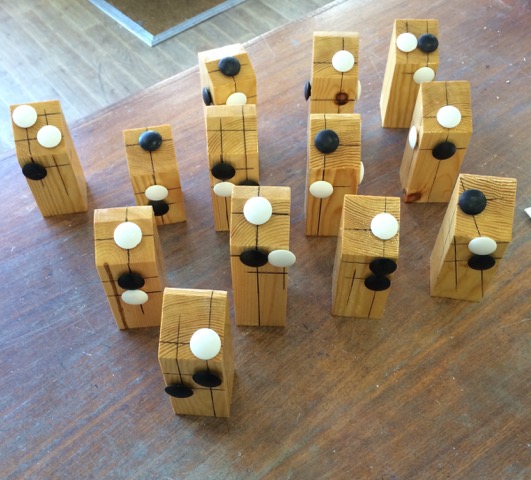 Players competed in the events for unique wooden trophies. Piers Shepperson won the main with 5/5, Sandy Taylor was second with 4/5. The afternoon was won by Richard Hunter on 3/3. Roella Smith won the handicap; Edmund Smith won the lightning. The Rengo (Doubles) was won by Oscar Selby and his mother Natasha Regan. In the children's event Steve Jones (1k) played simultaneous handicap games against all the entrants (Oscar Selby 7k, Charlotte Bexfield 10k, Edmund Smith 11k, Roella Smith 12k, Kelda Smith 17k and Constance Selby 35k) and lost all 6 games.
The sandcastle competition was won by Leo's Castle, constructed by Constance, Margot, Matthew and Rosalind Selby, Adrienne and Richard Regan and Ingrid Jendrzejewski.
In memory of Leo, the builders Constance, Margot, Matthew and Adrienne, together with Oscar Selby and Natasha Regan, will be walking to raise money for Manx Cancer Help. Leo was a big supporter of this charity.
Aja Huang and Joanne Leung Take Gold at MSO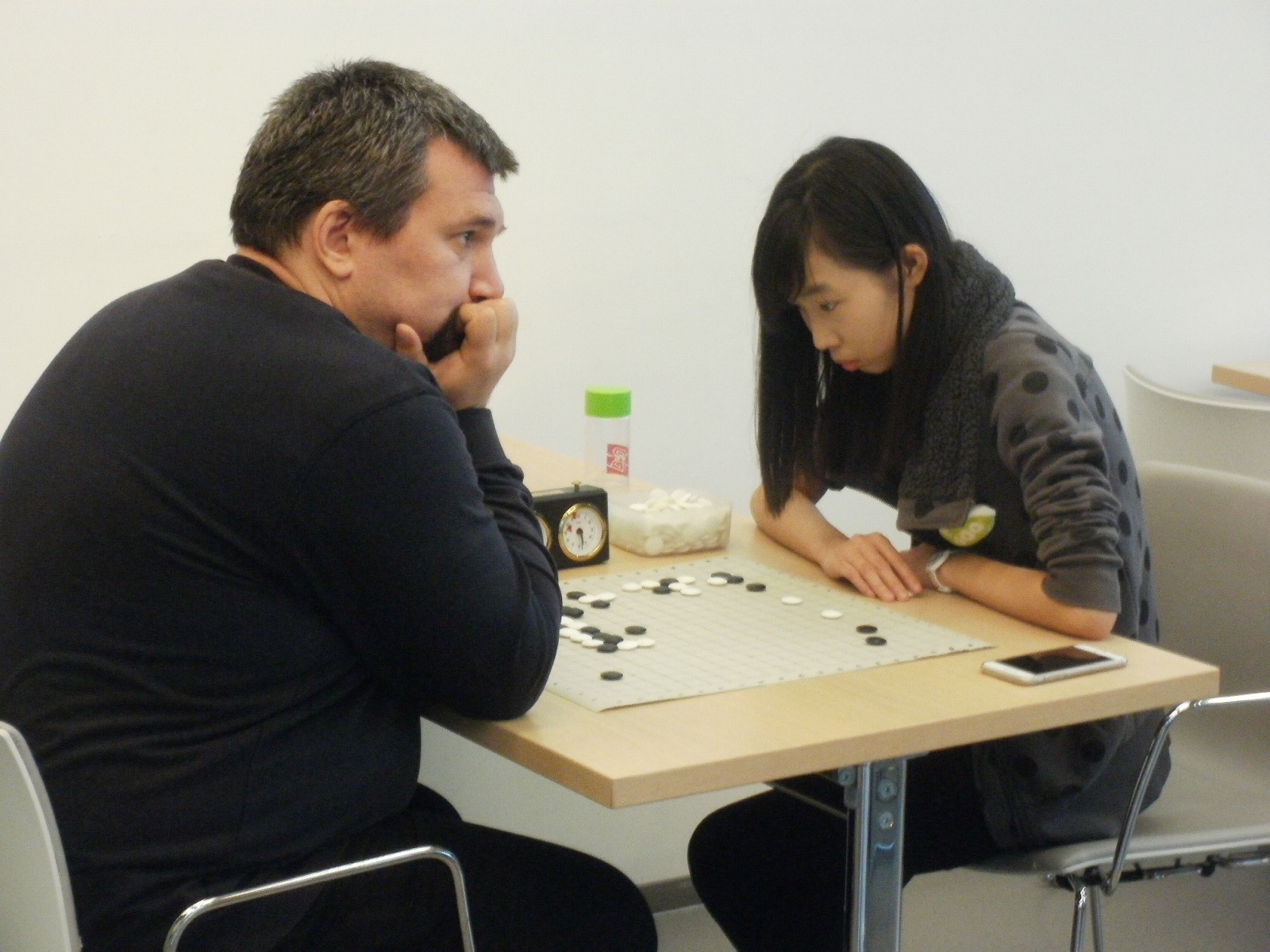 The 19th MSO in London was dominated in the Go events by Aja Huang and Joanne Leung (shown here playing Lucretiu Calota). In the 9x9 Joanne won all four games to take the gold medal. Silver went to the event arbiter Tony Atkins and bronze and junior gold went to Edmund Smith. Aja Huang won the gold, in the 13x13 pushing Joanne back to Silver. London teenager Kapriel Chiarini took the bronze and junior gold went to Edmund Smith.
Calota wins at Arundel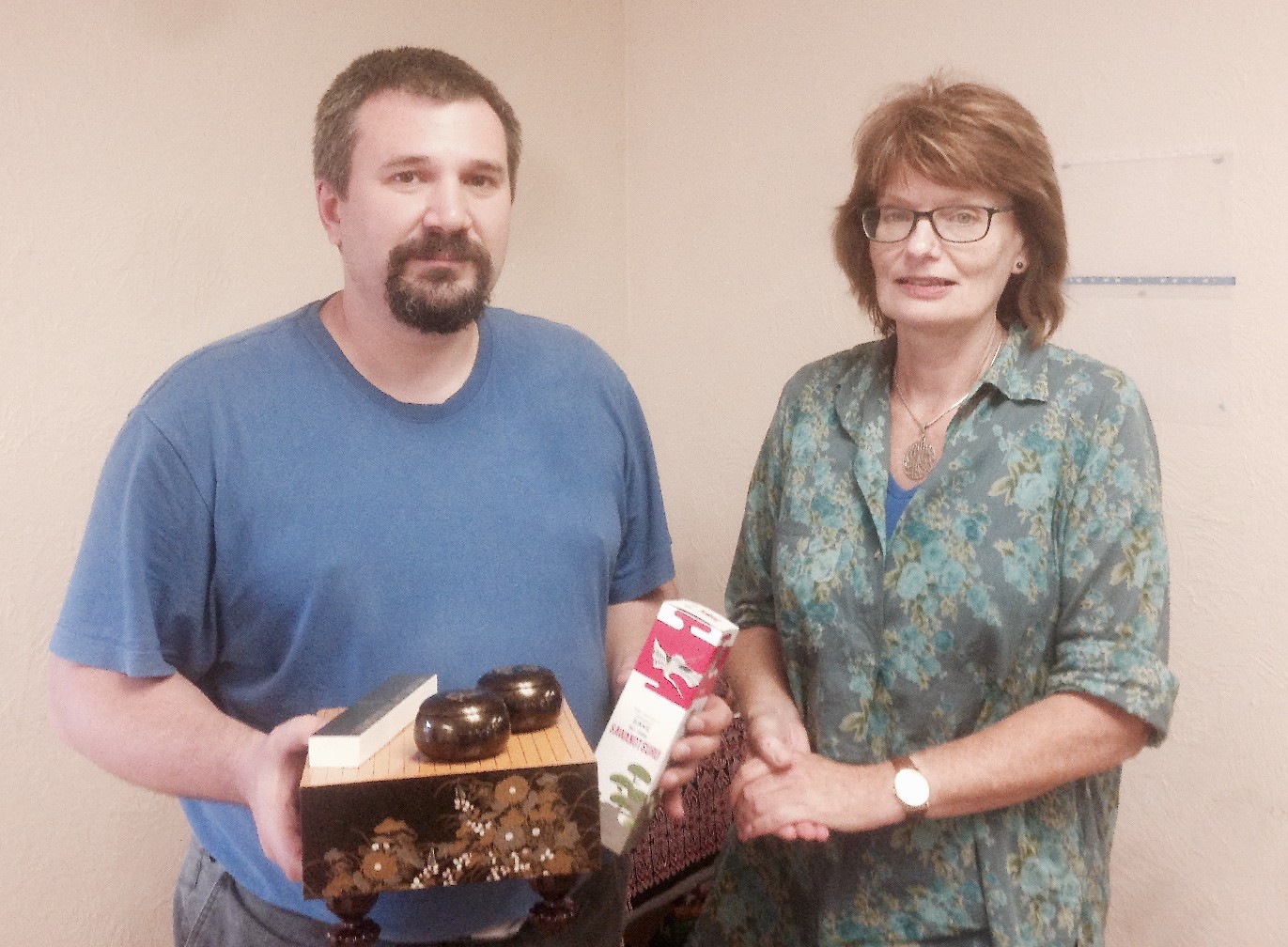 After a year's gap because of the British Go Congress and European Youth at nearby Bognor, the Arundel Tournament was back. The winner was Lucretiu Calota (4d Romania) who beat Jon Diamond (3d) in the final round. Also winning all three games were Peter Collins (4k Bristol) and Charlotte Bexfield (10k Letchworth).
ADMIN
Gotalk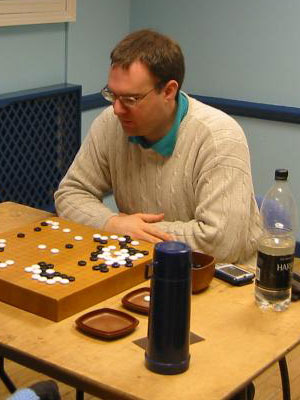 Tim Hunt has taken over as Gotalk moderator.
6th Pandanet Go European Team Championship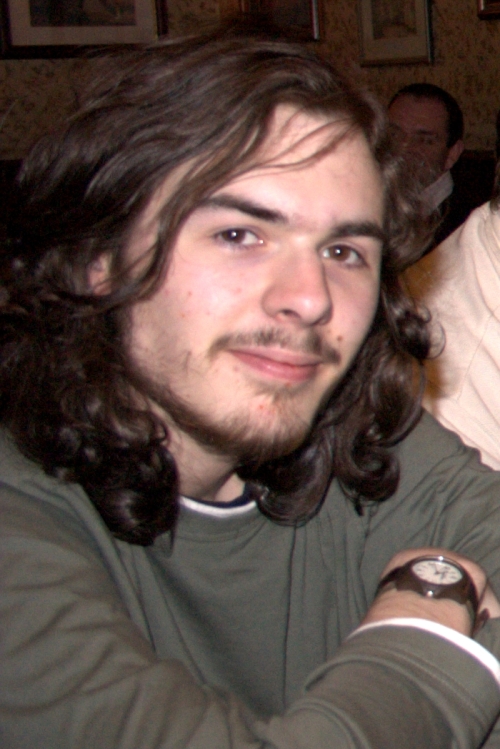 Sandy Taylor is team captain for this year in Division B, after promotion following our successful campaign last year. You can keep up to date by viewing http://www.britgo.org/events/euroteams2015 which contains details of our team, the playing schedule and results.
Club closing
South London Go Club is closed / suspended.
New Club in London
Go players within reach of London should try the new West London Go Club. It is in a quiet, comfortable room at the back of Young Chelsea Bridge Club, which is adjacent to Goldhawk Road Underground. We hope this new club thrives; it deserves to. Gerry Gavigan has done brilliantly to find this venue.
Sunday Evening Lectures
We hope to re-institute the fortnightly Sunday Evening Lectures, starting on 4 October at 20:00. Please contact Toby Manning, particularly if you are willing to do a lecture.
Next Council Meeting
This is scheduled for 17th October. If you have anything you wish Council to consider please contact Jon Diamond by 10th October.
FUTURE EVENTS

Full details are in our Events Calendar.
Cornwall: Saturday 12th and Sunday 13th September, Penzance
Strong Player's weekend: Saturday/Sunday 26th/27th September, Oxford. There is still one place available. Contact Toby Manning.
Sheffield: Sunday 11th October NEW TOURNAMENT
London International Teams: Saturday 17th October NEW VENUE Contact the Central London Go Club for further details.
Wessex: Sunday 25th October
DokiDoki Festival: Saturday 7th November, Manchester
Three Peaks: Saturday 14th and Sunday 15th November, Grange-over-Sands
British Youth Go Championships: Sunday 22nd November, Aston
South London: Saturday 28th November
Coventry: Saturday 5th December (provisional)
Edinburgh Christmas: Saturday 12th December (provisional)
London Open: Monday 28th–Thursday 31st December. Enter by 1 October to get the "early bird" rate.
Later
Isle of Skye Tournament: Saturday 5th – Sunday 6th March 2016 (provisional)
British Go Congress: Friday 1st - Sunday 3rd April 2016, Sheffield
Welsh Open: Saturday 18th June - Sunday 19th June 2016, Barmouth
Last updated Tue May 02 2017.
If you have any comments, please email the webmaster on web-master AT britgo DOT org.