Newsletter 215: February 2016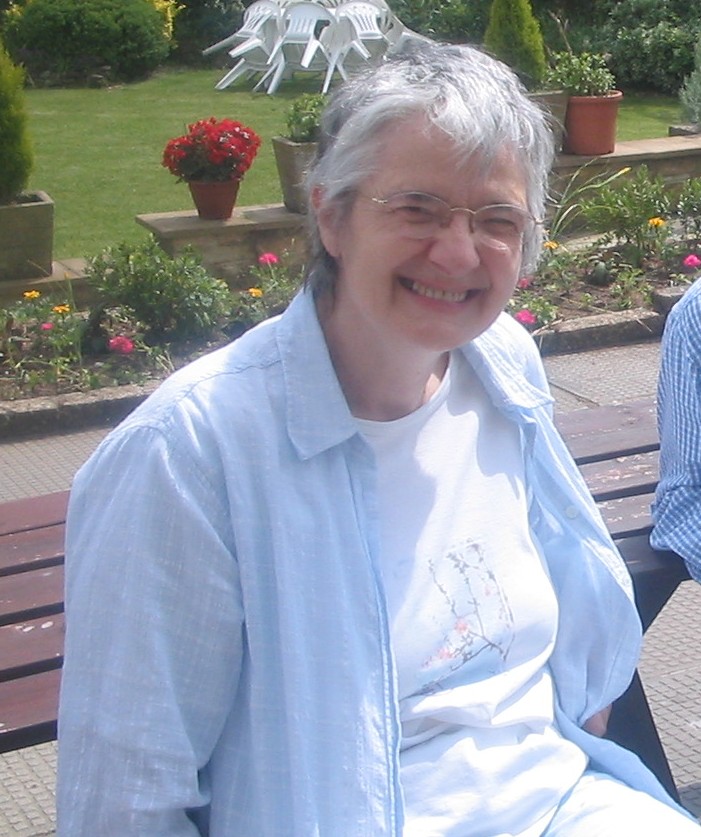 Contributions for the Newsletter are always welcome, both from our members and others. We ask that they be Go-related and "newsy". The place for debate and general discussion is currently Gotalk; however, an introduction to a new topic is fine in the Newsletter. Instructions: Please use plain text not file-attachments. Keep it brief, and give web-links and contact details. It's good to include pictures. If they are on the internet, send me the URL. If not, attach the picture files to your email. Send your contribution to newsletter@britgo.org to arrive by the first day of the month.
Contributions to the British Go Journal are also welcome from players of all grades, see British Go Journal Article Guidelines and contact journal@britgo.org The next Journal copy-date is 29th February 2016.
Jil Segerman, Newsletter Editor



NEWS
The full set of recent news items, including further details of some of the items shown here, are on our News Pages, and on News Headlines.
Major Step Forward in Artificial Intelligence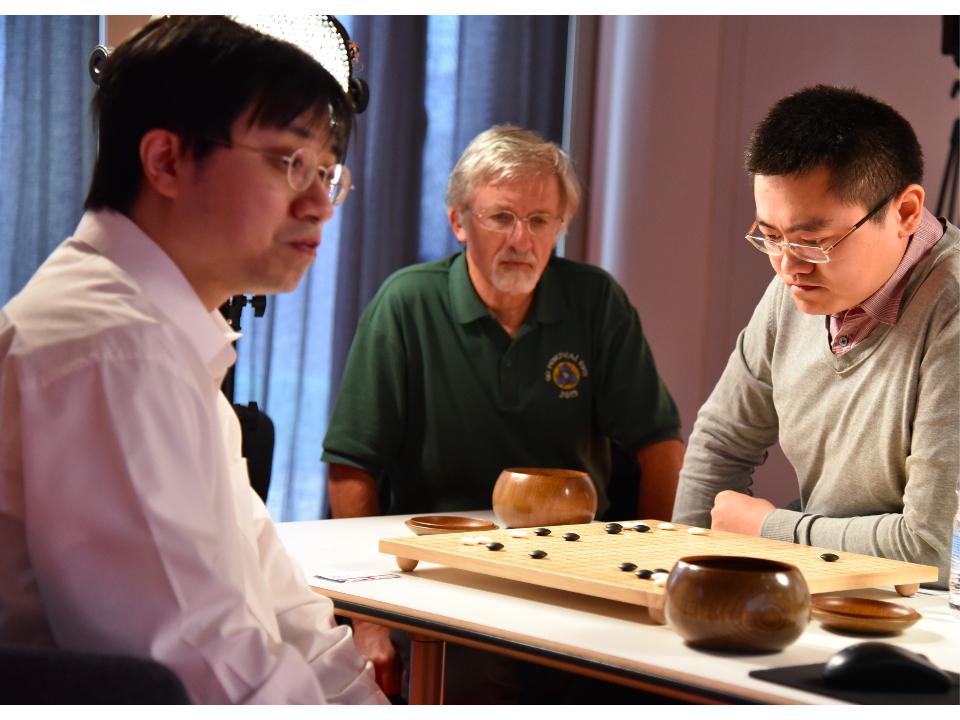 A computer program developed by Google DeepMind (AlphaGo) to play the Oriental game of Go has beaten the three-times European Go Champion and Chinese professional Fan Hui (shown on the right in the photo, courtesy of Google DeepMind). This is the first time that a Go-professional has lost such a match, and not only that, by a clean sweep in all 5 games. This signifies a major step forward in one of the great challenges in the development of artificial intelligence - that of game-playing.
An article about the match in the current British Go Journal number 174 was written by the Match Referee Toby Manning (shown centre in the photo). On the left in the photo is Aja Huang, 5 dan, of Google DeepMind, who relayed the computer's moves to and from the board.
Match Dates have just been announced as 9th, 10th, 12th, 13th and 15th March in Seoul.
Further information will be found via the links on our News Pages. A full record of all UK media items is here. Our President Jon Diamond says that he never expected Go to be on both the BBC Radio and TV News as well as on the front page of the Daily Mail! The media coverage is certainly generating some interest amongst the general public, besides re-activating a few relapsed go-players:
Jon writes: "We've had some direct enquirers and probably had one new member so far as a result of this, but it's too early to assess what the long-term impact might be. Feedback please!"
Tony Atkins: "having Go on TV prompted a new player at Reading Club last night and also an enquiry about the Cheshire Club/Tournament"
Felix Shardlow: " ... Sounds like a good time to rekindle the Brighton Go Club to me... What evenings are people free?"
Jon again: " ... the traffic to our website peaked on 28th January at 10x of our average for the previous month; our Learn to Play Go pages peaked at 30x the previous average, so we've taught 10,000 people to play! The traffic hasn't settled down to our previous levels yet - it's still running at more than 200% of the previous average. Our Facebook posting announcing the event has been seen by almost 5,000 people.."
Jonathan Green: " Twitter is lagging behind, but we do have nearly 1,000 followers now, and we had plenty of retweets and likes over the last few days. The top search term that brought people to the site was "how to play go" and other similar terms also brought a lot more new visitors than usual.
And for our next Newsletter, please send us your own stories!
Editor's picks:
Online League: Some Changes
Organiser John Collins has altered the online league software to handle drawn matches and games differently, giving less credit to each side for these, rather than half a point. This is to encourage teams to finish games. They'll still be displayed as 0.5 or ½ in the league tables (where appropriate), but for the purpose of ranking teams for the league tables any unfinished games will only count a quarter as much as a win (although the BGA may adjust this if needed). These changes won't affect positions in the previous seasons.
Please will all the current teams from last time who haven't contacted John, let him know ASAP whether they are playing this time. Also any new teams would be very welcome to join in, so please don't be shy. We don't insist on people being in the same geographical area although most teams are. We would really like to get the league going by the end of this month.
European Youth Online Team Championship:
The UK Youth GO team have finished a respectable sixth out of the twelve teams competing in the European online Youth Go Team Tournament. Well done to our squad of 13 players selected for this event - U20s: Laurence Turner, Elom Willson and Kapriel Chiarini, U16s: Oscar Selby, Alex Terry, Dylan Zhu Dong, Charlotte Bexfield, Hasan Nisar and U12s: Edmund Smith, Aidan Wong, Wenzhou Mei, Alexander Hsieh, David Rosental. Almost all players were able to play in at least one match.
New Games Cafes
"Meet up with like-minded people to play games: ancient strategy board games like Go! / iGo, Mah Jong, Yahtzee, chess, backgammon and ludo ..." Library Pot Games Café 86 Kew Road, Richmond TW9 2PQ.
The Casual Chess cafe at the British Film Institute (http://casualchess.org 21 Stephen Street, London W1T 1LN) is trying to expand into Go. The first night is planned for Friday 19th February. As it's the first date, it's difficult to guess at potential numbers - but there should be plenty of space for both interested chess players and established Go players.
ADMIN
British Go Association Annual Awards
Voting is now open to our Association Members (you need to login first) and will close one week before our AGM, on 24th March. 2016 Awards page.
Annual General Meeting
Our AGM will take place during the British Go Congress in Sheffield. It is scheduled for Saturday 2nd April at around 6:30-7pm, immediately after the T Mark Hall Foundation AGM. Members are reminded that any motions you wish to have on the Agenda need to be received by the Secretary (secretary@britgo.org) six weeks before this, i.e. 20th February.
There will definitely be vacancies on Council so you are reminded that our Constitution states "Nominations for Officers must be submitted to the Secretary at least two weeks before the General Meeting. Nominations for Auditor and for ordinary Council members must be submitted to the Secretary before the General Meeting. All nominations must be in writing and bearing the signatures of the two other members proposing and seconding the candidate. If the number of candidates is not sufficient to fill the vacancies the Chairman shall accept nominations during the meeting. No nomination shall be accepted unless the candidate has indicated his willingness to stand."
Clubs
Don't forget that we've got a page on our site to help you form a club. Please let the webmaster know if you want to make a request here.
FUTURE EVENTS

Full details are in our Events Calendar.
Irish Go Congress (Confucius Cup): Friday 4th - Sunday 6th March, Dublin
Isle of Skye: Saturday 5th – Sunday 6th March, Portree
Trigantius: Saturday 12th March, Cambridge
British Go Congress: Friday 1st - Sunday 3rd April, Sheffield
Welwyn Garden City: Saturday 23rd April
Bracknell: Sunday 22nd May, Wokingham
Scottish Open: Saturday 28th - Sunday 29th May, Glasgow
British Pair Go Championships: Saturday 4th June, Hatfield
Durham: Saturday 11th – Sunday 12th June
Welsh Open: Saturday 18th June - Sunday 19th June, Barmouth
Later
Mind Sports Olympiad, Sunday 21st – Monday 29th August, JW3 London
Last updated Tue May 02 2017.
If you have any comments, please email the webmaster on web-master AT britgo DOT org.