Newsletter 216: March 2016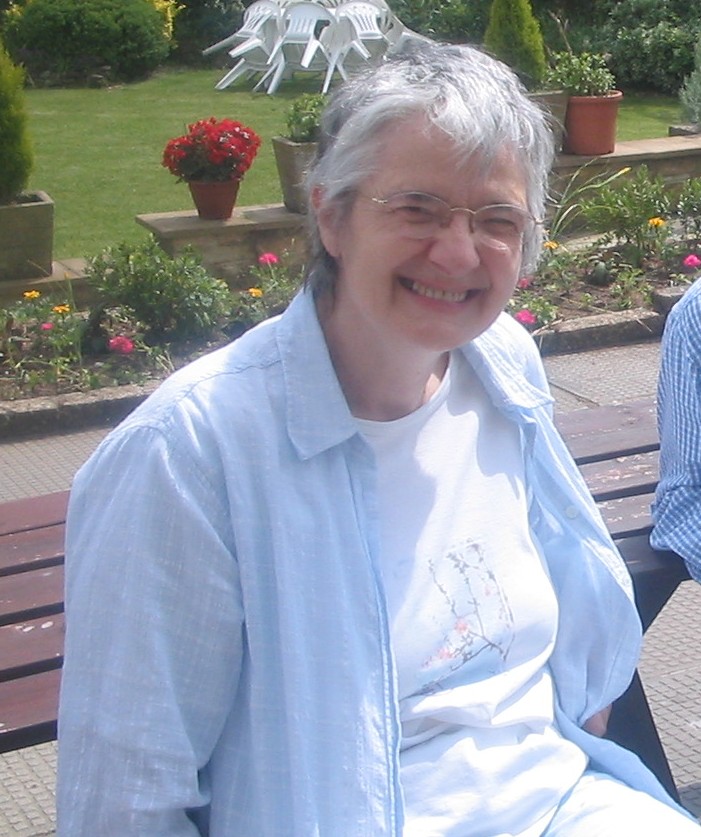 Contributions for the Newsletter are always welcome, both from our members and others. We ask that they be Go-related and "newsy". The place for debate and general discussion is currently Gotalk; however, an introduction to a new topic is fine in the Newsletter. Instructions: Please use plain text not file-attachments. Keep it brief, and give web-links and contact details. It's good to include pictures. If they are on the internet, send me the URL. If not, attach the picture files to your email. Send your contribution to newsletter@britgo.org to arrive by the first day of the month.
Contributions to the British Go Journal are also welcome from players of all grades, see British Go Journal Article Guidelines and contact journal@britgo.org The next Journal copy-date is Monday 30 May 2016
Jil Segerman, Newsletter Editor
NEWS
The full set of recent news items, including further details of some of the items shown here, are on our News Pages, and on News Headlines.
COMPUTER PROGRAM TO PLAY TOP WORLD PROFESSIONAL FOR $1 MILLION
DeepMind's program AlphaGo is to play Lee Sedol at the Four Seasons Hotel, Seoul, starting at 1pm local time (4am GMT) on the following days:
* Wednesday, March 9: First match
* Thursday, March 10: Second match
* Saturday, March 12: Third match
* Sunday, March 13: Fourth match
* Tuesday, March 15: Fifth match
The games will be even (no handicap). If AlphaGo wins, the prize money will be donated to UNICEF, STEM and Go charities. The tournament will be livestreamed on DeepMind's YouTube channel as well as broadcast on TV throughout Asia. Further details.
Korean TV Company films at Cheadle Hulme School Go Club
We were contacted by Korean TV company MBC, who were making a 3-hour(!) documentary about Artificial Intelligence (AI) and Go, obviously kick-started by the publicity about AlphaGo. Toby Manning and Martin Harvey arranged for them to spend a day at Cheadle Hulme School in South Manchester, where they:-
* filmed an interview with Toby Manning
* filmed an interview with Zaheer Ahmed, teacher and school Go Club organiser
* filmed Zaheer leading a discussion about Go and AI with the students
* filmed the students playing Go
* filmed the outside of the imposing Victorian school building for background detail
* in the evening they filmed players at Manchester Go Club
Our thanks to all the staff at the school for facilitating this visit.
British Go Journal 174: full report on the AlphaGo v Fan Hui match
British Go Journal 174, including the match report is now available online to members. See also links to additional media coverage of this match
Andrew Simons Wins British Championship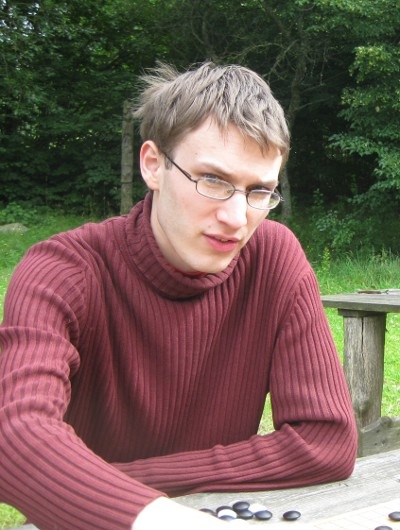 The delayed deciding third game of the 2015 British Championship was played on Sunday 14th February 2016. Up to 100 fans watched the live relay on KGS in the British room. After 299 moves it was found that Andrew Simons, playing black, was 15.5 ahead. Andrew Simons is therefore the champion for the first time.
Go at the Casual Chess Club
The January Newsletter reported on the possibility of a permanent, owned, London Mind Sports Centre, promoting Chess and Go together. Amanda Ross, the consultant who is working with the T Mark Hall Foundation on this is coincidentally - and very conveniently - the founder of Casual Chess Cafe in Tottenham Court Road, central London.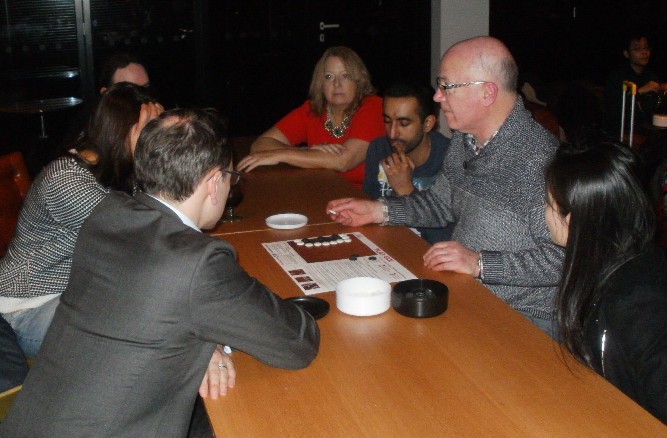 To build the relationship and help her to understand the Go scene, a group of Go-players attended Casual Chess' first-ever Go night on Friday 19th February, to show a group of Chess players the other black-and-white magic. Amanda said afterwards on Facebook "Thank you very much indeed to the British Go Association, and all the lovely go players who came to show everyone how to play or improve their go yesterday! It was an awesome night." The picture below shows Roger Huyshe doing some teaching there.
Casual Chess was secretly nominated for the international Amateur Chess Organization's Social Award. And they won. If you want to pay a visit, check their Facebook page first for time and location.
ADMIN
Annual General Meeting
Our AGM will take place during the British Go Congress in Sheffield. It is scheduled for Saturday 2nd April at around 6:30-7pm, immediately after the T Mark Hall Foundation AGM.
There will definitely be vacancies on Council so you are reminded that our Constitution states "Nominations for Officers must be submitted to the Secretary at least two weeks before the General Meeting. Nominations for Auditor and for ordinary Council members must be submitted to the Secretary before the General Meeting. All nominations must be in writing and bearing the signatures of the two other members proposing and seconding the candidate. If the number of candidates is not sufficient to fill the vacancies the Chairman shall accept nominations during the meeting. No nomination shall be accepted unless the candidate has indicated his willingness to stand."
Annual Awards
Final reminder: voting will close on 25th March. See Annual Awards 2016
Online League: a repeat of last month's message
Organiser John Collins has altered the online league software to handle drawn matches and games differently, giving less credit to each side for these, rather than half a point. This is to encourage teams to finish games. They'll still be displayed as 0.5 or ½ in the league tables (where appropriate), but for the purpose of ranking teams for the league tables any unfinished games will only count a quarter as much as a win (although the BGA may adjust this if needed). These changes won't affect positions in the previous seasons.
Please will all the current teams from last time who haven't contacted John, let him know ASAP whether they are playing this time. Also any new teams would be very welcome to join in, so please don't be shy. We don't insist on people being in the same geographical area although most teams are. We would really like to get the league going by the end of this month.
New clubs?
Jon Diamond has received requests from people wanting to start new clubs, or at least find other some Go-players in their area:
* Derek Thomas wants to form a club in the Plymouth area - his email is dezz@myself.com
* Brian Bolton is looking for players in the area of Ipswich, Suffolk- his email is bbv8@btinternet.com
* 7th November: Bogdan Kruk lives in Chatham and is looking for someone to play - his email is 13xbogdan13x@gmail.com
* 16th August: Martin Shepherd is looking for players in Norwich/Norfolk. Contact him at go@smartenglish.co.uk
* 4th August: Mervin is looking for Go-players in the area of Salisbury, Wiltshire to possibly start a club. Please contact him at aze241@yahoo.com
AlphaGo v Lee Sedol match: ideas for organising local events
A message from Jon Diamond:
We all should be organising a number of events around the country to coincide with this match. Possibly a breakfast session on a playing day, since we're expecting matches to be finishing around 8-9am. Or perhaps just normal club sessions to analyse these games which you'll publicise to the local press, or perhaps special sessions over the weekend.
If you don't have a local club, then perhaps this is an opportunity to try and create one with a bit of publicity - just two people playing in public and analysing the games or whatever you think might get some publicity would be enough. To help with this we've created a template for a Press Release. Please feel free to use this and amend it as you feel appropriate (we'll be updating this from time to time as we get more info.).
Please let me know if you are organising something - we'll produce a consolidated list of these on our website to help build on this. Also, if you do get some paper, radio or TV coverage please let us know, so that we can update our media page, which is quite large for the last month for some reason!
Don't forget we have some promotional literature you can hand out and also some additional copies of the latest BGJ too - contact Toby Manning treasurer@britgo.org if you need these.
Not easy to find on britgo.org
Council member Roger Huyshe has compiled a list of some of the enquiries that he gets where the request is for information that is already on the website. For example:
* Q. How do I use the BGA teaching account? A. It's there under 'organising and teaching go'
* Q. Where can I find commented games for juniors? A. Under 'How can I play better?' (New addition at 20-30 kyu)
* Q. Who can I contact about topic 'X'? A. See 'What is the BGA...Council and Officials'.
* Q. Where do I get equipment? A. See 'Books and Sets' then contact Pentangle or the bookseller.
Britgo.org is a mine of useful information and should be your first port of call. If it's buried in an unexpected place, try Googling "site:www.britgo.org searchterm"
World Mind Sports Games
Details about this haven't been announced yet, although it is expected to be in Macau in September or October 2016. Council has decided to use the same principles as for previous WMSGs, basing selection on the rating list following the British Go Congress, subject to players being UK citizens and also members of the BGA.
Currently, we're expecting the organisers to pick up the cost of accommodation etc onsite, however we don't have any funding to help those who might not be able to afford the air fare, so we're looking for sponsorship to help defray these and also the cost of the uniforms. If you're interested in helping with this, or know of someone who might be, please contact Jon Diamond.
FUTURE EVENTS

Full details are in our Events Calendar.
Trigantius: Saturday 12th March, Cambridge
British Go Congress: Friday 1st - Sunday 3rd April, Sheffield
Welwyn Garden City: Saturday 23rd April
Bracknell: Sunday 22nd May, Wokingham
Scottish Open: Saturday 28th - Sunday 29th May, Glasgow
British Pair Go Championships: Saturday 4th June, Hatfield
Durham: Saturday 11th – Sunday 12th June
Welsh Open: Saturday 18th June - Sunday 19th June, Barmouth
Mind Sports Olympiad: Sunday 21st – Monday 29th August, London
On KGS in the British Room:
Sunday 13th March. Andrew Simons, having won the British Championship, will analyse some of the games in the Title Match.
Sunday 20th March. Tim Hunt will give some "Practical advice for playing better in the endgame".
Last updated Tue May 02 2017.
If you have any comments, please email the webmaster on web-master AT britgo DOT org.