Newsletter 217: April 2016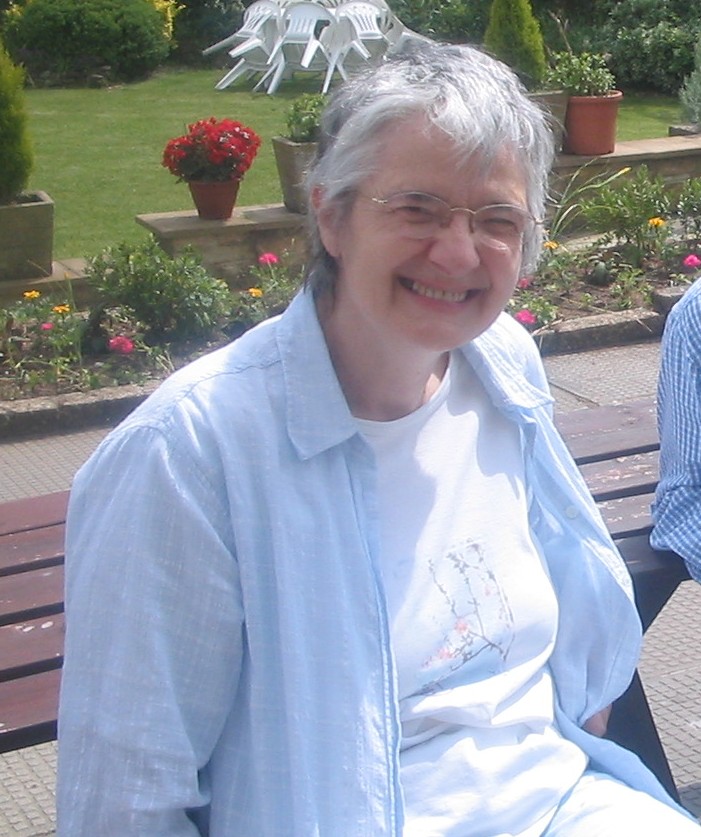 Contributions for the Newsletter are always welcome, both from our members and others. We ask that they be Go-related and "newsy". The place for debate and general discussion is currently Gotalk; however, an introduction to a new topic is fine in the Newsletter. Instructions: Please use plain text not file-attachments. Keep it brief, and give web-links and contact details. It's good to include pictures. If they are on the internet, send me the URL. If not, attach the picture files to your email. Send your contribution to newsletter@britgo.org to arrive by the first day of the month.
Contributions to the British Go Journal are also welcome from players of all grades, see British Go Journal Article Guidelines and contact journal@britgo.org The next Journal copy-date is Monday 30 May 2016
Jil Segerman, Newsletter Editor
NEWS
The full set of recent news items, including further details of some of the items shown here, are on our News Pages, and on News Headlines.
THE Match
So it's all over now. See our latest report: Aftermath, and earlier links on our News Page. A further article about some of the events behind our scenes is scheduled for the next British Go Journal.
We don't know yet quite how Google are planning to spend the $1 million prize, but we will be meeting them in due course. So if you have any ideas as to how some of this money should be spent in the UK please let our President know.
British Go Congress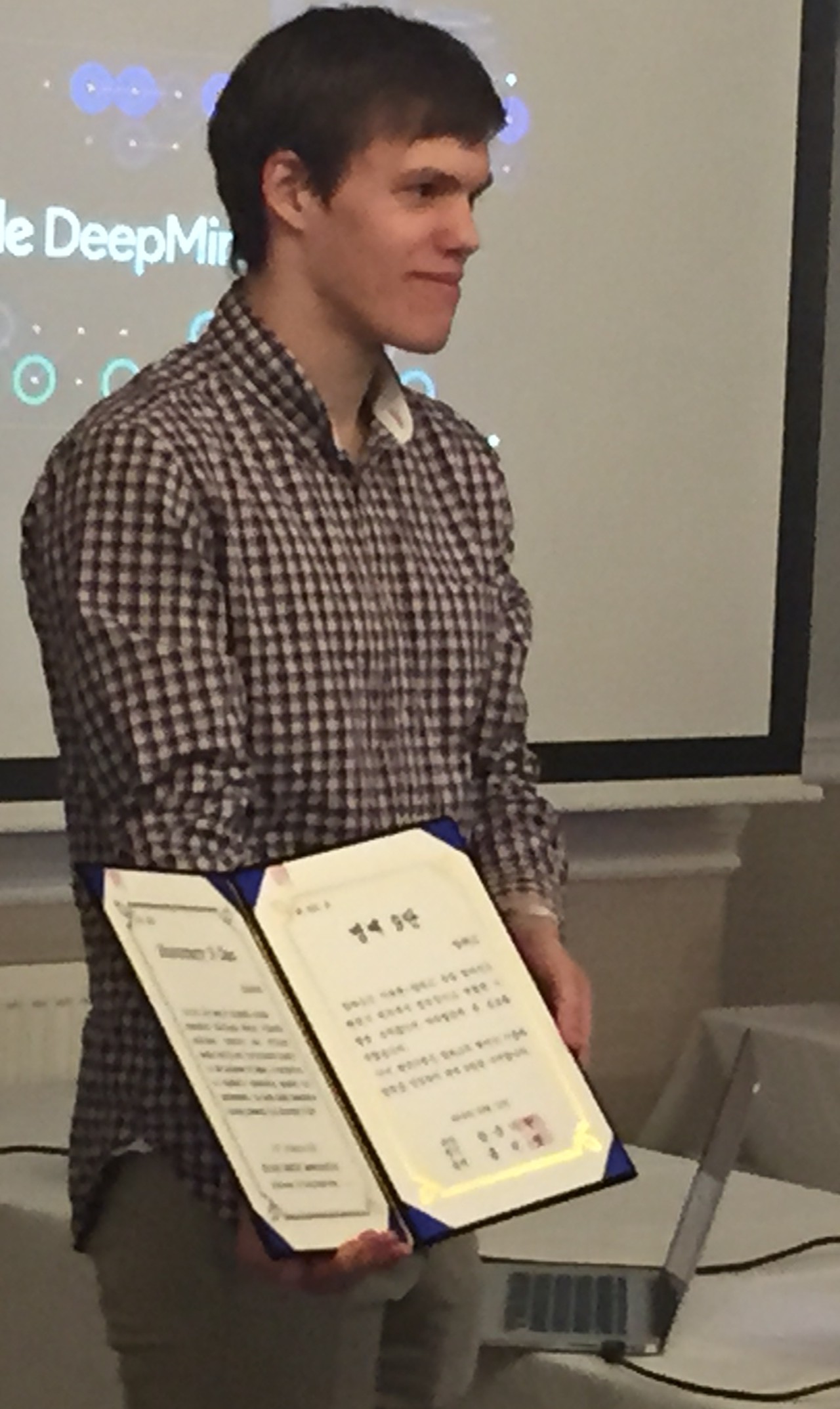 The British Go Congress was held over three days the first weekend in April at the Royal Victoria Hotel in Sheffield. Andrew Kay started the event with a teaching session on Friday afternoon, followed by a well attended presentation by Lucas Baker from Google DeepMind who explained a bit about the recent successes of AlphaGo and showed us its 9 dan diploma (pictured).
Ziyi Zhang 5d won the British Open. A full report is on the news-page
Annual General Meeting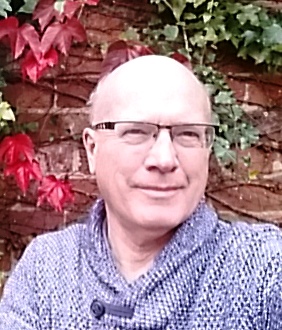 With Jon Diamond and Brian Brunswick retiring from Council, after 7 years and 10 years respectively, a new President was needed and Roger Huyshe (pictured) was elected unanimously.
Jonathan Green and Andrew Russell were also elected to Council. So the new Council comprises: Roger Huyshe, Jonathan chin, Toby Manning, Matt Marsh, John Collins, Jonathan Green and Andrew Russell. Photos
It was reported that the membership had increased in the last year to 441, the first time we'd seen an increase for a number of years. The AlphaGo match didn't seem to have a significant impact on membership yet.
Annual Accounts for 2014 and 2015 were also approved. Toby Manning discussed the significant financial loss of the London Open in 2015 which caused the Accounts for 2015 to show a deficit. Since Google DeepMind are providing £5,000 sponsorship for the event in 2016 this didn't matter so much, but Council would be reviewing how to increase the attendance to avoid such a likely further loss.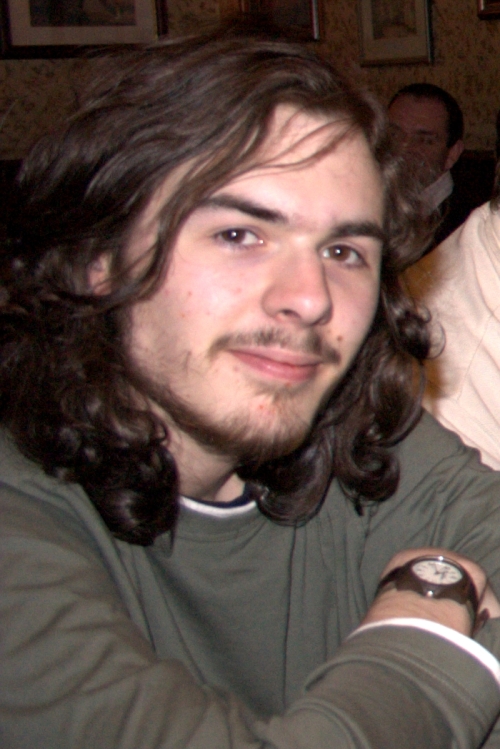 The Annual Awards were presented:
Player of the Year: Sandy Taylor (pictured) for organising and playing in our Pandanet Go European Team Championship and an outstanding performance at the London Open.
Club of the Year: Sheffield for starting up a new tournament, hosting the 2016 British Go Congress and safe-guarding the British Go Journal Editor.
Recruiter of the year: Zaheer Ahmed, for setting up his third school Go club and getting 16 Cheadle Hulme School students to tourneys (one student having made 5 appearances!).
President's Award for services to the British Go Association: Paul Smith for Youth activities, especially in the Milton School for more than 12 years, and the Cambridge club for more than 20 years.
Schools event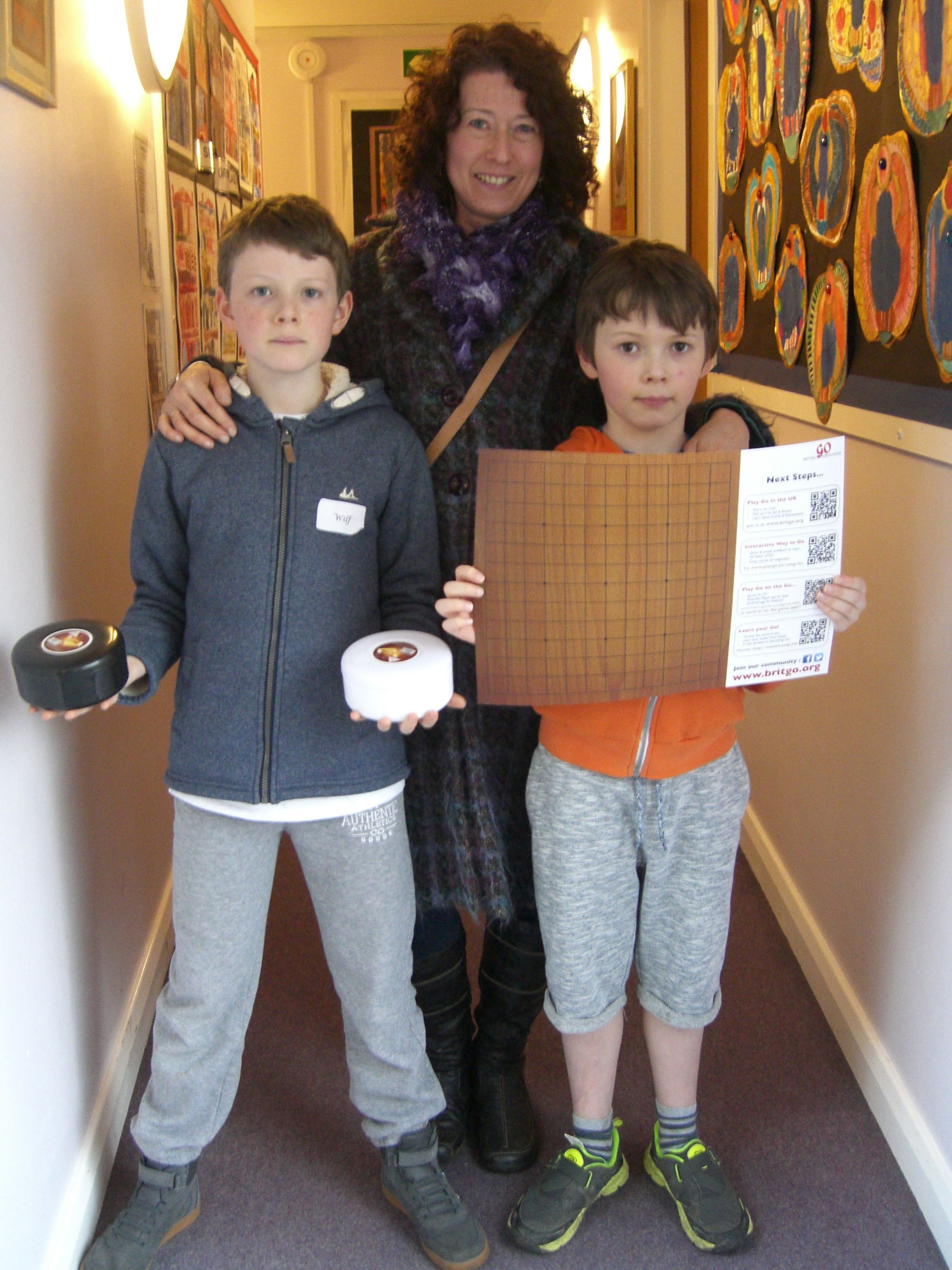 On Saturday 5th March, 30 children from six schools in South Manchester attended a Go workshop at Greenbank school organised and led by Martin Harvey, and sponsored by the local Educational 'Gifted and Talented' scheme. Here, the overall winner with 5 out of 5, Wilf holds his Go bowls prize, his brother shows the A3 laminated board, and proud Mum is behind.
Pandanet Go European Team Championship
After a rocky start our team is now going full steam ahead and won its most recent game against Italy by 3 games to 1. This has raised us to 5= in Division B. Sadly we now have no chance of promotion this year, but we can't be relegated either! See our summary page for details.
ADMIN
International Collegiate Go Tournament July 2016 in Toronto
Message from Michael Fodera of the American Collegiate Go Association The tournament is open to all individuals who have attended university, either in a undergraduate or graduate capacity in the year 2016. As of yet, we are severely lacking in players from Europe. Michael is the contact person for players from outside of Asia to register.
All costs related to the event are covered by the Shanghai Ing Foundation, and the students will only need to pay their travel expenses to the site. There are multiple divisions for the event, and we welcome players of any skill level, from top amateurs to double digit kyus. 
Details are in the on the ACGA web-page
Worldwide shortage of Go equipment
Go Game Guru's recent weekly update: There has been a surge in interest in Go over the last few weeks, because of the recent match between AlphaGo and Lee Sedol. Like most Go players, we're happy about this, but it's also a very intense time for us, because we're receiving many more orders for equipment and books than we usually do, as well as a high volume of questions about Go from new players...
BGA Bookstall
Roger Huyshe writes : Now that I have taken on extra Go duties, I do need to relinquish the running of the bookstall. If anyone is interested in taking this on please contact me. You would run it in your own way, see for free many current and new books, have access to trade prices and provide a useful service to members.
On-line League: Postponed till September
Organiser John Collins writes:
It has been decided to postpone the start of the next season of the online league to September. We have decided this as currently not enough teams have been able to confirm that they will be playing this season. We have enough for one division but not for two and if we managed to start in the next month or so the summer, when it is always quiet, would be upon us just after it has started. Please could we encourage people to get together to form teams during the forthcoming months. We don't insist that teams consist of members all from the same area, so please consider joining in to make the league happen again!
To register a team for the league just email onlineleague AT britgo.org giving names, email addresses where possible (these won't be published, just for sending auto-reminders of games) and ranks of the players. Remember that there are prizes of vouchers at Guo Juan's Internet Go school which can be spent on group classes on KGS or the her ever-increasing library of lectures and training problems.
Aberdeen Club
Until recently, the Aberdeen club was just a contact point and Alasdair Clarke said " I've never managed to meet more than one person at a time!" Recent global publicity has brought in a new member and some lapsed members. Sponsorship by Donald Campbell then provided a 'BGA Club Starter Kit' and Alasdair is now in the process of organising an Informal Scottish Team Pub Go Competition.
Update from Alasdair: I managed to get three people together on Thursday, and then four on Saturday, so things are moving in a positive direction. One of the hardest things about getting a club going is working out when it should be, as everybody has a different schedule. The plans for the pub match against Edinburgh are going well (30th April, 5 v 5) and we hope to organise similar events with the other Scottish clubs over the summer (Glasgow and Dundee are both keen on the idea). And if any clubs from elsewhere in the UK have enough interest to travel that far north, they are of course welcome!
FUTURE EVENTS
Welwyn Garden City: Saturday 23rd April
Candidates' Tournament, Letchworth Garden City: Saturday 30th April - Monday 2nd May. Invitation only event; you can check online if you may qualify.
Bracknell: Sunday 22nd May, Wokingham
Scottish Open: Saturday 28th - Sunday 29th May, Glasgow
British Pair Go Championships: Saturday 4th June, Hatfield
Durham: Saturday 11th – Sunday 12th June
Welsh Open: Saturday 18th June - Sunday 19th June, Barmouth
Arundel: Saturday 20th August (provisional)
Liverpool Japan Day: Saturday 20th August.
Mind Sports Olympiad, London: Sunday 21st – Monday 29th August, London. MSO 9x9 and MSO Small Board Sunday 28th August; MSO Open Monday 29th August.
Northern: Sunday 4th September, Manchester
Cornwall: Saturday 10th and Sunday 11th September, Penzance
Three Peaks: Saturday 5th November - Sunday 6th November, Ingleton
Last updated Tue May 02 2017.
If you have any comments, please email the webmaster on web-master AT britgo DOT org.