Newsletter 219: June 2016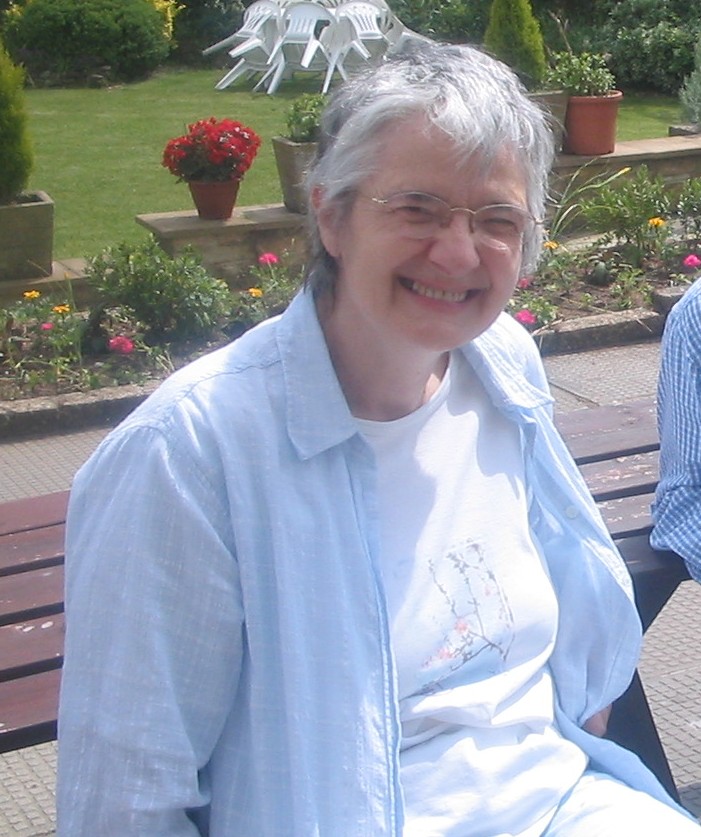 Contributions for the Newsletter are always welcome, both from our members and others. We ask that they be Go-related and "newsy". The place for debate and general discussion is currently Gotalk; however, an introduction to a new topic is fine in the Newsletter. Instructions: Please use plain text not file-attachments. Keep it brief, and give web-links and contact details. It's good to include pictures. If they are on the internet, send me the URL. If not, attach the picture files to your email. Send your contribution to newsletter@britgo.org to arrive by the first day of the month.
Contributions to the British Go Journal are also welcome from players of all grades, see British Go Journal Article Guidelines and contact journal@britgo.org The next Journal copy-date is not yet decided.
Reminder; if you change your contact email address; log in on the user page and follow the "Edit" link.
Jil Segerman, Newsletter Editor
NEWS
The full set of recent news items, including further details of some of the items shown here, are on our News Pages, and on News Headlines.
Pandanet Go European Team Championship
Congratulations to the BGA team who managed a draw against a strong Polish team to keep fifth place in the B-League, out of twelve, at the end of the season.
Pandanet 13x13 tournament
Message from Pandanet:
This year, too, we are holding a 13x13 Internet Go Tournament on Pandanet. The 2nd 13x13 Amateur Strongest Player Tournament
The schedule is given below.
* Mon., May 16~Sun., June 19: applications [Deadline very soon, Ed.]
* Sat., June 25~Sun., July 10: preliminary round
* Tues., July 19~Sun., Aug. 7: final round
We are holding an open tournament for strong players in which all games are played on even, and a handicap tournament based on Pandanet ratings.
The open tournament is for players 3-dan and higher. The winner will earn the right to challenge Yuki Satoshi 9-dan in a 13x13 game and the second place-getter will earn the right to challenge Sakai Hideyuki 8-dan, also in a 13x13 game.
The handicap tournament is divided into A class (2-dan~2-kyu) and B Class (3-kyu and under). There are no handicap stones; the handicaps will be in komi. If the difference in ranks is 5.5 or greater, the handicaps will be the same.
There is no entry fee, and there are deluxe prizes for place-getters. There are also fun prizes for other participants chosen by lot.
* Link for Details and applications
* If you are not already a member of Pandanet, please register and get an ID here and then apply.
We look forward to having you participate. We hope you enjoy 13x13 games with Go fans from 150 countries and territories around the world.
Tokyo Go Camp
The Nihon Ki-in have announced the 2016 Summer Go "Camp" in Tokyo; intensive training for non-Japanese players from 20 kyu up to high dan players. Further details
World Mind Sports Games
IMSA 2016 Games Announcement: "The World Mind Sport Games, held in Beijing in 2008 and Lille in 2012, may have to be postponed to 2017. The Games were originally planned for later in 2016, but efforts are now under way to seek organisers for 2017...... "
British Championship
The eight qualifiers for this year's Challengers' League tournament met at the Young Chelsea Bridge Club, home of the West London Go Club, from Saturday 28th May to Tuesday 31st May for the 7 round all-play-all tournament. Junnan Jiang and Charles Hibbert finished with six wins each and will now go on to play in the British Championship title match games.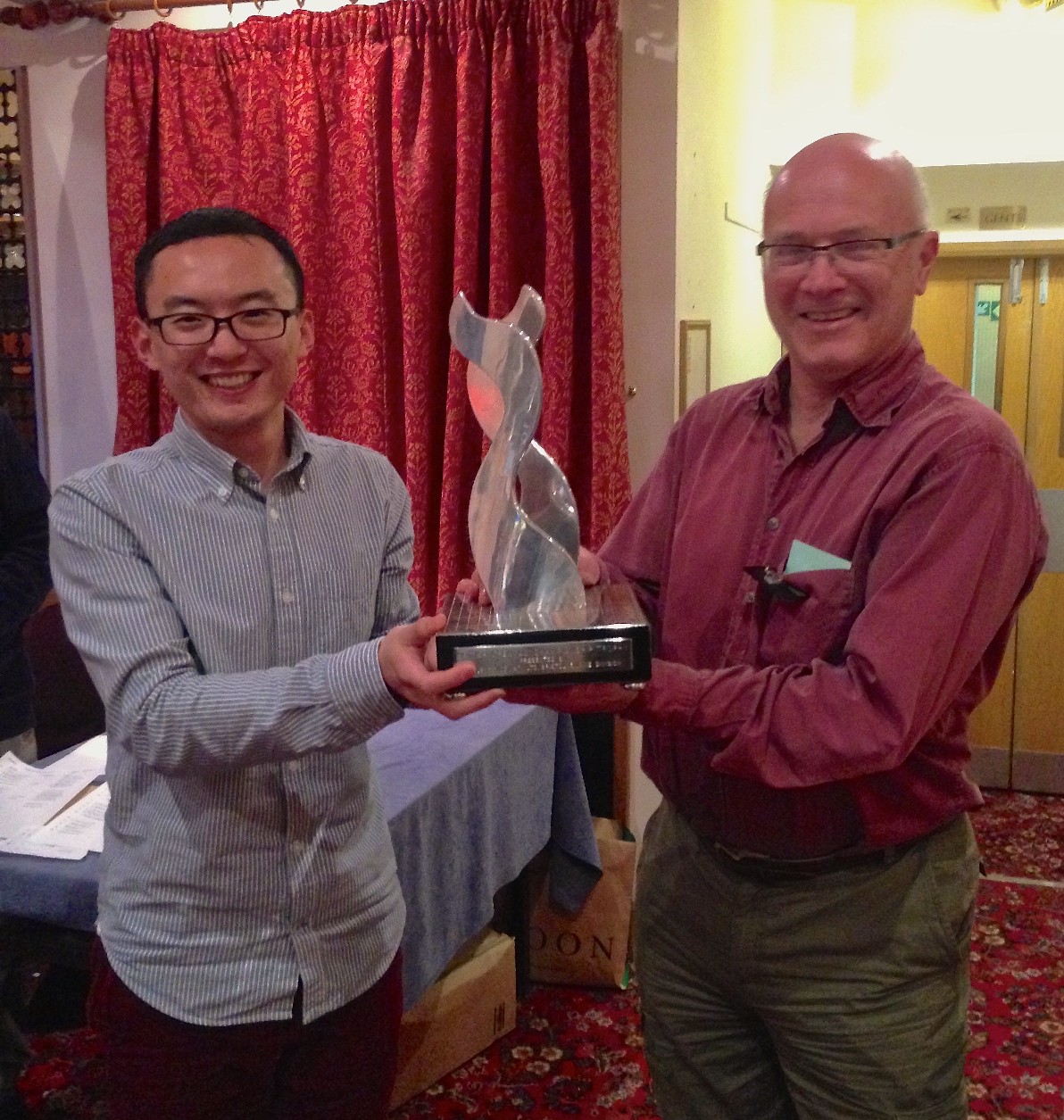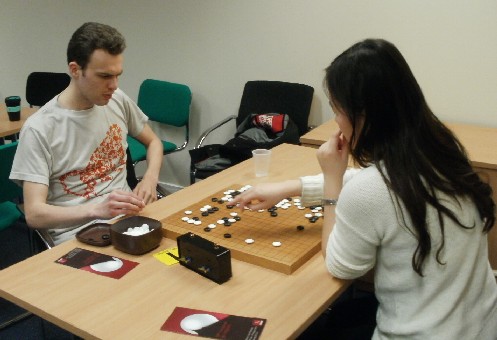 Photos: Junnan Jiang, winner of the British Open 2015; Charles Hibbert, winner of his first ever tournament, Maidenhead Hitachi 2015
ADMIN
European Women's Go Championship
This will take place in Antwerp over the weekend of 20/21 August; watch the EGF calendar for details when announced. There may be a subsidy available for an "official" UK representative: if necessary, we will decide on our "official" candidate in early July. If interested, please contact Toby Manning.
BGA Bookstall
Roger Huyshe writes : Now that I have taken on extra Go duties, I do need to relinquish the running of the bookstall. If anyone is interested in taking this on please contact me. You would run it in your own way, see for free many current and new books, have access to trade prices and provide a useful service to members.
Online League: Postponed till September
Organiser John Collins writes:
It has been decided to postpone the start of the next season of the online league to September. To register a team for the league just email onlineleague AT britgo.org giving names, email addresses where possible (these won't be published, just for sending auto-reminders of games) and ranks of the players. Remember that there are prizes of vouchers at Guo Juan's Internet Go school which can be spent on group classes on KGS or the her ever-increasing library of lectures and training problems.
Go Clubs
From David Phillips: the previous phone number for the Isle of Man club 07624-473688 is now defunct (at least for the present); please use 07624-459944.
From Gerry Gavigan: Most London venues are now hosted on a single website: http://londongo.club, with City linked from it.
Website Upgrade
We are planning to upgrade our website from Drupal 6 to Drupal 7. If you have experience of this (or any other relevant advice) please send a message to the webmaster.
FUTURE EVENTS
Durham: Saturday 11th – Sunday 12th June
Welsh Open: Saturday 18th June - Sunday 19th June, Barmouth
Milton Keynes: Saturday 25th June
UK Go Challenge Finals: Saturday 2nd July, Birmingham
Arundel: Saturday 20th August
Liverpool Japan Day: Saturday 20th August
Mind Sports Olympiad, London: Sunday 21st – Monday 29th August, London. MSO 9x9 and MSO Small Board Sunday 28th August; MSO Open Monday 29th August
Northern: Sunday 4th September, Manchester
Cornwall: Saturday 10th - Sunday 11th September, Penzance
Swindon: Saturday 24th September (provisional).
Sheffield: Sunday 9th October (provisional)
Wessex: Sunday 30th October (provisional)
Three Peaks: Saturday 5th - Sunday 6th November, Ingleton
Doki Doki - The Manchester Japanese Festival: Saturday 12th November
London Open: Wednesday 28th–Saturday 31st December.
Last updated Tue May 02 2017.
If you have any comments, please email the webmaster on web-master AT britgo DOT org.