Newsletter 220: July 2016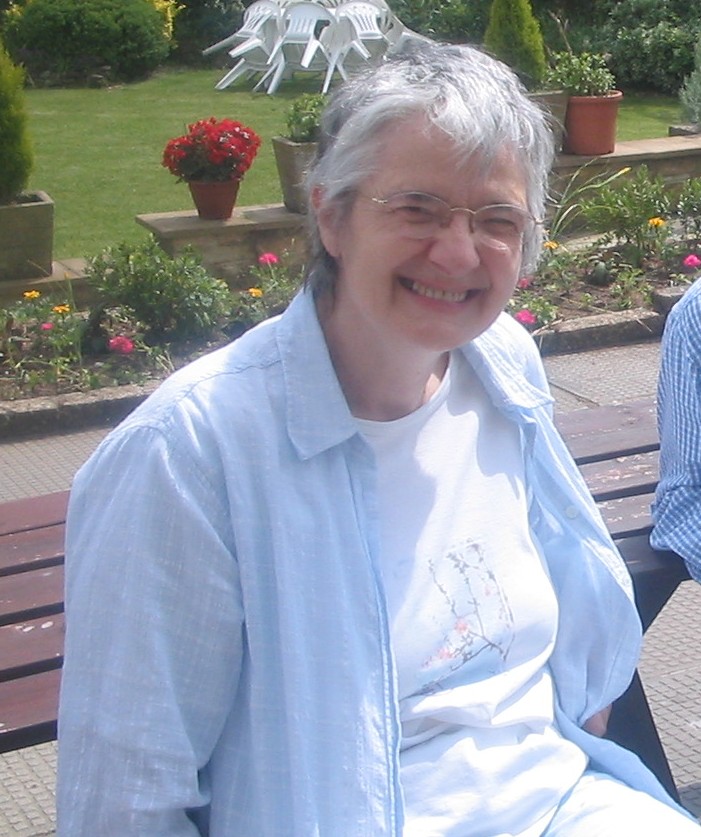 Contributions for the Newsletter are always welcome, both from our members and others. We ask that they be Go-related and "newsy". The place for debate and general discussion is currently Gotalk; however, an introduction to a new topic is fine in the Newsletter. Instructions: Please use plain text not file-attachments. Keep it brief, and give web-links and contact details. It's good to include pictures. If they are on the internet, send me the URL. If not, attach the picture files to your email. Send your contribution to newsletter@britgo.org to arrive by the first day of the month.
Contributions to the British Go Journal are also welcome from players of all grades, see British Go Journal Article Guidelines and contact journal@britgo.org The next Journal copy-date is not yet decided.
Reminder; if you change your contact email address; log in on the user page and follow the "Edit" link.
Jil Segerman, Newsletter Editor
NEWS
The full set of recent news items, including further details of some of the items shown here, are on our News Pages, and on News Headlines.
Welsh Open: Brian Timmins Trophy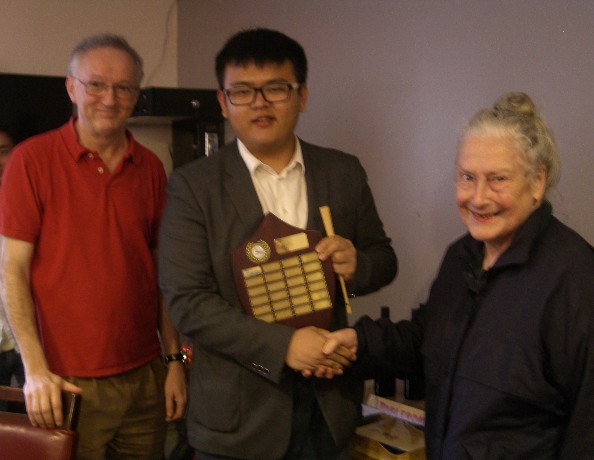 There were 35 players in the Welsh Open, with 8 players above the bar competing for a new trophy. This is the Brian Timmins Plaque, kindly presented by his widow Kathleen. Brian's favourite annual tournament was the Welsh Open and he sadly died not long after playing (as he always had) in last year's event. The trophy went to this year's winner Wenshi Chen (5d) from Warwick University, who won all six games, and he is shown receiving it from Kathleen and organiser Martin Harvey. Wenshi also reviewed various games during the weekend, which was much appreciated.
Andrew Simons wins 5 at World Amateur Go Championship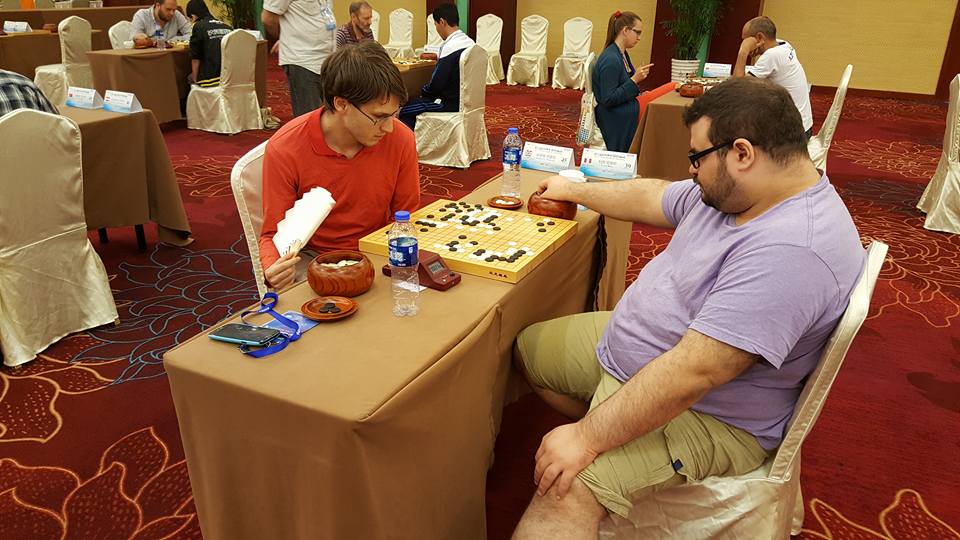 Andrew Simons (4d) ended in 21st place of 56 for the UK at the 37th World Amateur Go Championship, held in Wuxi, China, from 5th - 8th June.
Photo: Andrew Simmons (left) vs. Leon Rios (1d) of Peru
British Pair Go Championship 2016

The British Pair Go Championships returned to the Red Lion in Hatfield and the organisers, Francis Roads and Jenny Radcliffe, were very pleased at the increase to 16 pairs, 8 in each section.
You may read more in the annual UK Pair Go Report.
Below: Championship winners Joanne Leung and Bruno Poltronieri; Best-dressed pair Hui Zhang & Fred Zhu, with organiser Francis Roads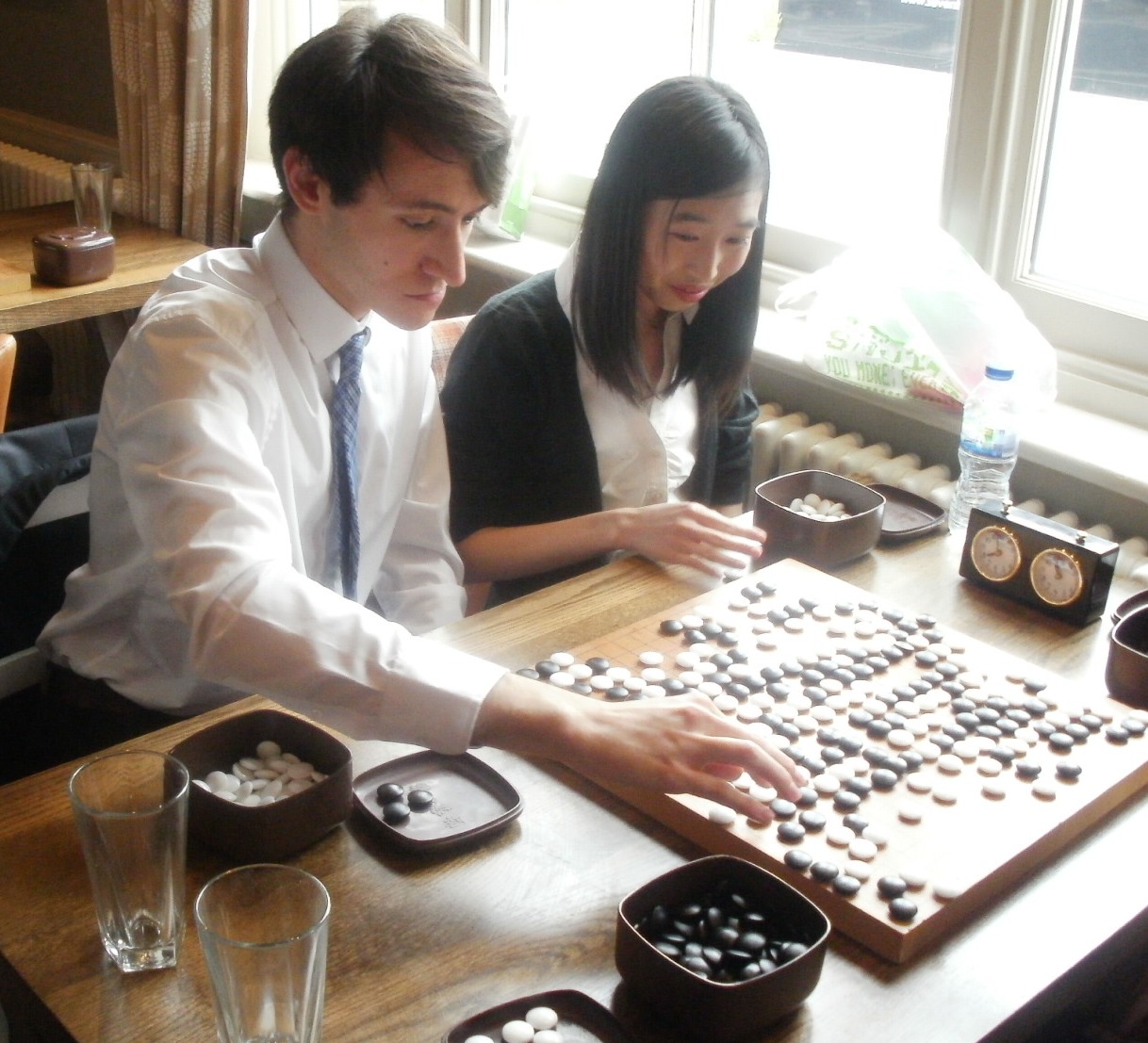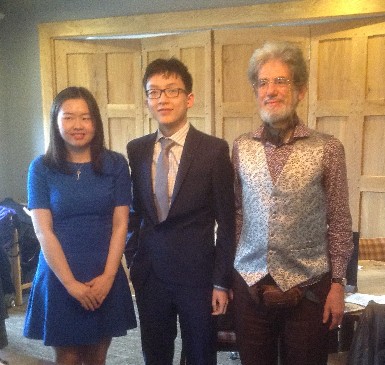 ADMIN
BGA Bookstall
Roger Huyshe writes: I am discontinuing the bookstall in order to focus on other Go duties. I will however continue to act as a source of inexpensive equipment with the specific aim of getting new players into the game. For example, sets are available for startup clubs and for sale at exhibitions.
Social media
Jon Diamond writes: Our Facebook page (https://www.facebook.com/BritishGoAssociation) now has more than 950 likes. We don't know what this really means, but what about making it more than 1,000? Like our page or get your friends to do so!
FUTURE EVENTS
Arundel: Saturday 20th August
British Championship, Game 1: Saturday 20th August Live relay on KGS, provisionally from 10:30
Liverpool Japan Day: Saturday 20th August
Mind Sports Olympiad, London: Sunday 21st – Monday 29th August, London. MSO 9x9 and MSO Small Board Sunday 28th August; MSO Open Monday 29th August
Northern: Sunday 4th September, Manchester
Cornwall: Saturday 10th - Sunday 11th September, Penzance
Swindon: Saturday 24th September
Belfast: Saturday 24th - Sunday 25th September
"Didactics of Mindsports" Conference: Saturday 1st October, Cambridge
Sheffield: Sunday 9th October (provisional)
Wessex: Sunday 30th October (provisional)
Three Peaks: Saturday 5th - Sunday 6th November, Ingleton
Doki Doki - The Manchester Japanese Festival: Saturday 12th November
London Open: Wednesday 28th–Saturday 31st December
Last updated Tue May 02 2017.
If you have any comments, please email the webmaster on web-master AT britgo DOT org.