BGA Newsletter 236 November 2017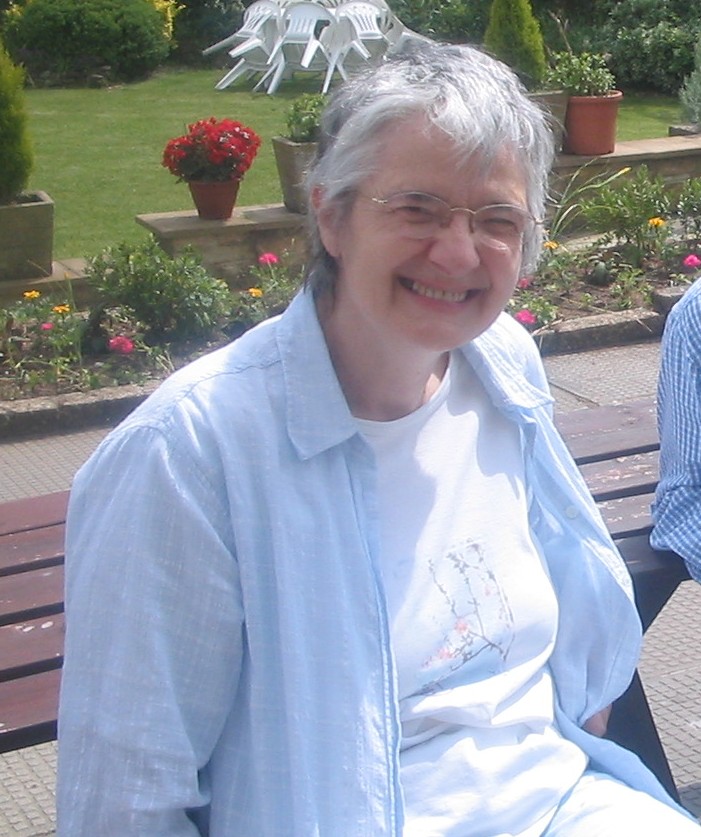 Contributions for the Newsletter are always welcome, both from our members and others. We ask that they be Go-related and "newsy". The place for debate and general discussion is currently Gotalk; however, an introduction to a new topic is fine in the Newsletter. Instructions: Please use plain text not file-attachments. Keep it brief, and give web-links and contact details. It's good to include pictures. If they are on the internet, send me the URL. If not, attach the picture files to your email. Send your contribution to newsletter@britgo.org to arrive by the first day of the month.
Jil Segerman, Newsletter Editor
NEWS
The full set of recent news items, including further details of some of the items shown here, are on our News Pages, and on News Headlines.
Roger Huyshe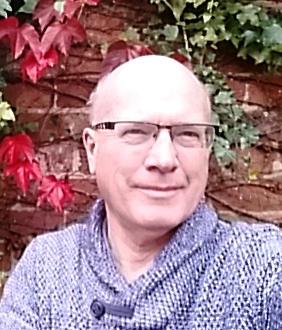 Message from Toby Manning:
"I am sure that you will be as shocked as I am to hear that Roger Huyshe, President of the BGA, died yesterday, 12th November.
Apparently he was out on a bike ride in Derbyshire when he collapsed - we do not think it was a traffic accident - and although the air ambulance was called, they could not save him.
The coroner has requested a post-mortem, so it may be some time before funeral arrangements can be made, but I will let you know as soon as I have more information."
British Go Journal
The Autumn 2017 edition of the BGJ, Issue 181, is available in the members' area for members to read.
Gifted and Talented in South Manchester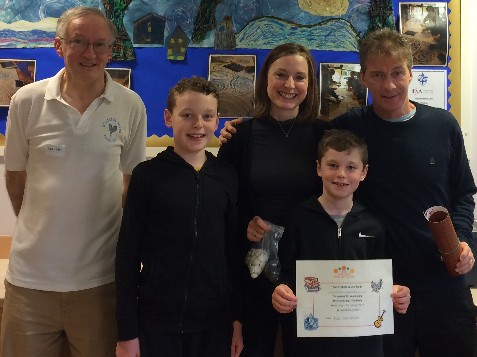 On Saturday 7th October 2017, 15 children from half a dozen schools in South Manchester attended a Go workshop at Greenbank Preparatory School. The local Educational 'Gifted and Talented' scheme sponsored the day and selected the children. They learned the basics in the morning starting with Capture Go, and progressed immediately to territory Go. In the afternoon they submitted to a hectic 6-round 9x9 tournament. Full report
Photo: Organiser Martin Harvey with overall winner Joe, brother and parents
New Youth Go Newsletter
The first edition of a new monthly newsletter, Youth Go News, has been produced by the BGA and is available in the Junior section of the website as a PDF file. Please print or pass on electronically to any juniors who might not be on the BGA youth mailing list.
UK Starts the Pandanet Go European Team Championship at the Top of the B League

The UK team started the new season by beating Denmark by four games to nil. This put the team in first place, equal with Germany. In the second round the UK team beat Switzerland, also by four games to nil, staying equal first with Germany. They played Turkey in the next round on 14th November and won that, again four games to nil, to go clear top. Congratulations to them for this excellent start!
Alexander Taylor and Tony Atkins suggest the following for ongoing information: The BGA's Team Championship page provides an introduction, our results and useful links to our game records. Interested parties can watch the games on the Pandanet Internet Go Server (IGS). The games take place in the EuroTeamChamps room, and usually start at 20:00 UK time. Information about the progress of the league is also available here, including match times and game records for past rounds for all teams.
The latest version of AlphaGo learns without being taught.

Toby Manning reported a long article about AlpgaGo Zero in The Economist, to which Roger Huyshe added: "This is very well written, possibly the best I have seen in mainstream media."
See also DeepMind's article, explaining the significance towards the goal of solving some of the most important challenges that humanity is facing.
FUTURE EVENTS
British Youth, Saturday 18th November, Aston
International Teams Autumn Match, Saturday 18th November, London Go Centre
Cork, Saturday 25th - Sunday 26th November
Coventry, Saturday 2nd December, Warwick University
London Go Centre Monthly 13x13 Tournament, Saturday 9th December
Edinburgh Christmas, Saturday 16th December
London Open, Thursday 28th – Sunday 31st December
Maidenhead-Hitachi, Saturday 20th January 2018
Cheshire, Saturday 3rd February, Frodsham
Nottingham Kyu Teaching/Mini-Tournament, Saturday 24th February
Irish Go Congress, Friday 2nd - Sunday 4th March, Dublin
Isle of Skye, Saturday 3rd - Sunday 4th March
Trigantius, Saturday 10th March, Cambridge
British Go Congress, Friday 6th - Sunday 8th April (provisional), Bristol (provisional)
Later
Candidates' Tournament, Saturday 5th - Monday 7th May. Closed event, i.e. by qualification only; you can check online if you may qualify.
Durham, Saturday 9th – Sunday 10th June
Welsh Open, Saturday 30th June - Sunday 1st July, Barmouth
Mind Sports Olympiad, Sunday 19th – Monday 27th August, London
Leo Phillips Isle Of Man Go Festival, Sunday 11th - Friday 16th August 2019 (provisional).
Overseas
The European Go Federation's Tournament Calendar includes the Major European Tournaments and a World Tournament Calendar
Last updated Sun Feb 18 2018.
If you have any comments, please email the webmaster on web-master AT britgo DOT org.