BGA Newsletter 245 August 2018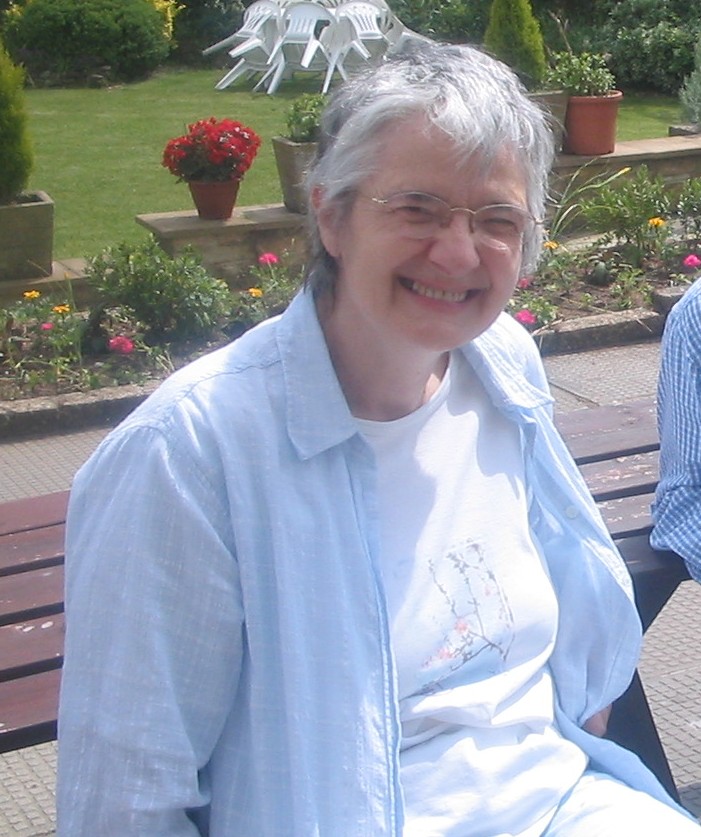 Contributions for the Newsletter are always welcome, both from our members and others. We ask that they be Go-related and "newsy". The place for debate and general discussion is currently Gotalk; however, an introduction to a new topic is fine in the Newsletter. Instructions: Please use plain text not file-attachments. Keep it brief, and give web-links and contact details. It's good to include pictures. If they are on the internet, send me the URL. If not, attach the picture files to your email. Send your contribution to newsletter@britgo.org to arrive by the first day of the month.
Jil Segerman, Newsletter Editor
NEWS
The full set of recent news items, including further details of some of the items shown here, are on our News Pages, and on News Headlines.
BGJ 184 is now available
The Summer 2018 edition of the British Go Journal is now available in the Members' Area.
Annual World Collegiate Weiqi Championship (AWCC)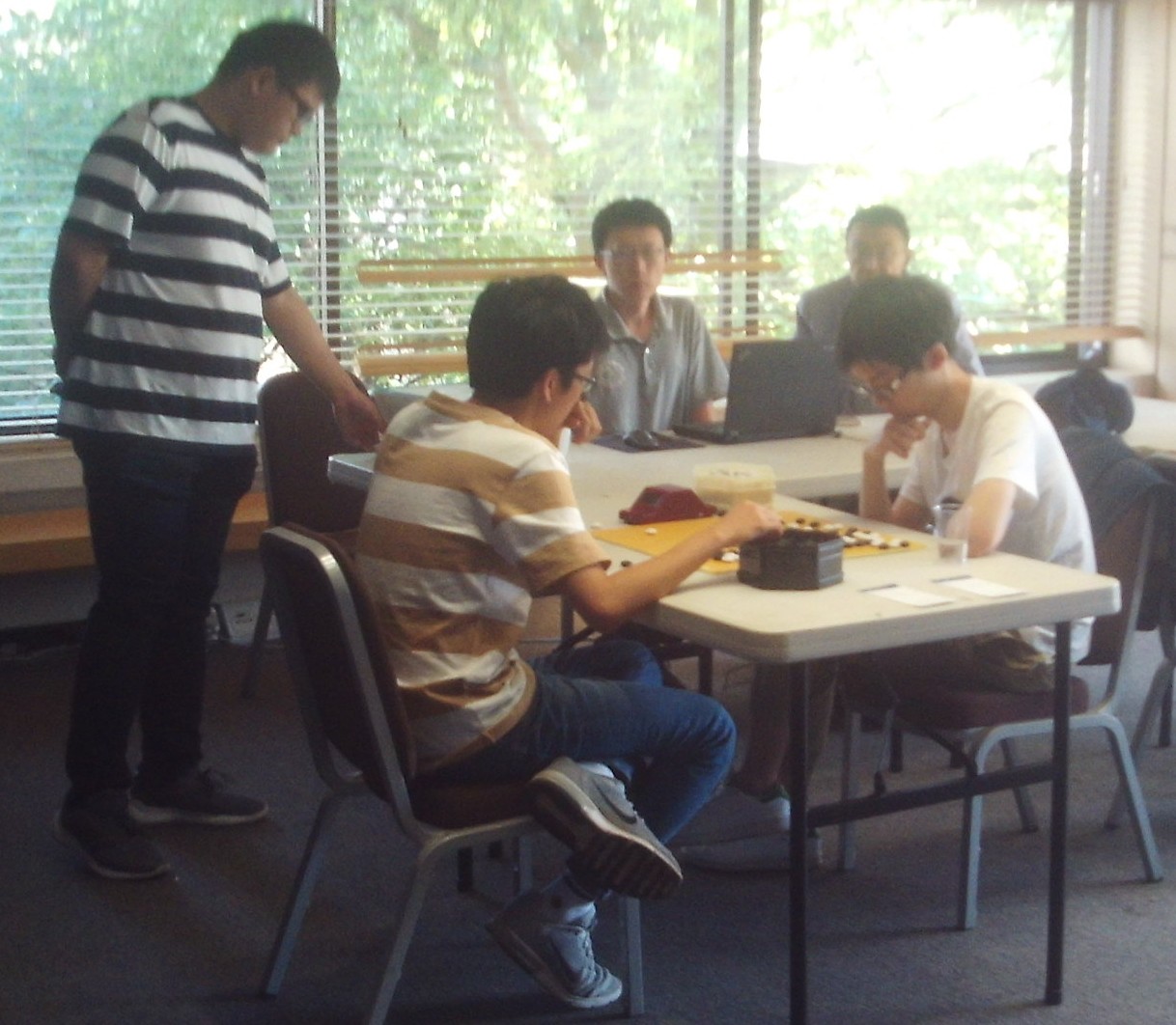 The fifth AWCC was held in Cambridge this year and organised by the International University Weichi Federation (IUWF). Naturally it was supported by the BGA. Many of the organising team were students at British Universities including Daniel Hu, Junan Jiang, Weichin Dai and Joanne Leung.
The tournament had 102 players and it was held over two days and six rounds, apart from the A group that also had semi-finals and final on the third day. In the final (shown here) Baek Woon Ki beat Tang Hau Liu to become this years AWCC champion.
UK Go Challenge Finals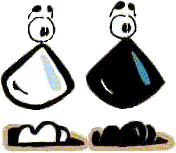 After the AWCC had ended, the following day, 14th July, the BGA used one of the playing rooms to organise the UK Go Challenge Finals. Thanks to the Ing foundation of Shanghai, the Go equipment used by the AWCC has been donated to the BGA and it was used by the 28 children attending the Finals.
Battled over 7 rounds on 13x13 boards, the finals ended up in a three-way tie, with joint winners Charlotte Bexfield, Edmund Smith and Yue Wen. These won U18 Girls, U14 Boys and U8 Boys respectively.
The other age-group winners were: U16 Boys David Baldwin, U12 Boys Alexander Hsieh, U10 Boys Theodore Chui, U14 Girls Hilary Bexfield, U12 Girls Julia Volovich, U10 Girls Zoe Walters, U8 Girls Auden Oliviere. Keira Haden won the Challengers' section for beginners. Best senior club was Cambridge (beating Letchworth 2-1) and Harpenden was the best Primary School.
British Championship Title Match - Game 1
On Saturday 21st July the first game of the British Championship, between Andrew Simons and Sam Aitken, took place. After more than 6 hours of play, Andrew Simons won by 2.5 points after Sam failed to successfully invade a large corner of Andrew's. A commentary by Andrew Simons is available here. The next game will be be announced on the BGA events page, with again live online relay in the British Room on KGS.
DeepMind AlphaGo Team Receive Inaugural IJCAI Marvin Minsky Medal

The team behind DeepMind's world-beating AlphaGo system have been announced as the recipients of the inaugural Marvin Minsky Medal for Outstanding Achievements in Artificial Intelligence, given by the International Joint Conferences on Artificial Intelligence organisation. IJCAI report here.
ADMIN
Attention Go Club members: We are currently updating the Club Directory (see Find a Club on the menu at the top of each page). If you are our primary contact for your club then the recent mail message from us may be languishing in your spam folder. Please review your entry in the Directory and notify us of anything that is out of date by email to club-chair@britgo.org. If you are not the primary contact, please take time to review the entry anyway.
FUTURE EVENTS
Further details on http://www.britgo.org/tournaments
Mind Sports Olympiad, Go Open Sunday 19th, 13x13 and 9x9 Monday 20th August, London
Youth Training Residential, Wednesday 29th - Friday 31st August, near Grantham
Arundel, Saturday 1st September
Penzance (Cornwall), Saturday 8th and Sunday 9th September
Sheffield, Sunday 23rd September
Swindon, Saturday 29th September
T Mark Hall Rapid Play Tournament, Saturday 29th September, London Go Centre
International Teams Autumn Match, Sunday 30th September, London Go Centre
Northern, Sunday 21st October, Cheadle Hulme
Wessex, Sunday 28th October, Bath
Three Peaks, Saturday 3rd November - Sunday 4th November, Ingleton, Yorkshire
Doki Doki Festival, Manchester, Saturday 10th November
London Open, Friday 28th–Monday 31st December, London Go Centre.
Later
27th Welsh Open, Saturday 22nd - Sunday 23rd June 2019, Barmouth
European Go Congress, Brussels, 20th July - 4th August 2019.
Leo Phillips Isle Of Man Go Festival, Sunday 11th - Friday 16th August 2019 (provisional)
Overseas
The European Go Federation's Tournament Calendar includes the Major European Tournaments and a World Tournament Calendar.
Last updated Wed Aug 08 2018.
If you have any comments, please email the webmaster on web-master AT britgo DOT org.