BGA Newsletter 248 November 2018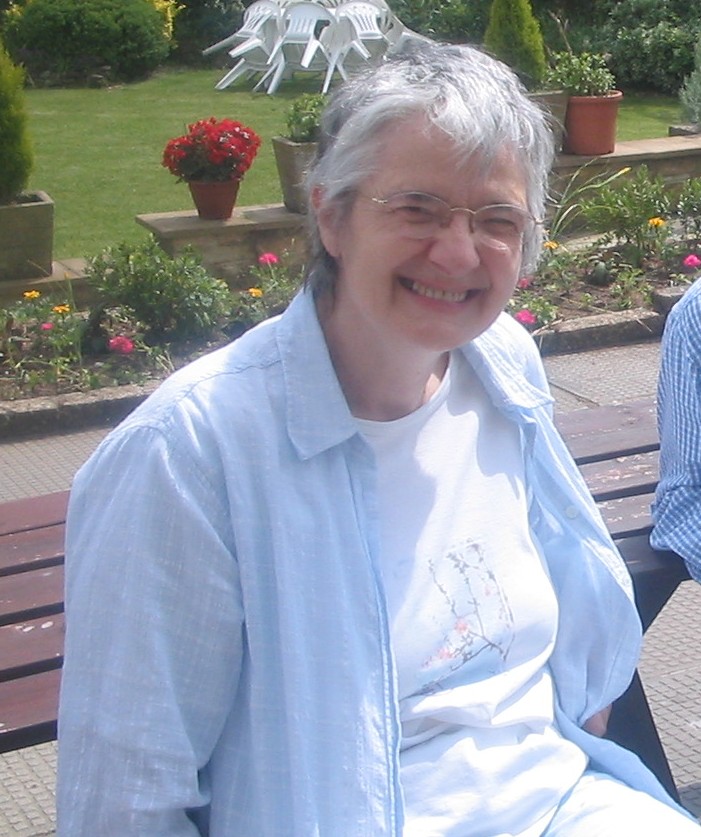 Contributions for the Newsletter are always welcome, both from our members and others. We ask that they be Go-related and "newsy". The place for debate and general discussion is currently Gotalk; however, an introduction to a new topic is fine in the Newsletter. Instructions: Please use plain text not file-attachments. Keep it brief, and give web-links and contact details. It's good to include pictures. If they are on the internet, send me the URL. If not, attach the picture files to your email. Send your contribution to newsletter@britgo.org to arrive by the first day of the month.
Jil Segerman, Newsletter Editor
NEWS
The full set of recent news items, including further details of some of the items shown here, are on our News Pages, and on News Headlines.
British Championship
We are holding the 3rd (and final) title match game for this year's British Championship (between Sam Aitken & Andrew Simons, currently tied at 1-1) on Sunday 18th November at 10:30am. There will be a live relay of the game on KGS.
BGJ 185 is now available
The Autumn 2018 edition of the British Go Journal is now available in the Members' Area.
Pandanet Go European Team Championship
In the second round of the new season, the UK team lost all four games against Serbia. The result was not a surprise, as Serbia has an extremely strong team, quite likely the strongest in this league. The next match will be against Belgium, on 20th November. Game comments from the players via the News page, and more information here.
T Mark Hall Remembered at London Go Centre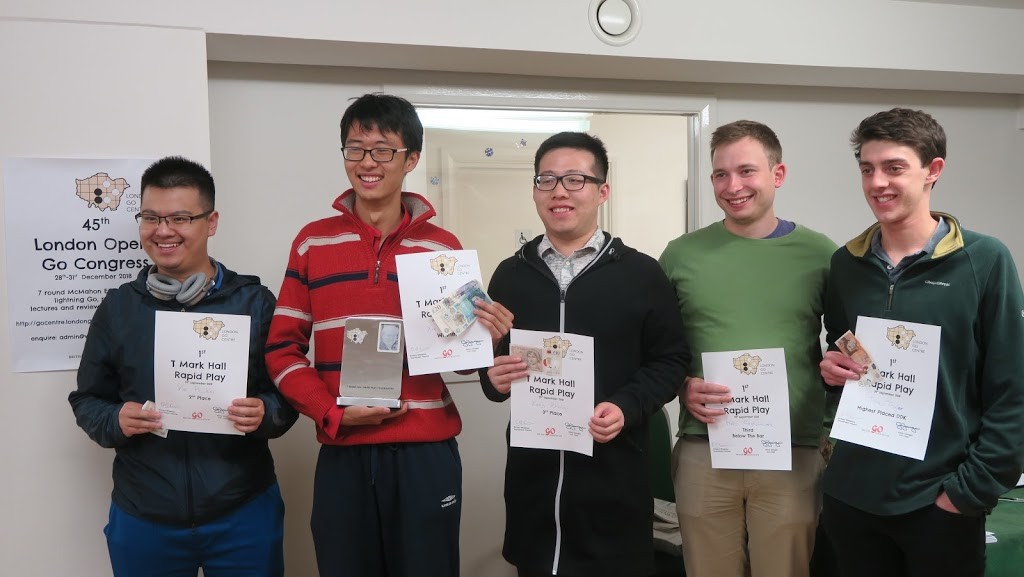 22 players came to the London Go Centre to take part in the first T Mark Hall Rapid Play. Before the prize ceremony, Francis Roads said a few words to inform or remind the players who T Mark Hall was, how he liked fast games and how the London Go Centre was a consequence of his bequest to Go.
Shown here is the overall winner Tunyang Xie (4d China) who won all five games, together with Peikai Xue (1k London) on four wins and Zhanqi Kang (2d Winchester) was third. Lower down those who won four games were James Taylor (11k Warwick University) and Caleb Monk (20k Kings College Juniors). More photos via the news report.
FUTURE EVENTS
Further details on http://www.britgo.org/tournaments
Doki Doki Festival, Manchester, Saturday 10th November
Coventry, Saturday 24th November
British Youth Go Championship, Saturday 1st December, Birmingham
Edinburgh Christmas, Saturday 15th December
London Open, Friday 28th – Monday 31st December, London Go Centre
Maidenhead-Hitachi, Saturday 19th January 2019
Cheshire, Saturday 2nd February, Frodsham
Cambridge Junior Chess and Go Club's 25th Year Special, Cambridge, (provisional) Saturday 2nd March
Trigantius, Saturday 9th March, Cambridge
Welwyn Garden City, Saturday 23rd March
British Go Congress, Friday 5th - Sunday 7th April, Manchester
Later
Not the London Open, Saturday 25th - Monday 27th May
Durham, Saturday 15th – Sunday 16th June
27th Welsh Open, Saturday 22nd - Sunday 23rd June, Barmouth
European Go Congress 2019, Brussels, 20th July - 4th August
Leo Phillips Isle Of Man Go Festival 2019, Sunday 11th - Friday 16th August
Overseas
The European Go Federation's Tournament Calendar includes the Major European Tournaments and a World Tournament Calendar
Last updated Mon Nov 05 2018.
If you have any comments, please email the webmaster on web-master AT britgo DOT org.