BGA Newsletter 249 December 2018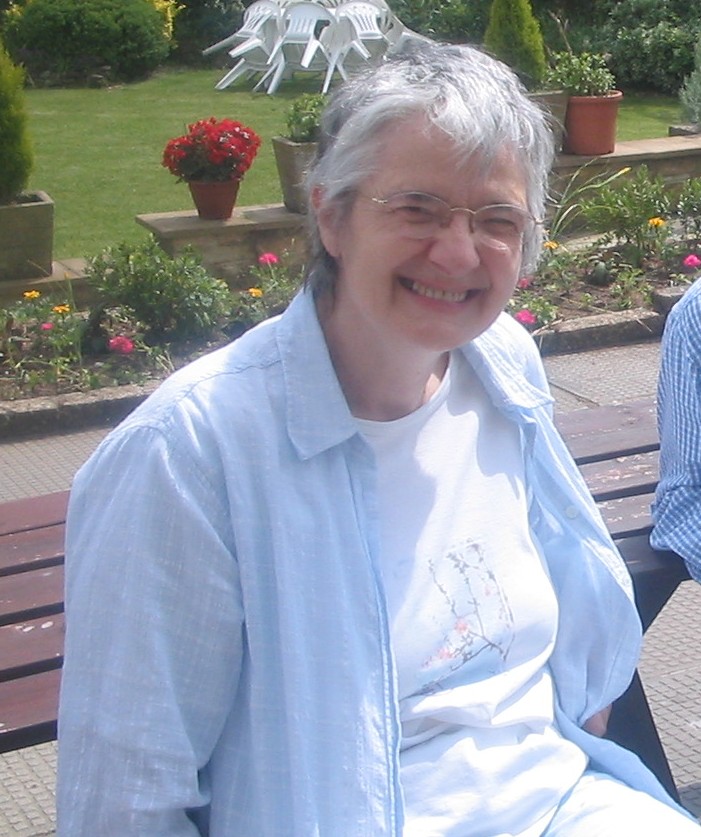 Contributions for the Newsletter are always welcome, both from our members and others. We ask that they be Go-related and "newsy". The place for debate and general discussion is currently Gotalk; however, an introduction to a new topic is fine in the Newsletter. Instructions: Please use plain text not file-attachments. Keep it brief, and give web-links and contact details. It's good to include pictures. If they are on the internet, send me the URL. If not, attach the picture files to your email. Send your contribution to newsletter@britgo.org to arrive by the first day of the month.
Jil Segerman, Newsletter Editor
NEWS
The full set of recent news items, including further details of some of the items shown here, are on our News Pages, and on News Headlines.
British Championship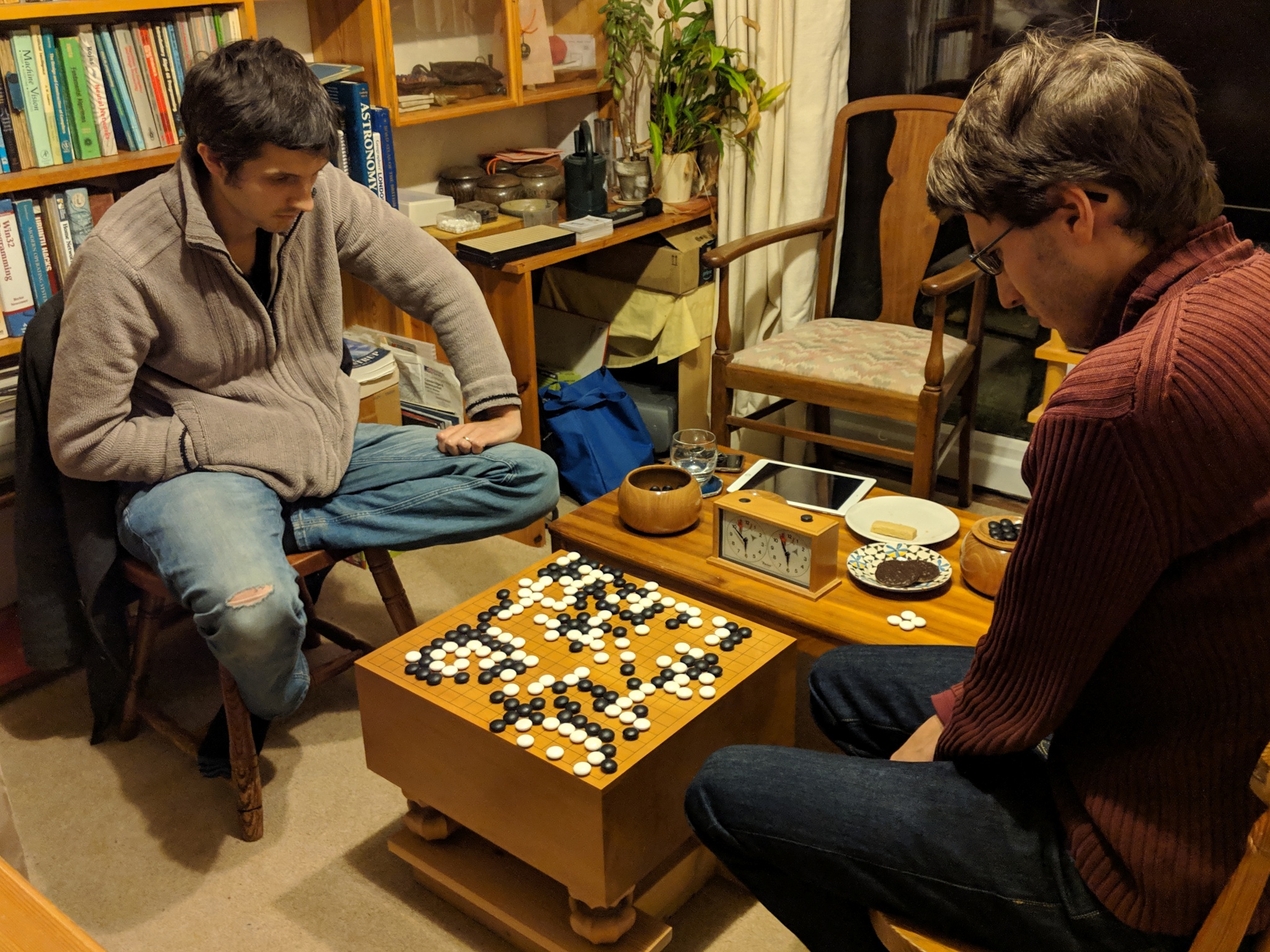 In the third (and deciding) game, Sam Aitken defeated Andrew Simons to become the new British Go Champion. Full details and game records are here. Congratulations to Sam.
In order to qualify for next year's British Championship, players need to reach a rating of 1900 by the end of March. They must also hold (or be eligible to hold) a British passport, or to have resided within the UK since 1 January 2015 with no absence exceeding 6 months. All qualifiers are invited to take part. Contact Matt Marsh, tournament-chair@britgo.org
Pandanet Go European Team Championship
In the third round, the UK team lost 3-1 to Belgium. Congratulations to Jamie Taylor for producing our win.
With three rounds having been played, we now lie 9th (out of 10) in League B. More information here.
2018/19 European Youth Go Team Championship
The UK squad at the start of this year's championship is as follows:
* U20 players: Yueran Wang 2 dan, Tom Bradbury 3 kyu.
* U16 players: Edmund Smith 3 kyu, Josh Gorman 4 kyu, Oscar Selby 5 kyu, Alexander Hsieh 9 kyu.
* U12 players: Daniel Yang 1 dan, George Han 3 kyu, Jianzhou Mei 15 kyu, Zoe Walters 17 kyu, Yanyi Xiong 17 kyu.
* Additionally, Bill Shen 1 dan is an associate member of the squad (U16 age group).
We will be playing three matches; the 5-member team for each match will be selected from the squad.
In the first match of the championship our team won 3-2 against Croatia.
Further details of this year's team, and a report on the first match via the BGA News page
UK Go Challenge
The 2019 UK Go Challenge for UK schools (and other youth clubs) is here! This is a competition for schools and junior clubs to run their own heats before the national finals in July. Details.
ADMIN.
New Go Clubs in North Wales and Exeter University
Michael Vidler michael_vidler@hotmail.com writes: "New Go Club in the North Wales area, meets in Parkway Community Centre, Parkway, Rhos on Sea LL28 4SE. 7.00 pm Tuesday evenings, except 4th Tuesday in month when club meets on the Thursday instead. The club is hosted by Colwyn Bay Chess Club, with stones and boards of 9x9, 13x13 and 19x19 available. So don't worry if you want to play or find about the game but don't have a Go set. First session free, after which it is £2 (free beverages/biscuits). Currently, because it is starting, no annual membership, which is subject to change if we get regular attendance for parity with Chess players. Leave me (Michael Vidler) a message if you do intend coming down."
The Exeter University Club has been formally recognised by the University.
London Open is fully booked
Pre-registrations for the London Open have stopped as the the venue has a limited capacity. However the London Go Centre will be holding a similar tournament in May "Not The London Open" and pre-registration is open now.
FUTURE EVENTS
Further details on http://www.britgo.org/tournaments
Edinburgh Christmas, Saturday 15th December
London Open, Friday 28th – Monday 31st December, London Go Centre Fully booked
Maidenhead-Hitachi, Saturday 19th January 2019
Cheshire, Saturday 2nd February, Frodsham
Oxford, Saturday 16th February (provisional)
Trigantius, Saturday 9th March, Cambridge
Welwyn Garden City, Saturday 23rd March
British Go Congress, Friday 5th - Sunday 7th April, Manchester
Candidates' Tournament Saturday 4th - Monday 6th May
Bar-Low Tournament, Sunday 5th May, London Go Centre
LGC Self-Paired Tournament, Monday 6th May
Not the London Open, Saturday 25th - Monday 27th May, London Go Centre
Challengers' League, Saturday 25th - Tuesday 28th May, London Go Centre
British Pair Go Championships, Saturday 8th June, Hatfield
Durham, Saturday 15th – Sunday 16th June
27th Welsh Open, Saturday 22nd - Sunday 23rd June, Barmouth
Later
European Go Congress 2019, 20th July - 4th August, Brussels
Leo Phillips Isle Of Man Go Festival 2019, Sunday 11th - Friday 16th August
Three Peaks, Saturday 2nd November - Sunday 3rd November, Ingleton
Overseas
The European Go Federation's Tournament Calendar includes the Major European Tournaments and a World Tournament Calendar
Last updated Fri Dec 07 2018.
If you have any comments, please email the webmaster on web-master AT britgo DOT org.