BGA Newsletter 251 February 2019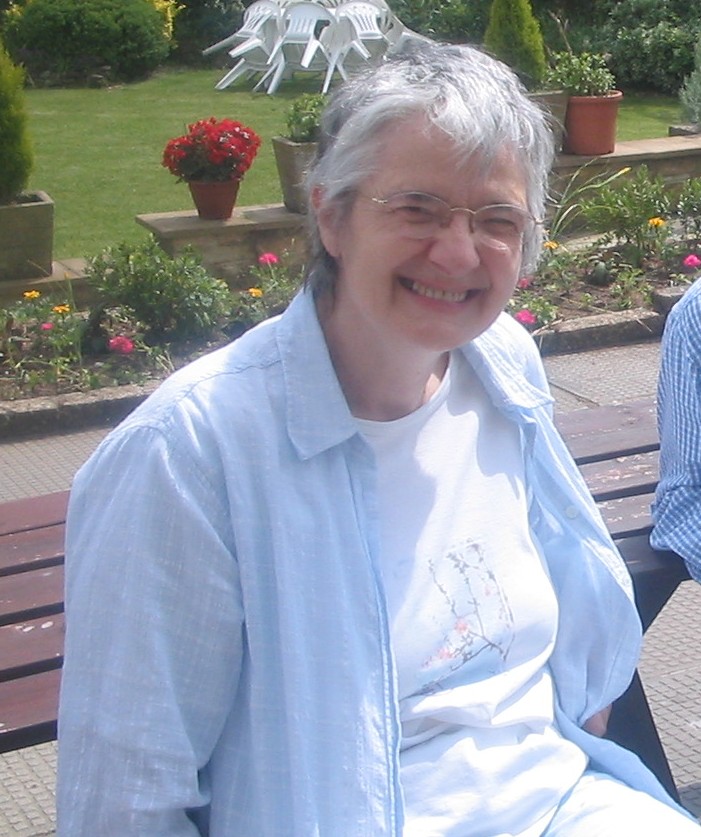 Contributions for the Newsletter are always welcome, both from our members and others. We ask that they be Go-related and "newsy". The place for debate and general discussion is currently Gotalk; however, an introduction to a new topic is fine in the Newsletter. Instructions: Please use plain text not file-attachments. Keep it brief, and give web-links and contact details. It's good to include pictures. If they are on the internet, send me the URL. If not, attach the picture files to your email. Send your contribution to newsletter@britgo.org to arrive by the first day of the month.
Jil Segerman, Newsletter Editor
NEWS
The full set of recent news items, including further details of some of the items shown here, are on our News Pages, and on News Headlines.
BGJ 186 is now available
The Winter 2018 - 2019 edition of the British Go Journal is now available in the Members' Area.
Good news if a tad late ...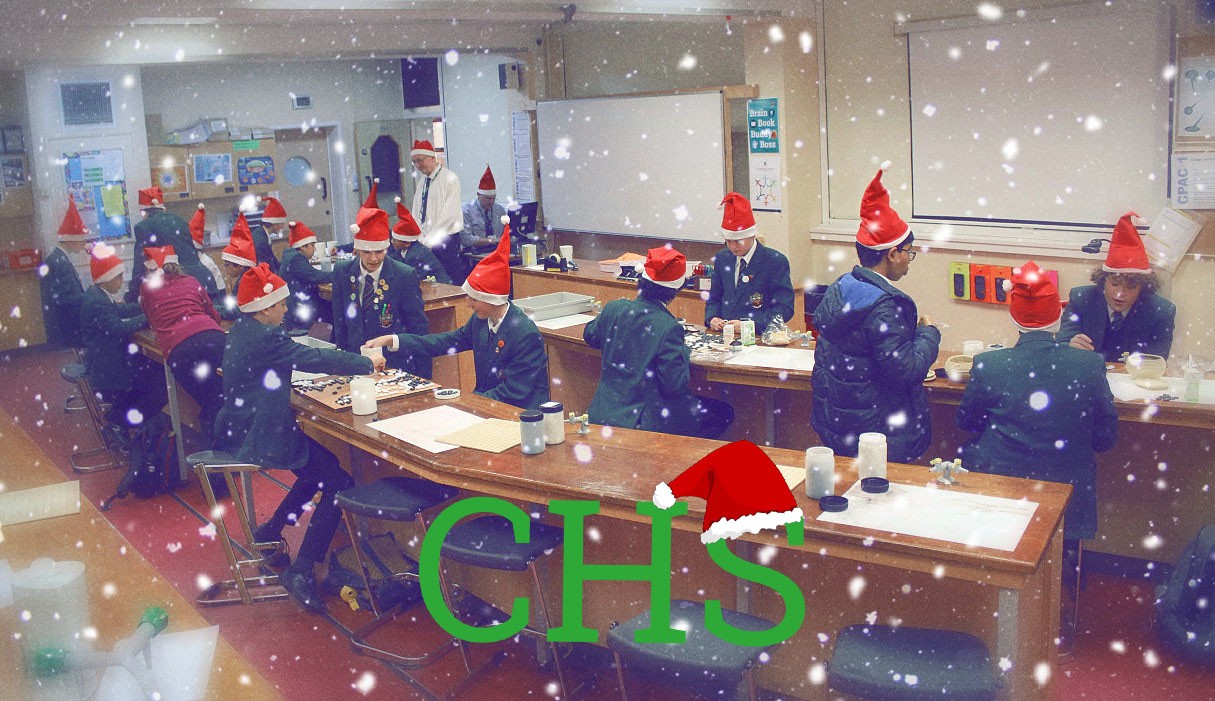 From Martin Harvey: "Well, mea culpa entirely for this late snippet, but no doubt Santa was still delighted with the photo. Taken in December, it shows his helpers enjoying their lunch break at Cheadle Hulme School (CHS) in South Manchester. It seems that not even snow can stop the fun, for those with suitable head-wear. The school Go Club has been running for over 5 years now, with great support from CHS, their teachers past and present, minibuses, drivers, the BGA and DeepMind.
50 CHS students (and counting!) have experienced at least one national Go tournament.
Two new clubs
One in Port Talbot and one in Stevenage. Details via the News page and the Clubs page.
Three new players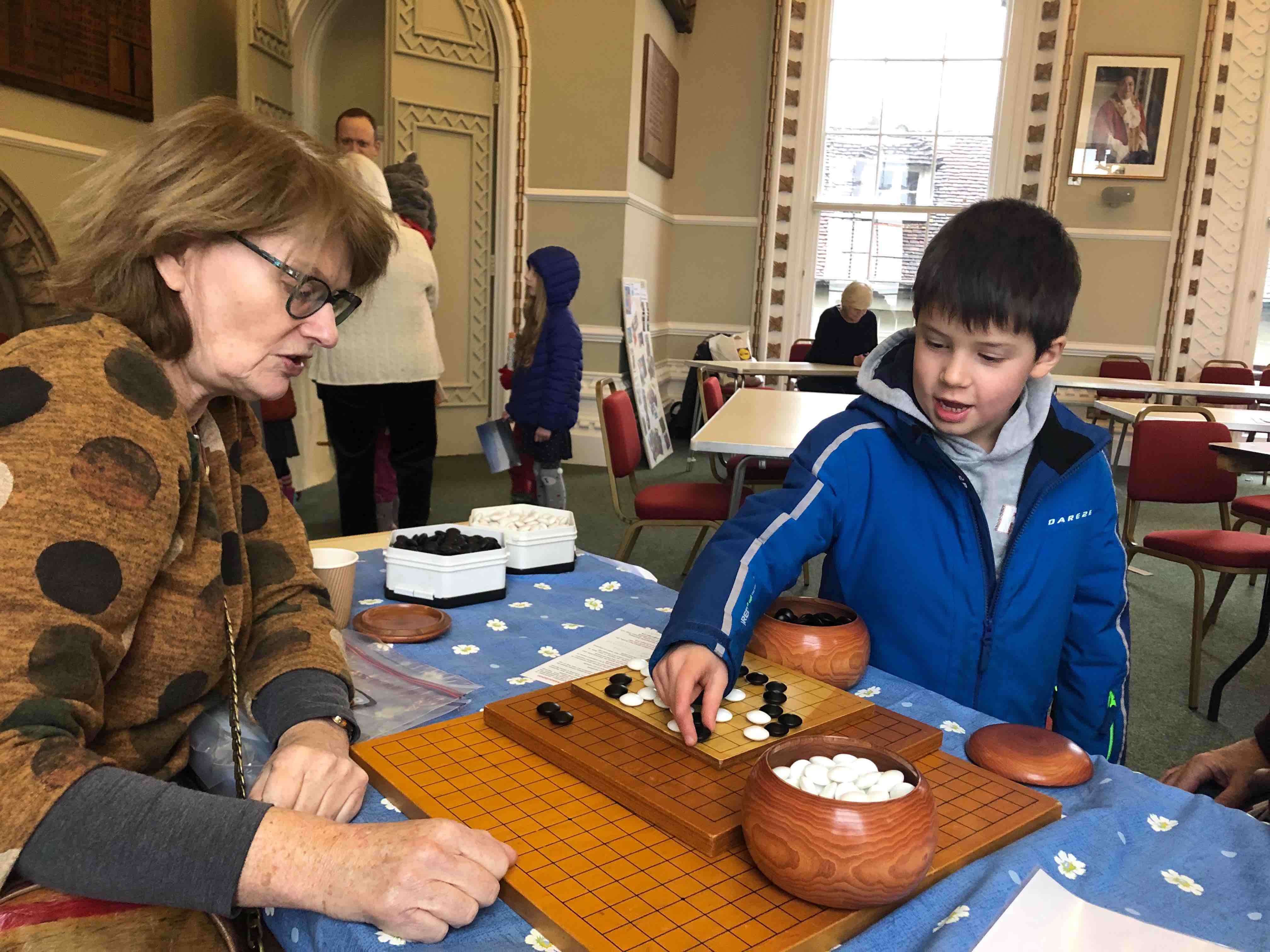 On 19th January Arundel Town Council held a 'Clubs Fare' at the Town Hall. It was a very popular event. Lots of local clubs and charities were showing their stuff. Sue Paterson and I (Jil Segerman) were kept busy explaining about this unfamiliar board game, and some dozen or so people stopped to learn the rules and play a 9x9. Three of them turned up a week later at the Arundel Go Club and got some serious teaching.
European Youth Go Team Championship
Team captain Alison Bexfield reports that on January 12th the UK team beat Hungary 4-1. The team included a new member, Emily Oliviere, who played her first game in the tournament and won.
The UK's final match, against Czechia, will be played on February 16th, and can be watched on KGS in the Euro Youth Teams room.
Japanese girl to become youngest professional Go player
There is an article on the BBC website about the youngest ever professional player. Daniel Hu analysed the game she played against Yuta Iyama. It can be found on the London Go Centre's YouTube channel here.
Fischer timing in the Trigantius tournament
As described on the Trigantius page "Fischer" time limits will be used, as part of a BGA trial.
ADMIN
Calling all students
The 2019 International Collegiate Go Tournament, hosted by the Ing Foundation, will be held at the University of Sydney, Australia from July 7 to July 13. It is open to any current, future, or recently graduated college (both undergraduate and graduate) student. All costs related to room, board, tours, and travel during the event will be covered by the Ing foundation. The student is responsible for getting to and from the tournament site (both international and domestic travel costs), and for any personal expenses.
Links for more info and to register: Facebook; schedule; regulations; registration form.
Students of all skill levels are welcome to participate. There will be five divisions this year: a high dan, low dan, single digit kyu, double digit kyu and women's division. If anyone is interested please contact president@britgo.org and I will provide further information.
FUTURE EVENTS
Further details on http://www.britgo.org/tournaments
Trigantius, Saturday 9th March, Cambridge
Irish Go Congress, Friday 22nd - Sunday 24th March, Dublin
Harpenden, Sunday 24th March, Hertfordshire
British Go Congress, Friday 5th - Sunday 7th April, Manchester
Candidates' Tournament, Saturday 4th - Monday 6th May, Letchworth
Bar-Low Tournament, Sunday 5th May, London Go Centre
LGC Self-Paired Tournament, Monday 6th May, London Go Centre
Nottingham Kyu Training Day, Saturday 11th May
Oxford, Saturday 18th May
Not the London Open, Saturday 25th - Monday 27th May, London Go Centre
Challengers' League, Saturday 25th - Tuesday 28th May, London Go Centre
Scottish Open, Saturday 25th - Sunday 26th May, Rutherglen, Glasgow
British Pair Go Championships, Saturday 8th June, Hatfield
Durham, Saturday 15th – Sunday 16th June
27th Welsh Open, Saturday 22nd - Sunday 23rd June, Barmouth
Later
Leo Phillips Isle Of Man Go Festival 2019, Sunday 11th - Friday 16th August
Mind Sports Olympiad, Sunday 18th - Monday 26th August, London
Youth Training Residential, Tuesday 27th - Friday 30th August, Lincolnshire
Three Peaks, Saturday 2nd November - Sunday 3rd November, Ingleton
Guy Fawkes Weekend, Saturday 2nd November - Sunday 3rd November, London Go Centre
London Open, Saturday 28th – Tuesday 31st December. London Go Centre
Overseas
European Go Congress 2019, 20th July - 4th August, Brussels
The European Go Federation's Tournament Calendar includes the Major European Tournaments and a World Tournament Calendar.
Last updated Sun Feb 10 2019.
If you have any comments, please email the webmaster on web-master AT britgo DOT org.