BGA Newsletter 254 May 2019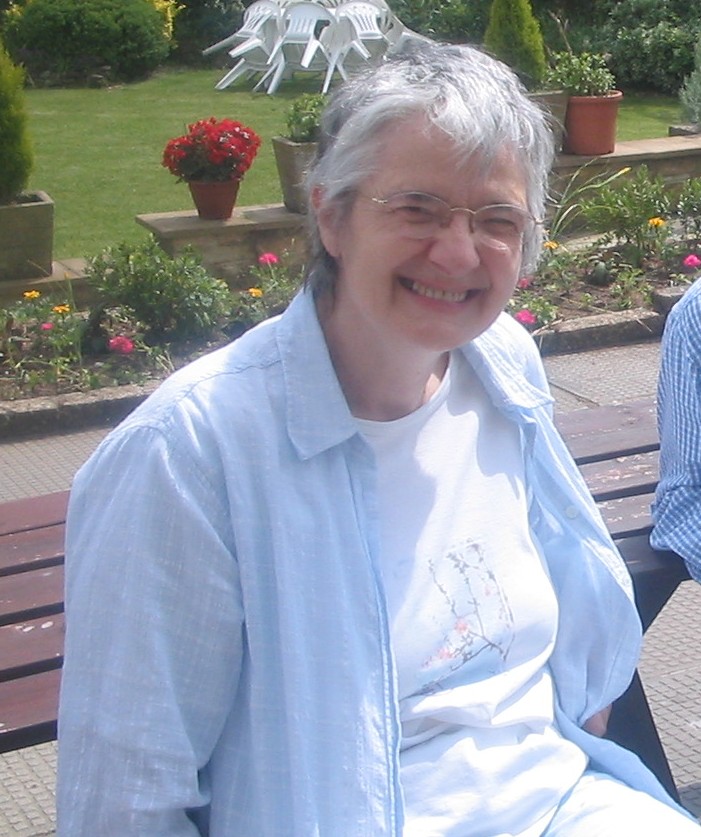 Contributions for the Newsletter are always welcome, both from our members and others. We ask that they be Go-related and "newsy". The place for debate and general discussion is currently Gotalk; however, an introduction to a new topic is fine in the Newsletter. Instructions: Please use plain text not file-attachments. Keep it brief, and give web-links and contact details. It's good to include pictures. If they are on the internet, send me the URL. If not, attach the picture files to your email. Send your contribution to newsletter@britgo.org to arrive by the first day of the month.
Jil Segerman, Newsletter Editor
NEWS
The full set of recent news items, including further details of some of the items shown here, are on our News Pages, and on News Headlines.
British Go Congress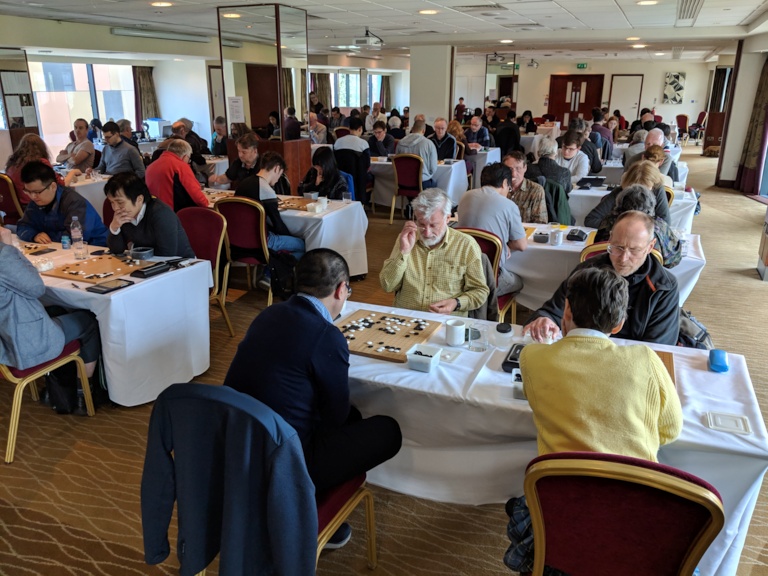 Each year the British Go Congress is held in a different place, with the BGA's Annual General Meeting on the Saturday evening. The 2019 Congress was held in Manchester on 5th to 7th April. The weekend started with a teaching session on Friday afternoon with Toby Manning. That evening the British Open Lightning was held; it was won by London's Peikai Xue (2d), shown below left.
On the Saturday and Sunday 80 players, many of whom were below 10k, enjoyed the usual six round British Open tournament. It was for the first time won by Chao Zhang (6d) from London, with six wins. Zherui Xu (4d) from Cambridge was placed second with five wins, ahead of Zihe Zhao (4d Oxford) and Nagisa Matsuura (1d Leeds). The fast improving Adam Sharland (14k Nottingham) won all six games and winning five were Jetrie Griffiths (18k Cheshire) and Charlotte Bexfield (7k Letchworth). Chao Zhang is shown receiving the Minds in Conflict Trophy from Toby Manning below right. Toby also rewarded two of the youngsters present, Rowan Borrow and Elliot Barlow who were the winners of the 2018 DDK Grand Prix.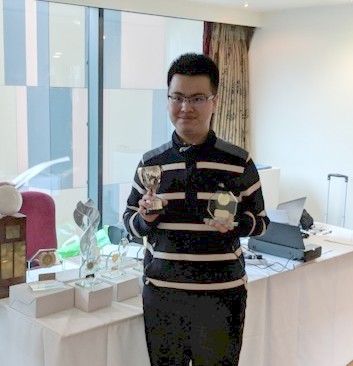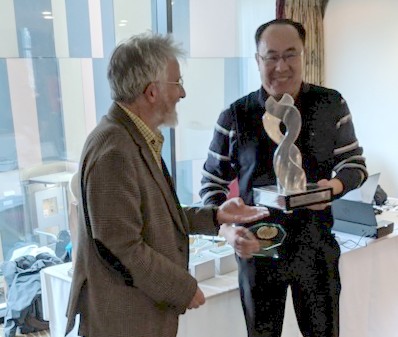 Pandanet Go European Team Championship
Our team was outplayed by a strong team from Sweden on 16th April, losing all four games. The team is still in seventh place in the B-League, but only on tie-break. The final match of the season will be on Tuesday 5th May, against Turkey.
ADMIN
BGJ 187 is now available
The Spring 2019 edition of the British Go Journal is now available in the Members' Area.
YOUTH GO CAMP
We are running a third Youth Go Camp in August this year, aimed at youngsters of secondary school age. The location is Caythorpe, near Grantham, the same as in the previous two years. More details here
EVENTS COMING SOON
Full information via the Events Calendar.
THIS MONTH: Candidates' (closed event), Letchworth THIS WEEKEND
Bar-Low Tournament/Kyu Players Weekend, London THIS WEEKEND
Self-Paired, London THIS BANK HOLIDAY MONDAY
Kyu Training, Nottingham
Oxford
Challengers' League (closed event), London
Not the London Open
Scottish Open, Glasgow
JUNE: Pair Go, Hatfield
Cheltenham Science Festival
Durham
Welsh Open, Barmouth
JULY: UK Go Challenge Finals (TBA)
AUGUST: Leo Phillips Isle of Man Go Festival
Mind Sports Olympiad, London
Youth Training Residential, Caythorpe Hall near Grantham
SEPTEMBER: T Mark Hall Rapid Play, London
International Teams Autumn Match, London
Belfast
Arundel
Sheffield
OCTOBER Northern, near Manchester
Wessex, near Bristol
NOVEMBER Three Peaks, Ingleton
Guy Fawkes Weekend, London
Doki Doki Festival, Manchester
OVERSEAS
European Go Congress 2019, 20th July - 4th August, Brussels
The European Go Federation's Tournament Calendar includes the Major European Tournaments and a World Tournament Calendar.
Last updated Fri May 17 2019.
If you have any comments, please email the webmaster on web-master AT britgo DOT org.