BGA Newsletter 255 June 2019

FROM THE EDITOR
Contributions are always welcome, both from our members and others. We ask that they be Go-related and "newsy". The place for debate and general discussion is currently Gotalk; however, an introduction to a new topic is fine in the Newsletter. Instructions: Please use plain text not file-attachments. Keep it brief, and give web-links and contact details. It's good to include pictures. If they are on the internet, send me the URL. If not, attach the picture files to your email. Send your contribution to newsletter@britgo.org to arrive by the first day of the month.
Jil Segerman
NEWS
The full set of recent news items, including further details of some of the items shown here, are on our News Pages, and on News Headlines.
British Championship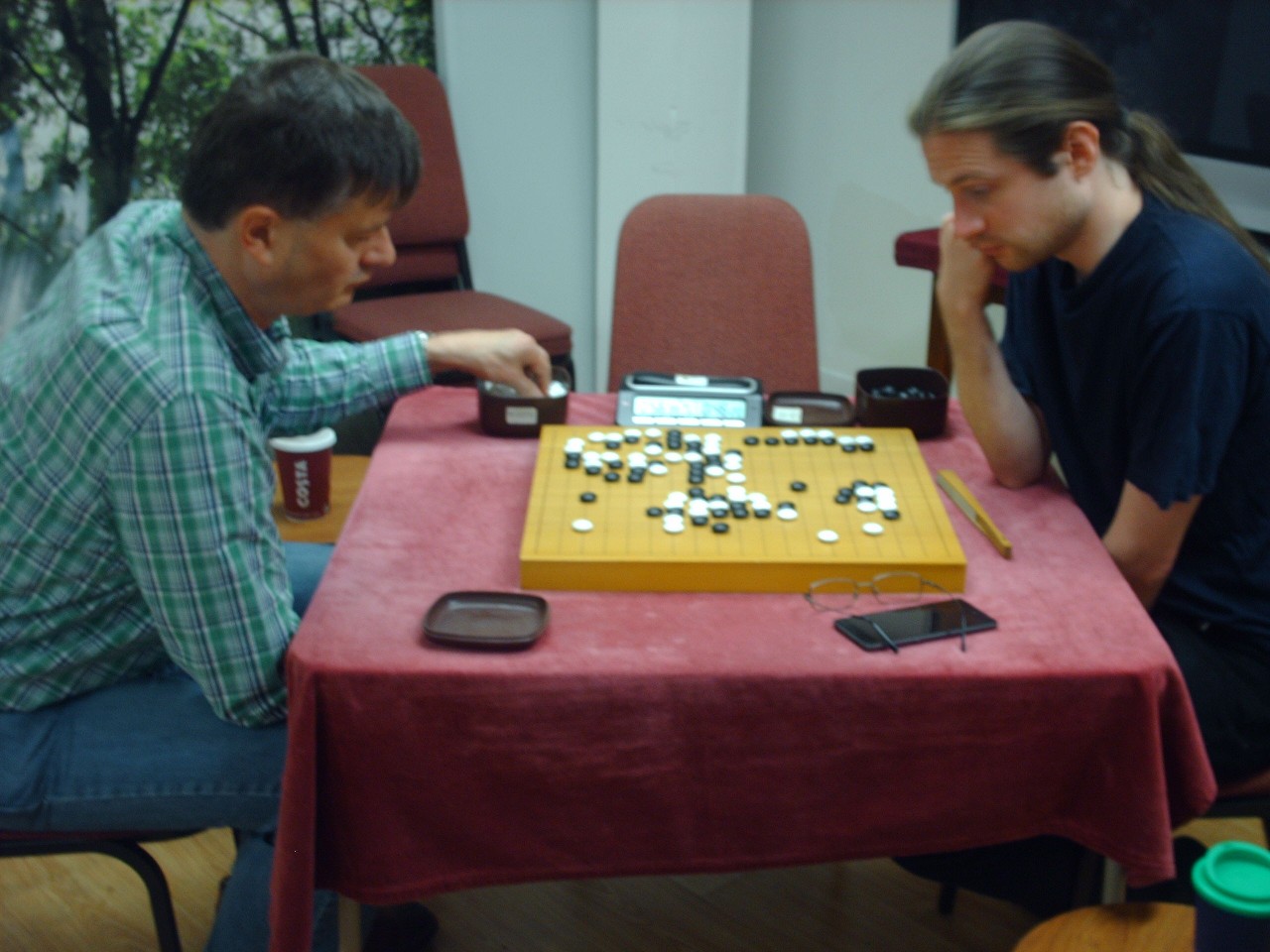 Fifteen players gathered in the small Hertfordshire town of Letchworth, to play in this year's Candidates' Tournament, the first round of the British Championship. The event had six rounds over three days of the first May Bank Holiday. Andrew Kay was the winner.
Last year's champion, Sam Aitken, decided not to defend his title, which meant that there were places in the Challengers' League for seven qualifiers from Candidates' Tournament, plus the runner-up from last year, Andrew Simons. Unfortunately some of the top players from that event couldn't take part, so several reserves got to play. Andrew Kay (shown on the right in the picture, against Alex Rix) topped the standings by winning all of his games and Andrew Simons won all his games except his one with Andrew Kay thus finishing second.
The two Andrews will now play in the best-of-three games Title Match to decide this year's British Champion.
Kyu Players' Weekend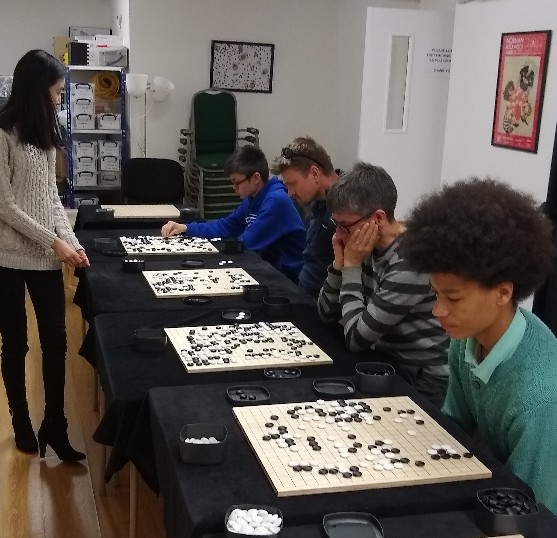 The Kyu Players Weekend, held at the London Go Centre over the first May Bank Holiday, started with a teaching day on the Saturday. Teachers were former professional Chao Zhang (6d), former British Champion Daniel Hu (4d), Charles Hibbert (3d), Joanne Leung (2d) and Jonathan Turner (2k). The lectures were videoed and may be found on the LGC YouTube channel. This was followed with the Bar-Low Tournament on the Sunday and a self-paired event on the Monday. It was good to see some very young players taking part in the lessons and the tournaments.
Pandanet Go European Team Championship
Our team drew the final match of the season on Tuesday 5th May, against Turkey. However the match point scored kept the team above the relegation zone and their final position in the B-League was 7th.
World Amateur Go Championship
Wang Chen of China won the 40th World Amateur Championship in Matsue City, Shimane Prefecture, Japan. Second, with just a loss to the winner, was Lee Jaesung of Korea.
The UK Rep, Andrew Kay, was 27th out of 59 with four wins. With three wins on the first two days, day three didn't go so well with losses to Pal Balogh of Hungary and Timotej Suc of Slovenia. On the final day he lost to Jan Simara of Czechia, but beat Ioan Grigoriu of Romania. Noel Mitchell for Ireland also won four in 36th place.
Marcus du Sautoy on AI and Go
Harry Fearnley via Gotalk: "On Wednesday (29th May) Marcus du Sautoy gave a talk at the Mathematics Department in Oxford, entitled "The Creativity Code: How AI is learning to write, paint and think". His presentation starts here. The next 15 mins of the recording discuss Go, particularly Deepmind's AlphaGo. It contains a few (unimportant) misconceptions both about Go, and about Deepmind's AlphaGo, but is still worth a watch. The subsequent 45 mins, or so, discuss other aspects of AI and creativity."
New Go Books
Robert Jasiek has published two new books: "Endgame Vol. 3 Accurate Local Evaluation" and "Endgame Problems Vol. 1". Also new is "Rational Endgame" by Antti Tormanen, published by Hebsacker.
ADMIN
Youth Newsletter
The latest edition of Youth Go News has been published, No. 5, May 2019. If you missed any, then old editions are available. Please tell any young players you know about it.
There are still places available at the BGA Youth Camp at Caythorpe in August.
LGC Teaching Videos
The London Go Centre hosts a YouTube channel showing lectures at the LGC, including those from the above-mentioned Kyu Players' Weekend.
EVENTS COMING SOON
Full information via the Events Calendar.
THIS MONTH:
Durham
Welsh Open, Barmouth
JULY:
AUGUST:
Leo Phillips Isle of Man Go Festival
Mind Sports Olympiad, London
Youth Training Residential, Caythorpe Hall near Grantham
SEPTEMBER:
Cornwall (Falmouth)
T Mark Hall Rapid Play, London
International Teams Autumn Match, London
Belfast
Arundel
Swindon
Sheffield
OCTOBER
Cambridge Junior's 25th Anniversary
Northern, near Manchester
Wessex, near Bristol
NOVEMBER
Three Peaks, Ingleton
Guy Fawkes Weekend, London
Doki Doki Festival, Manchester
Coventry
OVERSEAS
European Go Congress 2019, 20th July - 4th August, Brussels
The European Go Federation's Tournament Calendar includes the Major European Tournaments and a World Tournament Calendar.
Last updated Mon Jun 10 2019.
If you have any comments, please email the webmaster on web-master AT britgo DOT org.