BGA Newsletter 256 July 2019

FROM THE EDITOR
Contributions are always welcome, both from our members and others. We ask that they be Go-related and "newsy". The place for debate and general discussion is currently Gotalk; however, an introduction to a new topic is fine in the Newsletter. Instructions: Please use plain text not file-attachments. Keep it brief, and give web-links and contact details. It's good to include pictures. If they are on the internet, send me the URL. If not, attach the picture files to your email. Send your contribution to newsletter@britgo.org to arrive by the first day of the month.
Jil Segerman
NEWS
The full set of recent news items, including further details of some of the items shown here, are on our News Pages, and on News Headlines.
British Pair Go Tournament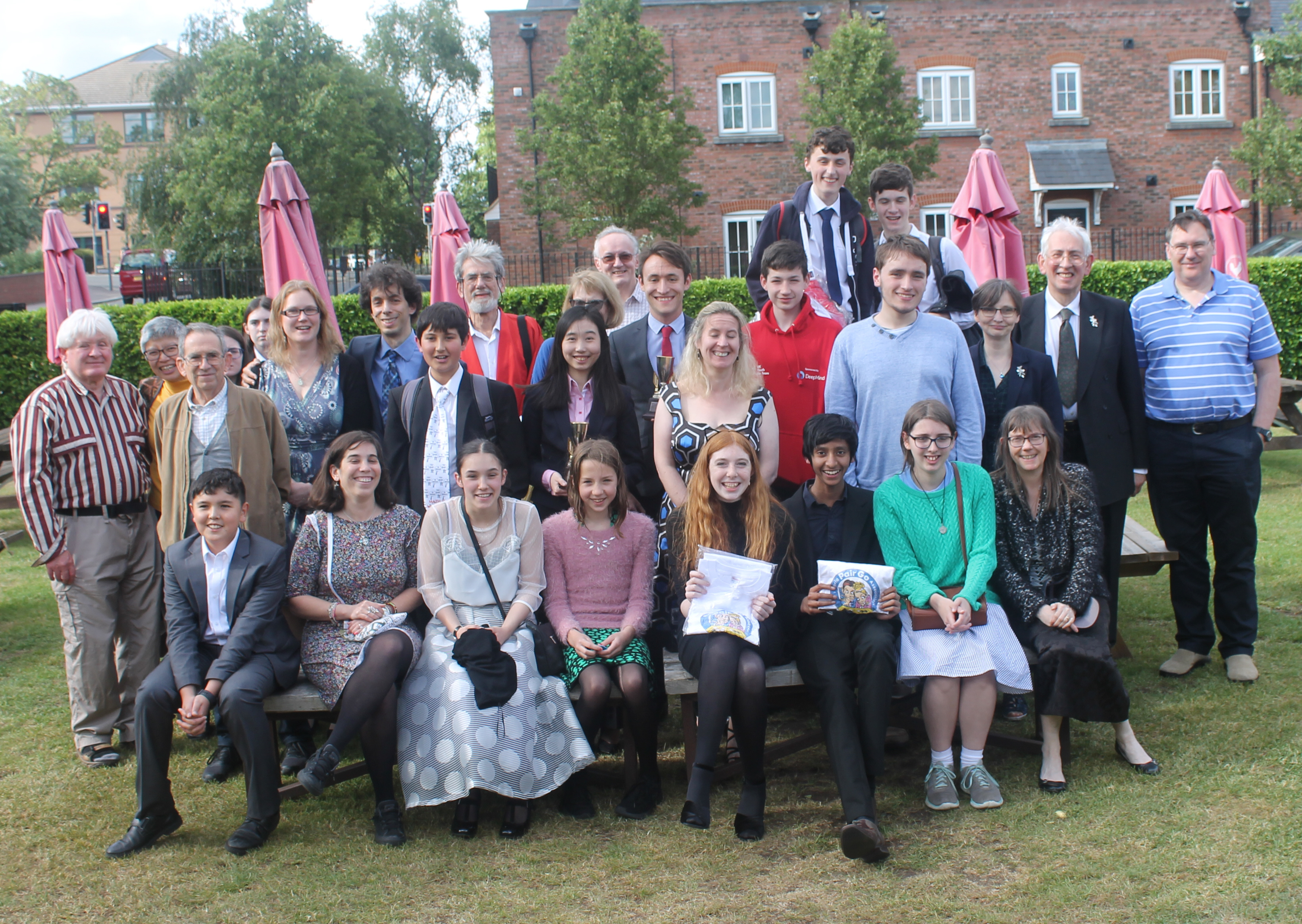 The 38th British Pair Go Championship was held on 8th June at its now regular venue, the Red Lion in Hatfield. Some of the stronger pairs could not play this time; for instance Natasha Regan was lecturing on Go at the Cheltenham Science Festival (see below). However, thanks to the minibus from Cheadle Hulme School (CHS) there were still 15 pairs, many including youngsters. Also included was Jose Teles de Menezes from Portugal who played with his daughter Ines.
In the top group, the champions of 2016 and 2018, Joanne Leung and Bruno Poltronieri, managed to take the title again, winning the final against Ingrid Jendrzejewski and Alex Selby by 8.5. In the handicap section it was a pair from CHS, Lizzy Pollitt and Sam Barnett, who were the winners; they beat another young pair, Amy Upton and Rohan Neelala, in the final. The Pair Quiz was won by Zoe Walters, and the Best Dressed competition by Lizzy Pollitt and Sam Barnett.
Cheltenham Science Festival
Natasha Regan sends this report: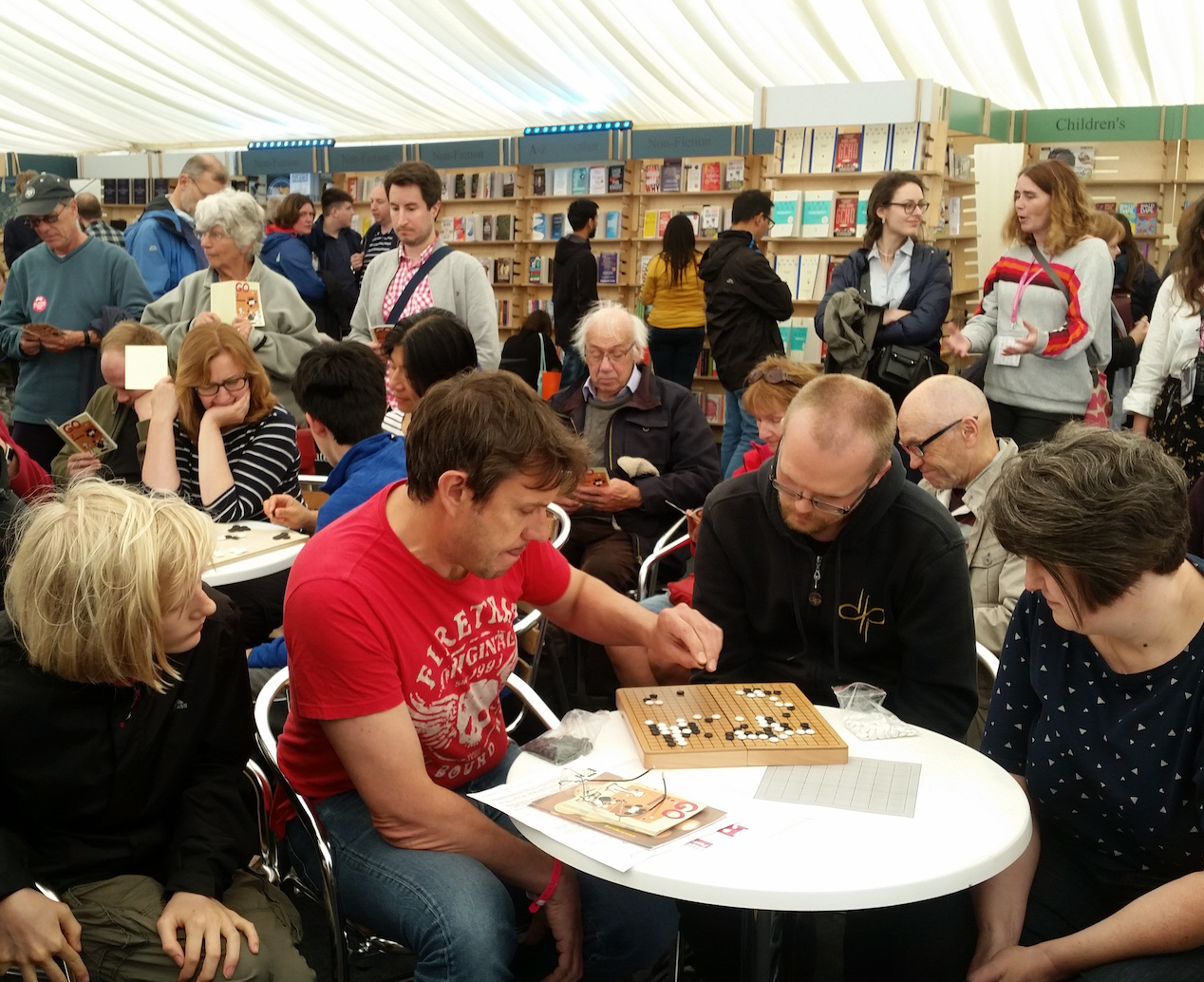 Go hit Cheltenham on Saturday 8th June. All-comers were treated to an introduction to Go by Natasha (1 kyu, Epsom), and Chess Grandmaster Matthew Sadler, followed by a screening of the AlphaGo film. Artificial Intelligence research company, DeepMind, had secured a prime location for the talk in the Waterstones bookshop, and at least 40 prospective Go players were entertained by the one hour workshop; there was standing room only.
Matthew and Natasha had earlier presented to Chess players about their book "Game Changer", about Chess and AI, and enthusiasts welcomed the opportunity to learn Go too! Matthew gave a pictorial tour of the Go world, then Natasha introduced the rules of the game, and the audience enjoyed trying out how to capture stones. Then followed a live Go challenge game! Chess Grandmaster Matthew challenged England Go International Natasha to a 9x9 game, with Natasha navigating the delicate line of commentating to the audience without giving too much of her plans away to Matthew! The result was a "narrow" 16 point win to Natasha, much to Natasha's relief!
David Killen was on hand to sell Go boards after the event. He sold about 12 so we look forward to a few new Go enthusiasts in the Cheltenham area!
Demis Hassabis on BBC Radio 4
The BBC Radio 4 is running a series "The Disrupters" about starting a business, including on 2nd July, an interview with DeepMind's Demis Hassabis. DeepMind is featured at about 9.40 minutes in, with a brief mention of AlphaGo at 12.30 minutes.
ADMIN
LGC Teaching Videos
The London Go Centre hosts a YouTube channel showing lectures at the LGC, including those from the Not the London Open.
EVENTS COMING SOON
Full information via the Events Calendar.
THIS MONTH:
No BGA events
AUGUST:
Leo Phillips Isle of Man Go Festival
Mind Sports Olympiad, London
Youth Training Residential, Caythorpe Hall near Grantham
SEPTEMBER:
Cornwall (Falmouth)
T Mark Hall Rapid Play, London
International Teams Autumn Match, London
Belfast
Arundel
Swindon
Sheffield
OCTOBER
Cambridge Junior's 25th Anniversary - National Small Board/UK Go Challenge Finals
Northern, near Manchester
50th Wessex, near Bristol
NOVEMBER
Three Peaks, Ingleton
Guy Fawkes Weekend, London
Doki Doki Festival, Manchester
Coventry
OVERSEAS
European Go Congress 2019, 20th July - 4th August, Brussels
The European Go Federation's Tournament Calendar includes the Major European Tournaments and a World Tournament Calendar.
Last updated Mon Jul 08 2019.
If you have any comments, please email the webmaster on web-master AT britgo DOT org.