BGA Newsletter 257 August 2019

FROM THE EDITOR
Contributions are always welcome, both from our members and others. We ask that they be Go-related and "newsy". The place for debate and general discussion is currently Gotalk; however, an introduction to a new topic is fine in the Newsletter. Instructions: Please use plain text not file-attachments. Keep it brief, and give web-links and contact details. It's good to include pictures. If they are on the internet, send me the URL. If not, attach the picture files to your email. Send your contribution to newsletter@britgo.org to arrive by the first day of the month.
Jil Segerman
NEWS
The full set of recent news items, including further details of some of the items shown here, are on our News Pages, and on News Headlines.
Cheadle Hulme Girl (18k) wins at the European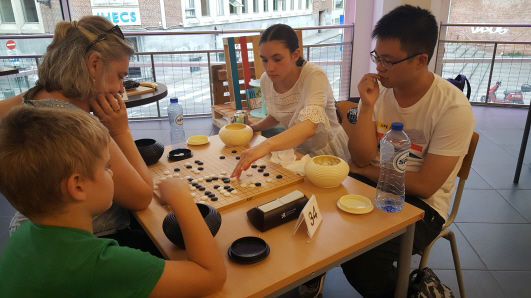 Congratulations to Lizzy Pollitt (facing the camera) from Cheadle Hulme School, for winning Group E of the Pair Go tournament at the annual 2-week European Go Congress, in Brussels this year. Partnering her is a 2 dan from China, Li Feng. They won 5 out of their 6 games, including the final.
It's been a successful week for Lizzy, on her debut EGC, as she also won 3 of her 4 games in the Main tournament and 4 out of 5 in the weekend tournament.
ADMIN
BGJ 188 is now available
The Summer 2019 edition of the British Go Journal is now available in the Members' Area.
European Women's - there's still time to register
A reminder for all our female members: The European Women's Championship will take place in Trier, Germany (close to the Luxembourg border) between 6 and 9 September. Further details here.
Wanted - Memories from past Wessex Tournaments
In October it is the 50th anniversary Wessex tournament – quite a landmark. As such it would be good to see if we can do anything to illustrate the history of the tournament.
If anyone has any memories or old photos that they want to share please let me know, and if we get enough we will create a display for during the tournament. Please send anything you have to me by e-mail at Colin_Williams (at) blueyonder.co.uk If you have photos or anything from before the digital age and don't want to scan them please let me know and we'll work out what to do about it – possibly just bring them on the day (as I'm sure you will be coming ...)
Stevenage - change of venue
Please note that the Stevenage (North Herts) Go Club has moved. They now meet at The Standard Bearer (Wetherspoons pub) in Stevenage town centre on Tuesday evenings. Full details here. Please note also that due to licensing restrictions at the new venue they are regrettably no longer able to welcome under-18s, whether or not accompanied.
EVENTS COMING SOON
Full information via the Events Calendar.
THIS MONTH:
Leo Phillips Isle of Man Go Festival
Mind Sports Olympiad, London
Youth Training Residential, Caythorpe Hall near Grantham
SEPTEMBER:
Cornwall (Falmouth)
T Mark Hall Rapid Play, London
International Teams Autumn Match, London
Belfast
Arundel
Confucius Cup, Dublin
Swindon
Sheffield
OCTOBER
Northern, near Manchester
Cambridge Junior's 25th Anniversary - National Small Board/UK Go Challenge Finals
50th Wessex, near Bristol
NOVEMBER
Three Peaks, Ingleton
Guy Fawkes Weekend, London
Doki Doki Festival, Manchester
Coventry
DECEMBER
British Youth Go Championship TBA
Edinburgh Christmas TBA
London Open
JANUARY 2020
Harpenden
OVERSEAS
The European Go Federation's Tournament Calendar includes the Major European Tournaments and a World Tournament Calendar.
Last updated Thu Aug 08 2019.
If you have any comments, please email the webmaster on web-master AT britgo DOT org.