BGA Newsletter 258 September 2019

FROM THE EDITOR
Contributions are always welcome, both from our members and others. We ask that they be Go-related and "newsy". The place for debate and general discussion is currently Gotalk; however, an introduction to a new topic is fine in the Newsletter. Instructions: Please use plain text not file-attachments. Keep it brief, and give web-links and contact details. It's good to include pictures. If they are on the internet, send me the URL. If not, attach the picture files to your email. Send your contribution to newsletter@britgo.org to arrive by the first day of the month.
Jil Segerman
NEWS
The full set of recent news items, including further details of some of the items shown here, are on our News Pages, and on News Headlines.
UK Team Took Part in Chinese Youth Event
Two European teams, one from France and one from the UK, were invited to take part in the 2019 "Belt and Road International I-Go Youth Go Invitational Tournament" for teenagers. This ran from 16th to 22nd August in Xi'an in China. The UK team, Edmund Smith, Rowan Borrow, Daniel Gascoyne and Amy Upton were up against considerably stronger players and did not beat any of the other teams. Their Chinese hosts were most kind and friendly, and organised several visits to places of interest and other activities - a wonderful experience, and many happy memories.
Leo Phillips Go Festival
The 2019 Isle of Man Go Festival, held in memory of its creator, Leo Phillips, took place in Port Erin. The 21 participants (and several spouses and friends) were a friendly lot and the congress spirit of previous years continued.
Mind Sports Olympiad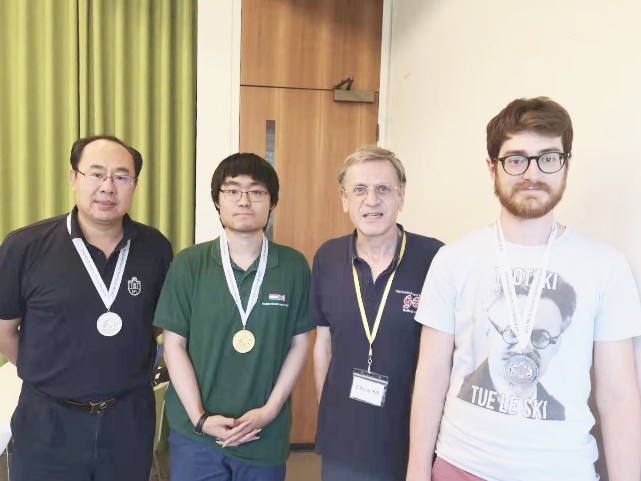 This year's Mind Sports Olympiad was held, like the previous five editions, at the JW3 community centre in London. As usual a large variety of games and mind sports, both new and traditional, was played over the eight days of the event. Several Go players and their families were seen in non-Go events, with some, like Natasha Regan, winning a Gold medal.
Unfortunately the first Go event (9x9) was cancelled due to an administrative mix up. Pictured left-to-right are: Chao Zhang winner of the 13x13 and 2nd in the Open, Daniel Hu Open winner, Tony Atkins organiser and Quentin Rendu 3rd in the Open. The Open's junior medals went to Edmund Smith, Scott Cobbold and Alexander Hsieh, with Caleb Monk winning the handicap section with four wins.
EVENTS COMING SOON
Full information via the Events Calendar.
THIS MONTH:
Cornwall, Falmouth
T Mark Hall Rapid Play, London
International Teams Autumn Match, London
Belfast
Arundel
Confucius Cup, Dublin
Swindon
Sheffield
OCTOBER
Northern, near Manchester
Cambridge Junior's 25th Anniversary - National Small Board/UK Go Challenge Finals
50th Wessex, near Bristol
NOVEMBER
Three Peaks, Ingleton
Guy Fawkes Weekend, London
Doki Doki Festival, Manchester
Coventry
British Youth Go Championship TBA
DECEMBER
Edinburgh Christmas TBA
London Open
JANUARY 2020
Harpenden
Hitachi-Maidenhead TBA
OVERSEAS
The European Go Federation's Tournament Calendar includes the Major European Tournaments and a World Tournament Calendar.
Last updated Tue Sep 03 2019.
If you have any comments, please email the webmaster on web-master AT britgo DOT org.