BGA Newsletter 259 October 2019

FROM THE EDITOR
Contributions are always welcome, both from our members and others. We ask that they be Go-related and "newsy". The place for debate and general discussion is currently Gotalk; however, an introduction to a new topic is fine in the Newsletter. Instructions: Please use plain text not file-attachments. Keep it brief, and give web-links and contact details. It's good to include pictures. If they are on the internet, send me the URL. If not, attach the picture files to your email. Send your contribution to newsletter@britgo.org to arrive by the first day of the month.
Jil Segerman
NEWS
The full set of recent news items, including further details of some of the items shown here, are on our News Pages, and on News Headlines.
British Championship Match
Game 1 in 2019's Title Match between Andrew Kay and Andrew Simons is on Saturday 5th October at a private location in Nuneaton. There will be live online relay from 10:30 and commentary by Matthew Macfadyen in a clone of the game in the British Room on KGS.
Third Youth Camp Successful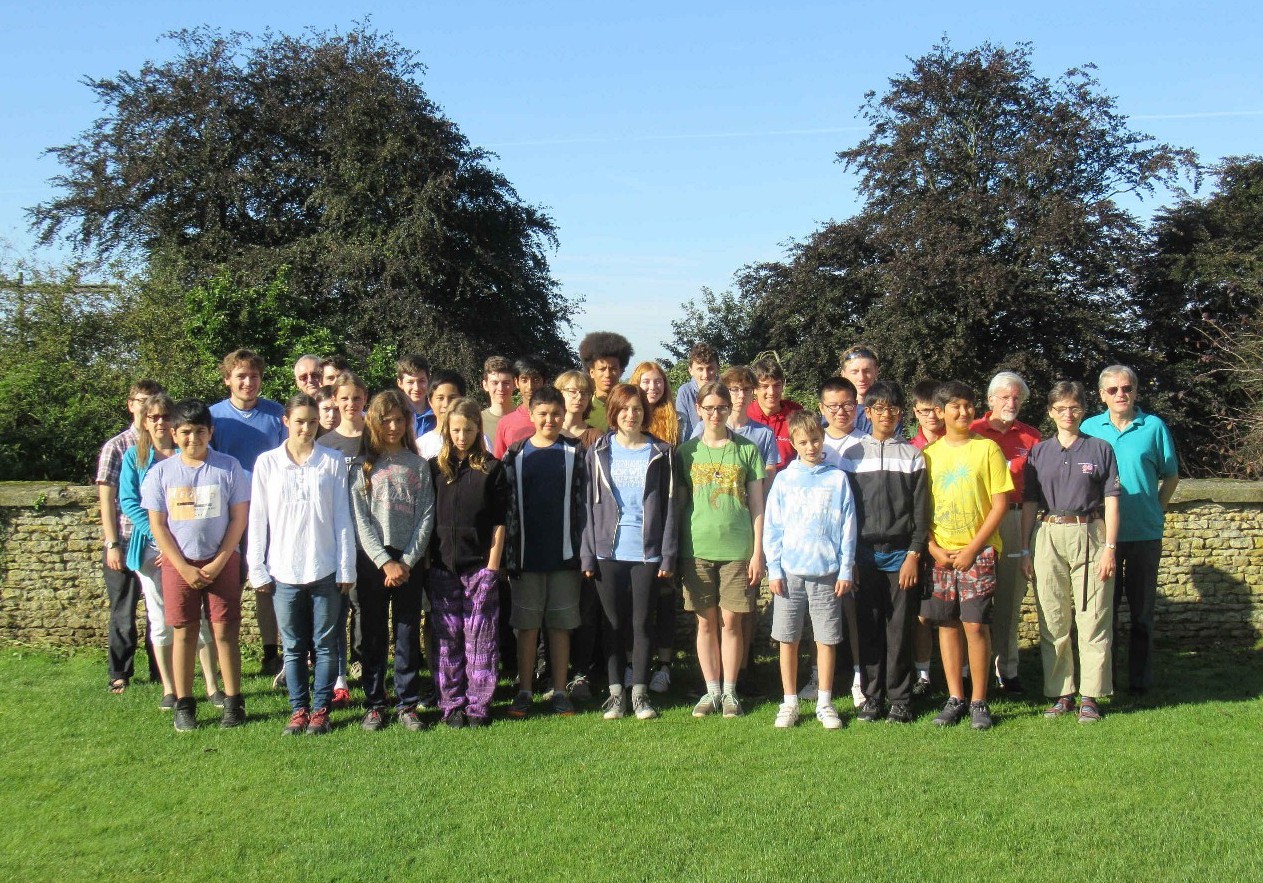 The third residential youth camp took place at Caythorpe Court in Lincolnshire at the end of August, with 26 particpants. As before, it was a mixture of outdoor activities, Go games and mentoring, aimed at those in school year 6 and above. The camp included Go competitions each evening. with a four-round tournament won by Hilary Bexfield, and a Pair Go tournament won by David Baldwin and Alexander Hsieh.
Andrew Does Well in Korea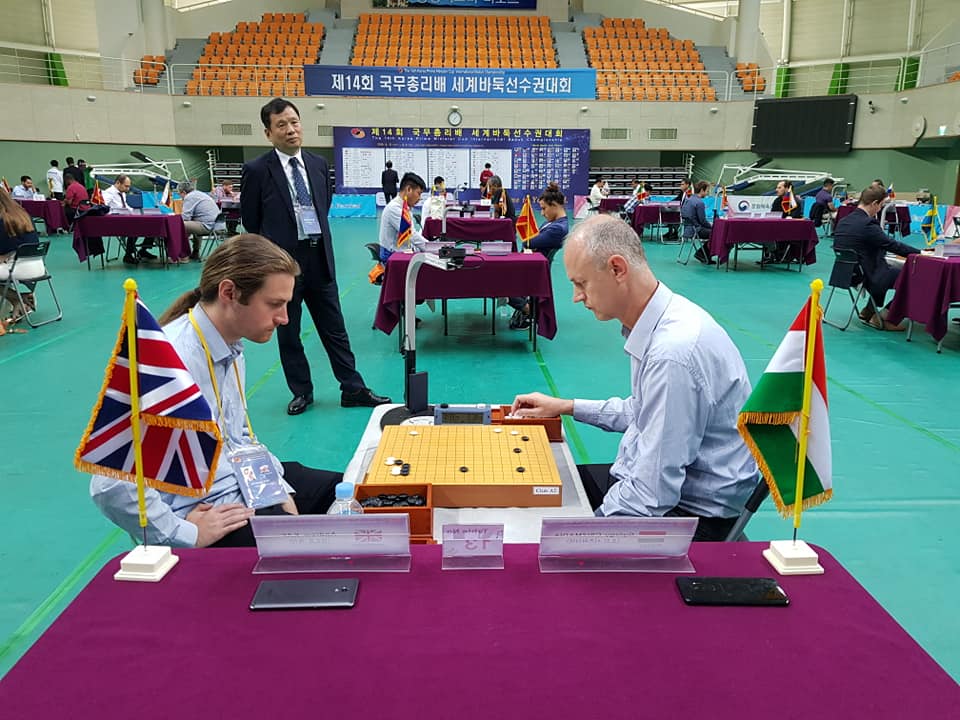 In the 2019 Korea Prime Minister Cup International Baduk Championship, our representative, Andrew Kay, came 9th out of 62 entries. He had four wins (against Cyprus, France, Argentina and Hungary) and two losses (to Korea, who came second, and Thailand). This is one of the best results ever in an international tournament by a British player. He is shown here playing the player from Hungary.
Cambridge Youth Go 25th Anniversary
Sunday 13th October. This is a 13x13 Go tournament, open to both junior players and adults. Junior players can compete for the UK Go Challenge titles and all strong players can compete to be the British Small Board Champion, for which there is a nice trophy and some prize money. Beginners are welcome as well as strong players. There will be many prizes and a lot of cake! Details
Wessex Tournament 50th Anniversary
Saturday 26th - Sunday 27th October. Special 50th Wessex Tournament, celebrating the memory of T Mark Hall. Details.
T Mark Hall Foundation AGM Saturday evening.
Important up-date The entry form has changed and now contains three drop down menus for details of the Saturday group-meal: starter, mains and dessert. If you do not see these, then you are using the old form and your entry will not get shown on the entry list. Please refresh your browser or clear the history for that page if necessary.
EVENTS COMING SOON
Full information via the Events Calendar.
THIS MONTH:
Northern, near Manchester
Cambridge Junior's 25th Anniversary - National Small Board/UK Go Challenge Finals
50th Wessex, near Bristol
NOVEMBER
Three Peaks, Ingleton
Guy Fawkes Weekend, London
Doki Doki Festival, Manchester
Coventry
British Youth Go Championship, Rugby
DECEMBER
Edinburgh Christmas
London Open
JANUARY 2020
Harpenden
Hitachi-Maidenhead TBA
MARCH 2020 Trigantius
Trigantius Novices
European Youth
Isle of Skye
LATER
April: British Go Congress
June: Durham and Welsh Open
August: Mind Sports Olympiad and Youth Training Residential
September: European Women's and Cornwall
OVERSEAS
The European Go Federation's Tournament Calendar includes the Major European Tournaments and a World Tournament Calendar.
Last updated Thu Oct 03 2019.
If you have any comments, please email the webmaster on web-master AT britgo DOT org.