BGA Newsletter 260 November 2019

FROM THE EDITOR
Contributions are always welcome, both from our members and others. We ask that they be Go-related and "newsy". The place for debate and general discussion is currently Gotalk; however, an introduction to a new topic is fine in the Newsletter. Instructions: Please use plain text not file-attachments. Keep it brief, and give web-links and contact details. It's good to include pictures. If they are on the internet, send me the URL. If not, attach the picture files to your email. Send your contribution to newsletter@britgo.org to arrive by the first day of the month.
Jil Segerman
NEWS
The full set of recent news items, including further details of some of the items shown here, are on our News Pages, and on News Headlines.
British Championship Match
Game 2 in 2019's Title Match between Andrew Kay and Andrew Simons is on Saturday 9th November at a private location. There will be live online relay from 10:30 and commentary by Matthew Macfadyen in a clone of the game in the British/English Rooms on KGS. Andrew Kay is currently leading 1-0 in the 3-match series.
Wessex celebrates its 50th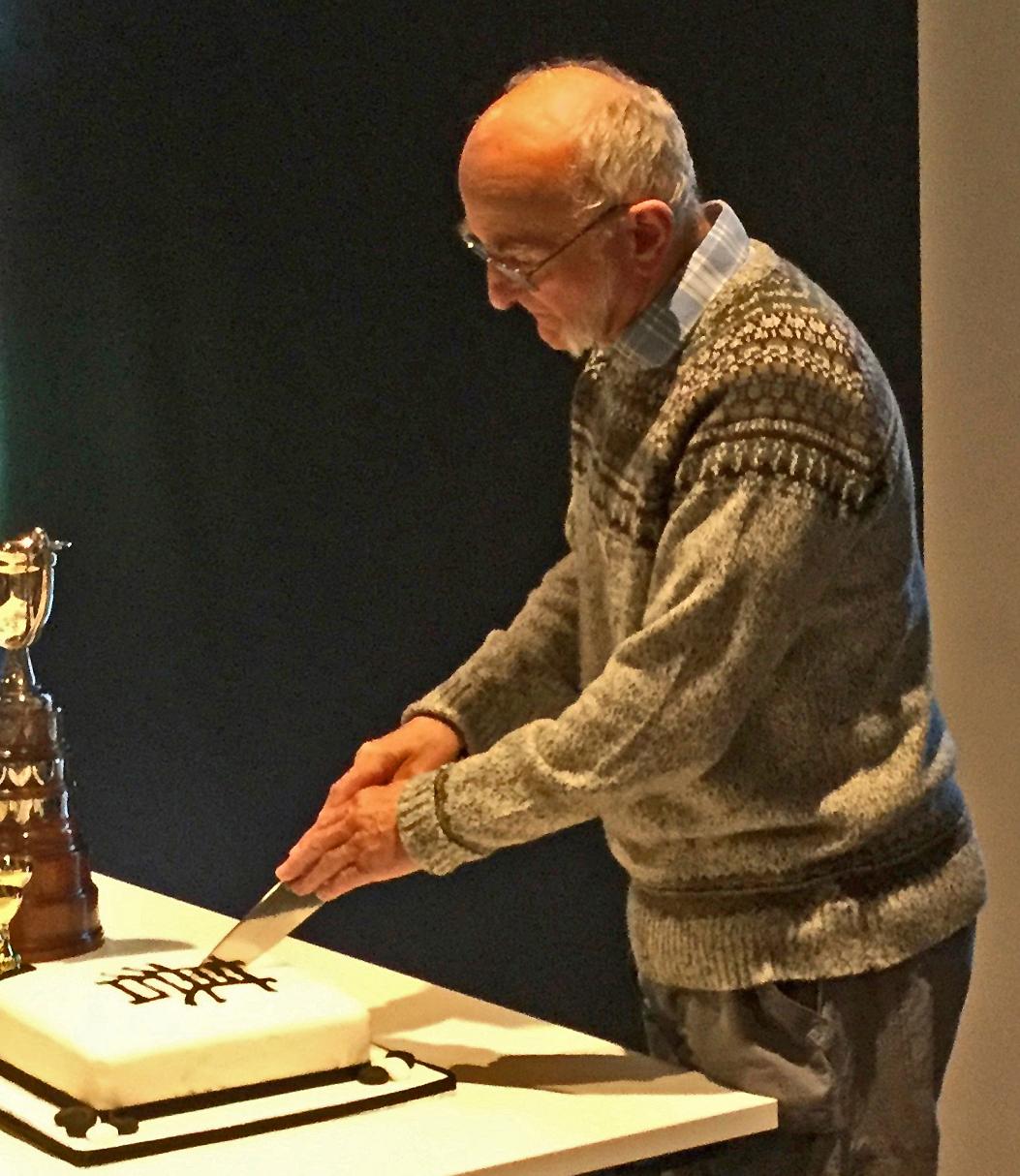 The Wessex Tournament celebrated its 50th edition by making 2019 a special two-day event. Sponsorship from the T Mark Hall Foundation enabled the nice, but expensive, venue of the Bristol Village Hotel, in Patchway in north Bristol. Fittingly T Mark had been a member of Bristol Go Club, a great fan of lightning Go and a four-time winner of the Wessex.
The photograph shows Paul Atwell, who has been involved in the Wessex Tournament from its inception, cutting the anniversay cake.
BGJ 189 is now available
The Autumn 2019 edition of the British Go Journal is now available in the Members' Area.
Announcement of the 2019 Youth Go Squad
The 2019 UK youth go squad has been selected. The team of fifteen players comprises a mix of U20, U16 and U12 players, who form a team to compete for the UK in the European Youth Go Team Championship, played online between November and February.
The full squad is:
* U20 Yueran Wang 3d, Tom Bradbury 2k (British Youth champion 2018)
* U16 Bill Shen 1d, Edmund Smith 3k, Scott Cobbold 6k, Alexander Hsieh 7k, Caleb Monk 11k, Amy Upton 12 k (current top UK girl)
* U12 Daniel Yang 1d, George Han 3k, Ryan Zhang 13k, Alexander Timperi 15k, Yanyi Xiong 15k, Zoe Walters 17k, Emily Oliviere 18k
The first match is on November 16, against what we expect to be a strong Russian team. The match will be played on KGS in the "Euro Youth Team" room at 13:00.
ADMIN.
London Open is fully booked
This year's entry limit for the London Open Go Congress (100) was reached before the early bird booking period closed. However it is usual for there to be cancellations. If you want to be added to the waiting list please email londongocentre@gmail.com
The diversity of entry from 7 dan to 20 kyu ensures that every player is promised seven well matched games. We have 18 countries represented (which I think is a record), above the bar there are six 5 dan players and seven 4 dan players. Also we have the most DDKs registered (22) since 2006
EVENTS COMING SOON
Full information via the Events Calendar.
THIS MONTH:
Doki Doki Festival, Manchester
Coventry
British Youth Go Championship, Rugby
DECEMBER
Edinburgh Christmas
London Open
JANUARY
Harpenden
Hitachi-Maidenhead TBA
MARCH Trigantius
Trigantius Novices
European Youth
Isle of Skye
APRIL
British Go Congress near Nottingham
LATER
June: Pair Go, Durham and Welsh Open
August: Mind Sports Olympiad and Youth Training Residential
September: European Women's (London) and T Mark Hall Rapid
OVERSEAS
The European Go Federation's Tournament Calendar includes the Major European Tournaments and a World Tournament Calendar.
Last updated Fri Nov 08 2019.
If you have any comments, please email the webmaster on web-master AT britgo DOT org.