BGA Newsletter 262 January 2020

FROM THE EDITOR
Contributions are always welcome, both from our members and others. We ask that they be Go-related and "newsy". The place for debate and general discussion is currently Gotalk; however, an introduction to a new topic is fine in the Newsletter. Instructions: Please use plain text not file-attachments. Keep it brief, and give web-links and contact details. It's good to include pictures. If they are on the internet, send me the URL. If not, attach the picture files to your email. Send your contribution to newsletter@britgo.org to arrive by the first day of the month.
Jil Segerman
NEWS
The full set of recent news items, including further details of some of the items shown here, are on our News Pages, and on News Headlines.
The London Open Tournament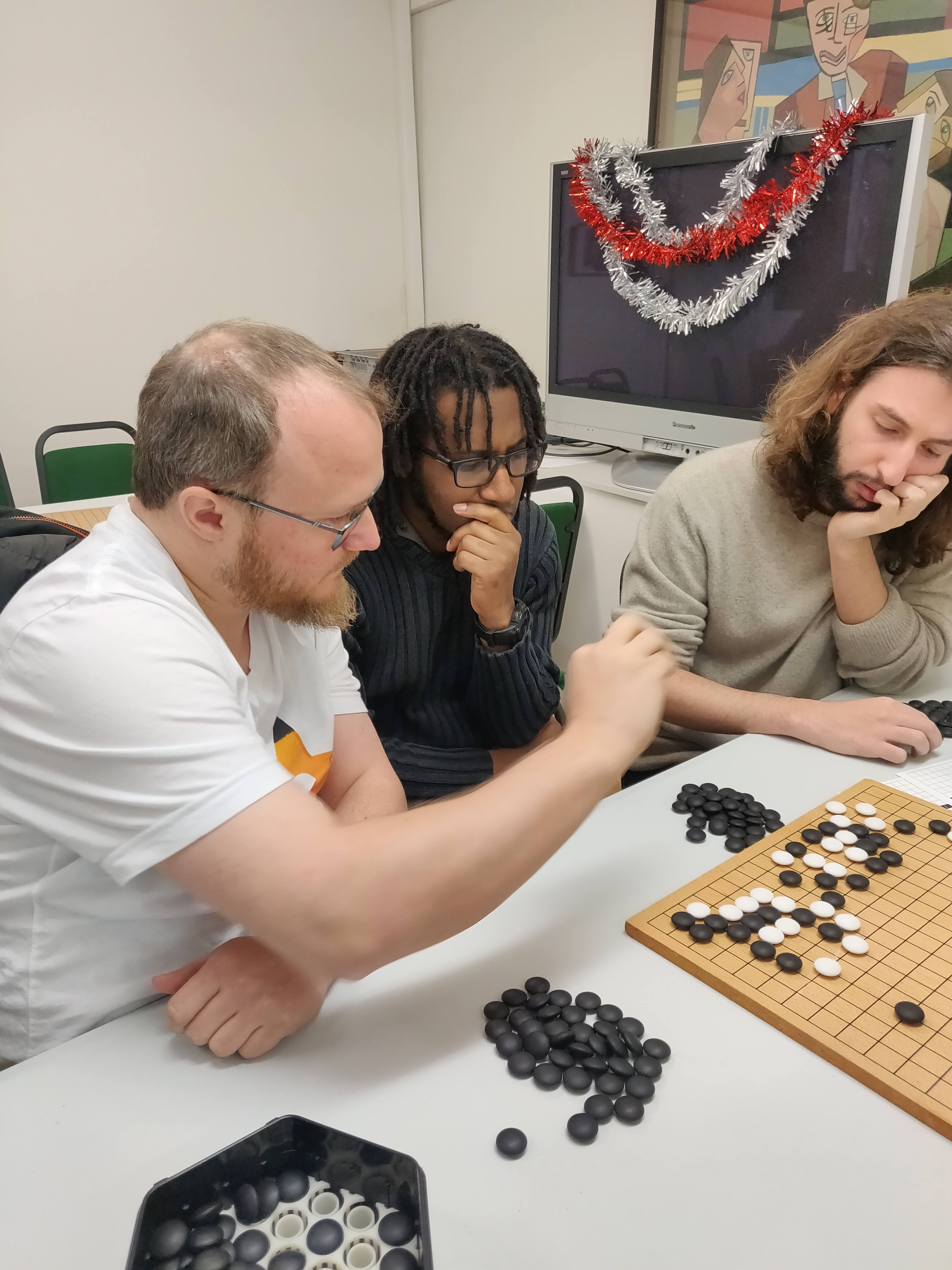 On the 28th December, 87 players assembled in the capital for the London Open (the 46th), held this year for only the second time at the current London Go Centre. Apologies to the people on the waiting list who couldn't enter because the entry limit had been reached; organiser Gerry Gavigan will make sure that next year only those who have paid the full entry fee on booking will be guaranteed a place.
Sixteen countries fielded players with ages ranging 'from seven to seventy-seven'. The grades ranged from 7d to 16k; both stronger and weaker players were well represented with 28 dan players and 15 Double-digit kyus six of whom were from Cheadle Hulme School (CHS). This year's professional was Catalin Taranu (5p) from Romania, and new British Champion Andrew Kay was also in attendance and reviewing games as he was not playing in the tournament.
Winner of the Open was Daniel Hu (4d). Second was China's Zeyu Qiu (5d), and third Lucas Neirynck (5d France). The Pair Go was won by Zeyu Qiu and Peikai Xue, and the Lightning by London's Scott Cobbold (5k).
After the prizes there was a Rengo tournament, which was won by the most international team, shown here, consisting of Christopher Loudoux of France, Joerg Sonnenberger of Germany and Alessandro Pace of Italy.
Pandanet Go European Team Championship
In the fourth match of the season, our team had a draw against a team from Finland. This moved the team up to 4th in the B-League. Our friends in Ireland ended 2019 in top position in the C-League, having topped the D-League the previous season.
European Youth Go Team Championship
The UK youth team had a good result against Netherlands on 14 December, beating them 5-0. Congratulations to them!
Cheadle Hulme are Top British School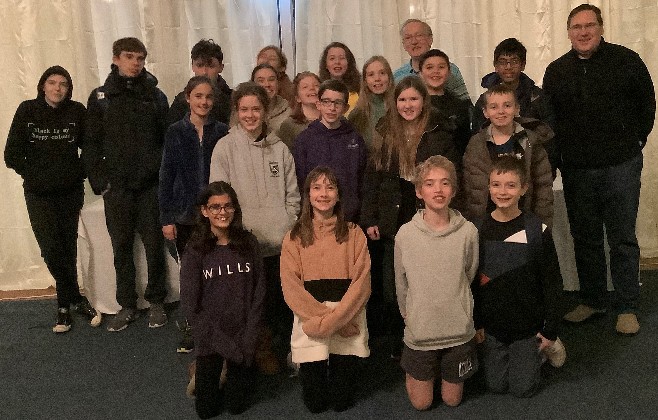 Cheadle Hulme School (shown left) proved they are the top British school for Go by both having the largest team at the British Youth Go Championships and by winning the Castledine Trophy. The Best Junior School was Harpenden Academy.
World Student Championship
The World International Collegiate Go Tournament will take place in Shenzhen, China, 7 - 13 July 2020. It is open to any current college student. Costs within China will be covered by the tournament organiser, but travel to and from Shenzhen will be the student's responsibility.
More information on the Shanghai Ing Foundation's website.
ADMIN.
Trigantius self-registration
This year Trigantius is trialling a self-registration system to help us get started as soon as possible after the venue doors are opened. Basically you pick up a ticket and pay after your first game. More Info here.
European Go Database
Geoff Kaniuk writes: "EGD has moved to a new server, now supports https: and is much faster. The search problems that some browsers had with entry forms should now no longer occur."
EVENTS COMING SOON
Full information via the Events Calendar.
THIS MONTH:
Harpenden
Hitachi-Maidenhead
FEBRUARY
Oxford
Oxford Novices
Irish
MARCH
Trigantius, Cambridge
Isle of Skye
Cheshire, Frodsham
APRIL
British Go Congress, near Nottingham
LATER
May: Not the London Open June: Pair Go, Durham and Welsh Open
August: Mind Sports Olympiad and Youth Training Residential
September: European Women's (London) and T Mark Hall Rapid
OVERSEAS
The European Go Federation's Tournament Calendar includes the Major European Tournaments and a World Tournament Calendar.
Last updated Tue Apr 28 2020.
If you have any comments, please email the webmaster on web-master AT britgo DOT org.